Kitchen Cabinets
Custom Kitchen Cabinets
Kitchener, Waterloo, Cambridge, Guelph, Toronto, Hamilton…
With care and attention to quality and detail, our custom kitchen cabinets range in style from traditional to contemporary.
Transitional designs are a thoughtful blend of period elegance and contemporary functionality and convenience. With any style, the outcome is a practical workspace that also serves as a beautiful gathering place and the heart of your home.
Countryline Woodcraft offers a wide selection of door, drawer and column designs with convenient features that create high-level functionality and eye-pleasing aesthetic. Quality hand-crafted construction, which includes dovetail, profile and miter/butterfly joints ensure long lasting durability.
Finish options include painted, stained, and glace.
Standard hardware options include high-end soft close drawer glides and cabinet hinges. Other options are available including tip-outs, column drawers, retractable spice rack shelves, retractable drawer inserts and more.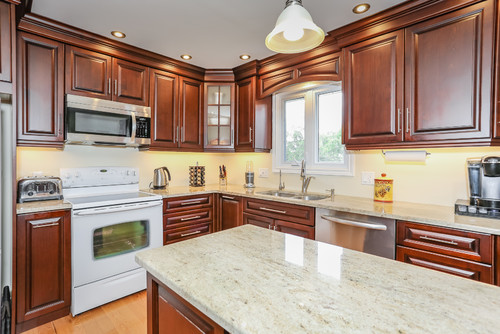 We're always busy with the aim of improving people's lives with beautiful, functional kitchens made with quality materials and craftsmanship. Here are just a few of our recent transformations.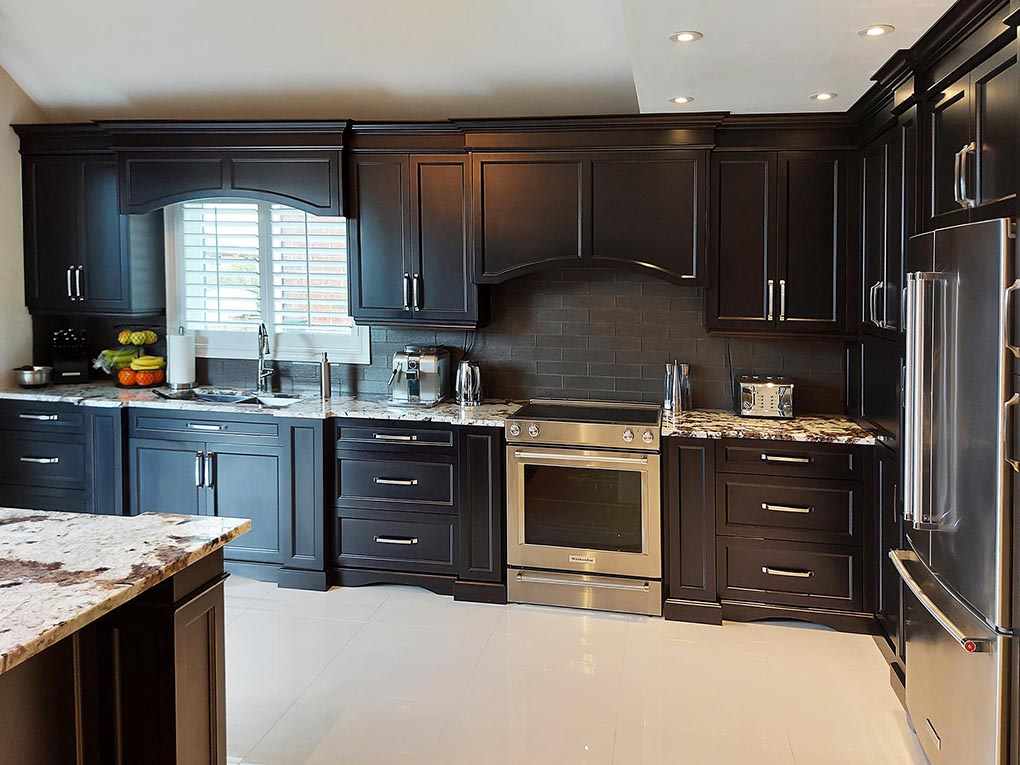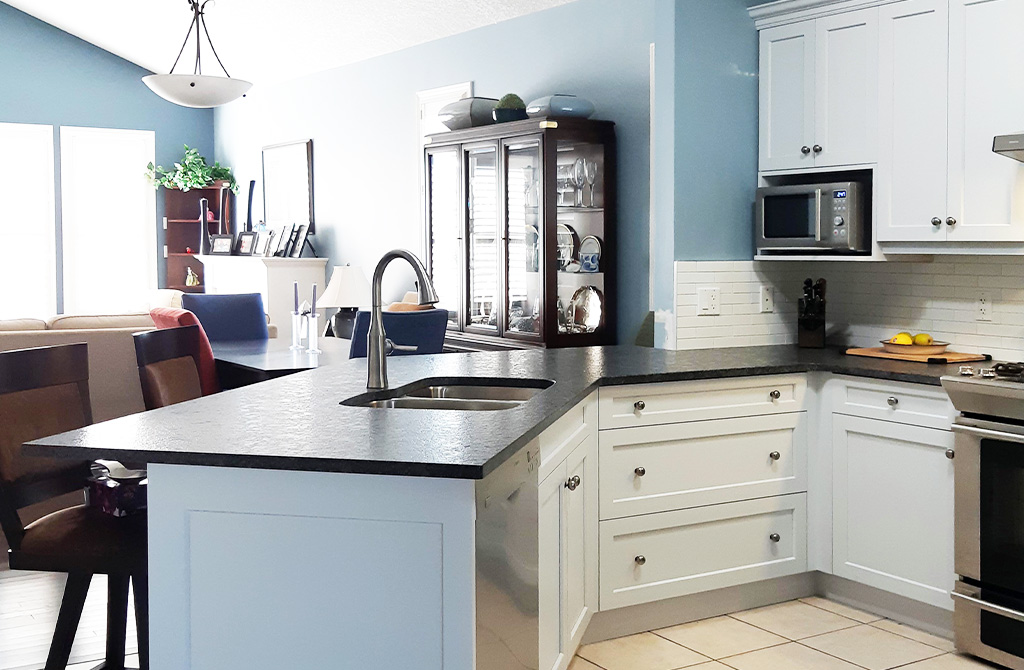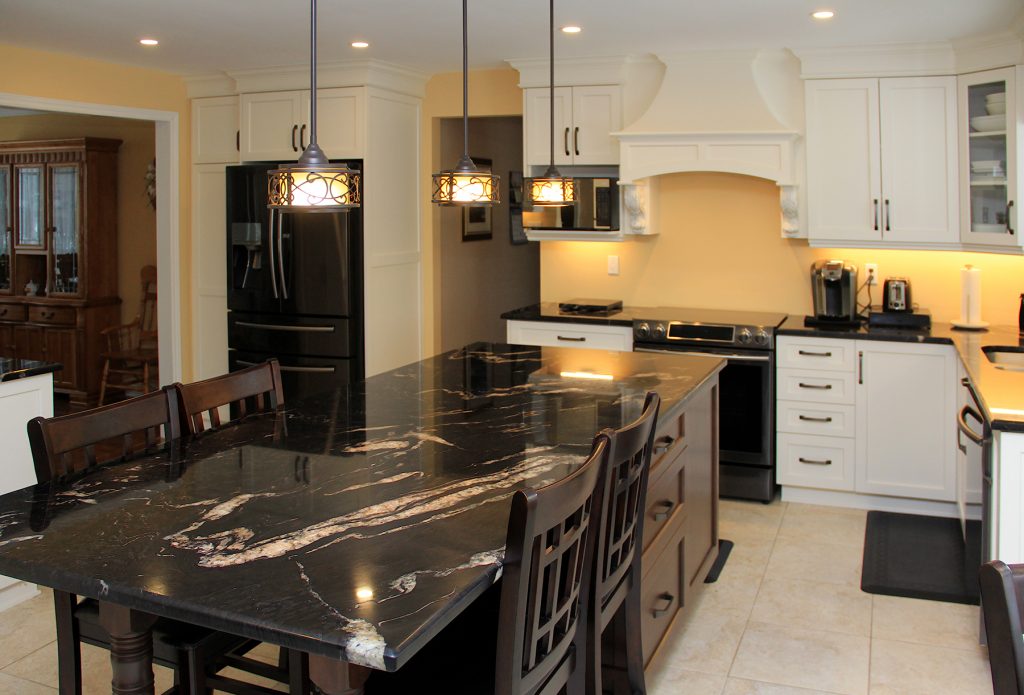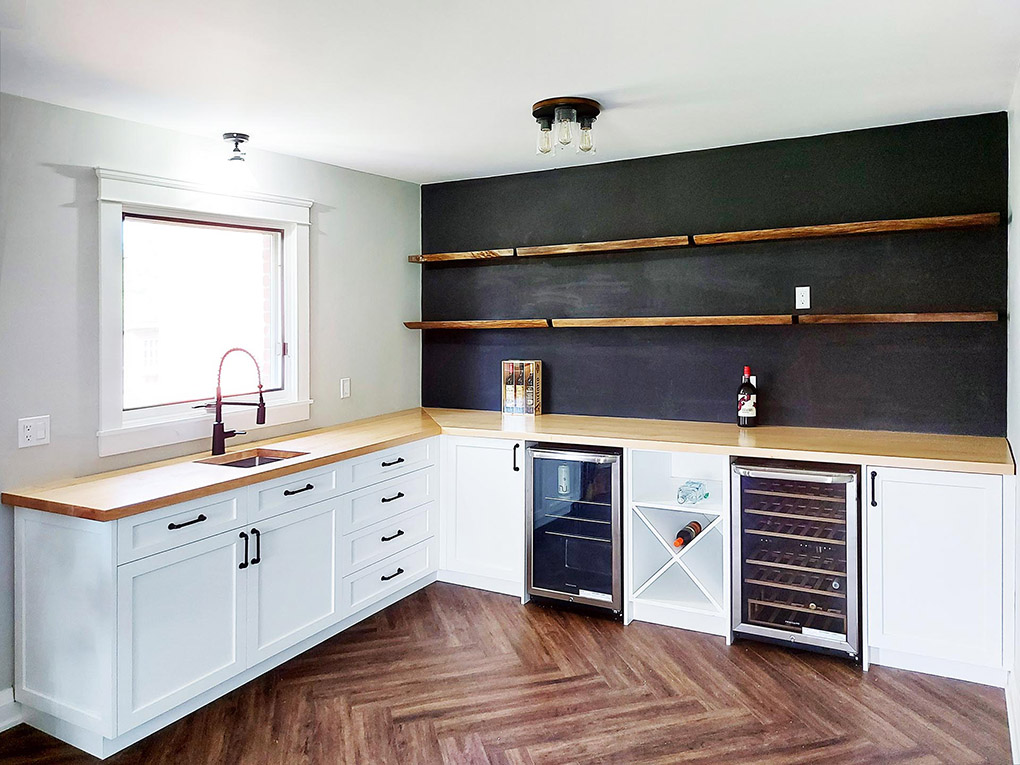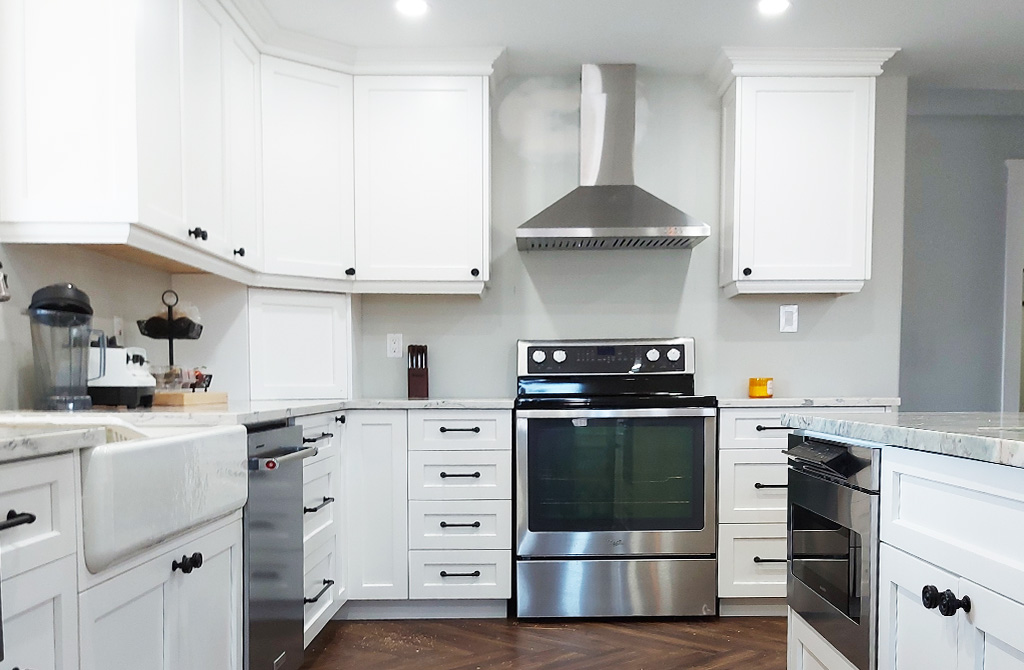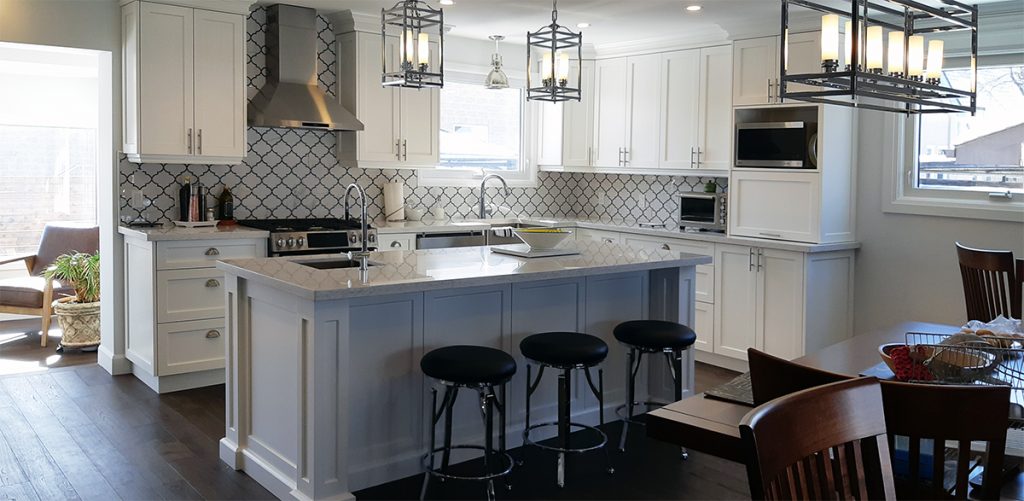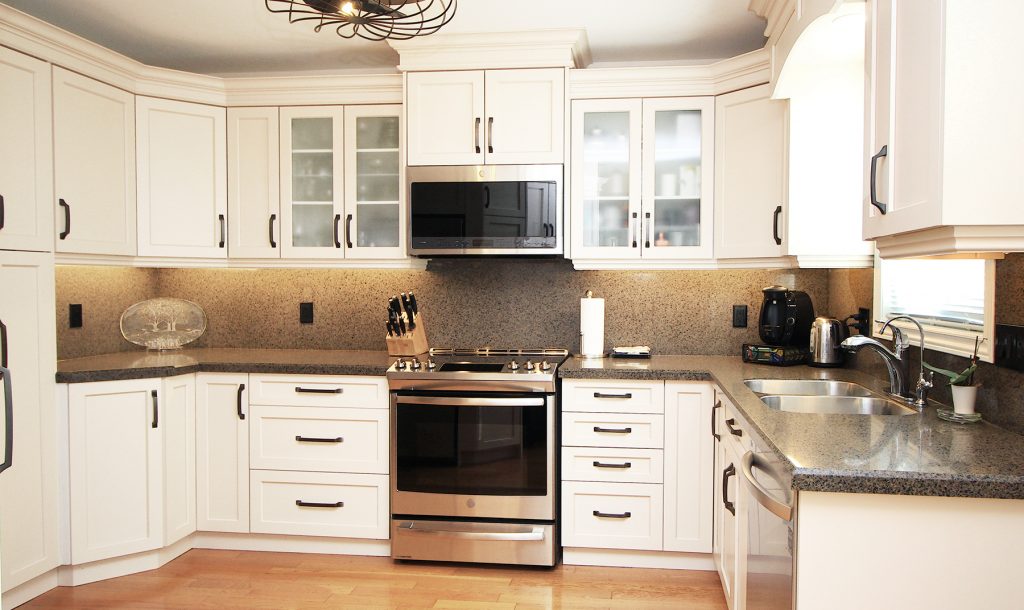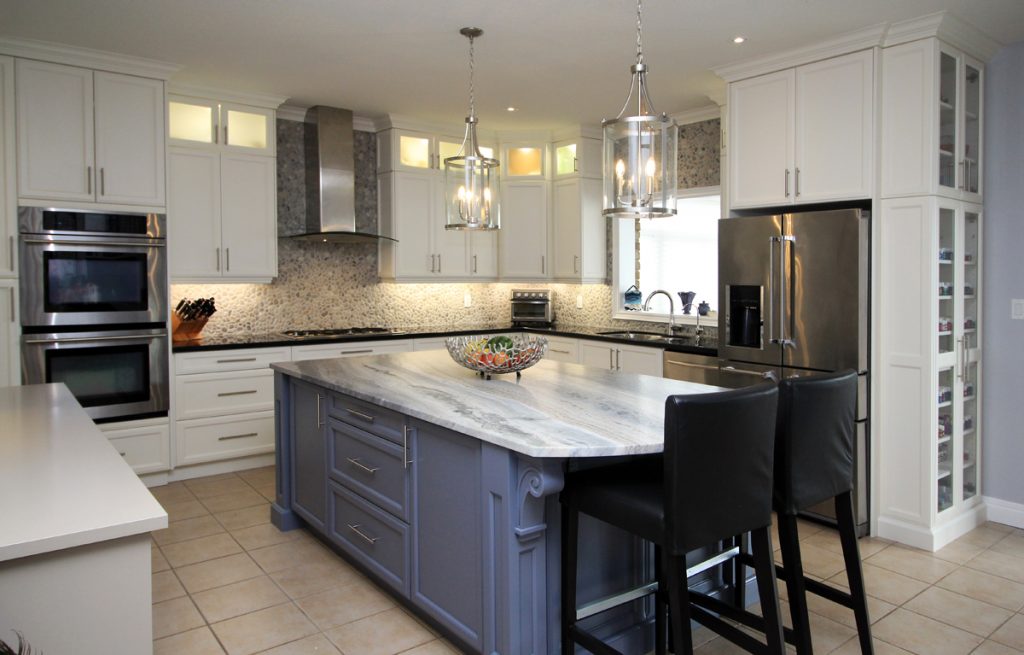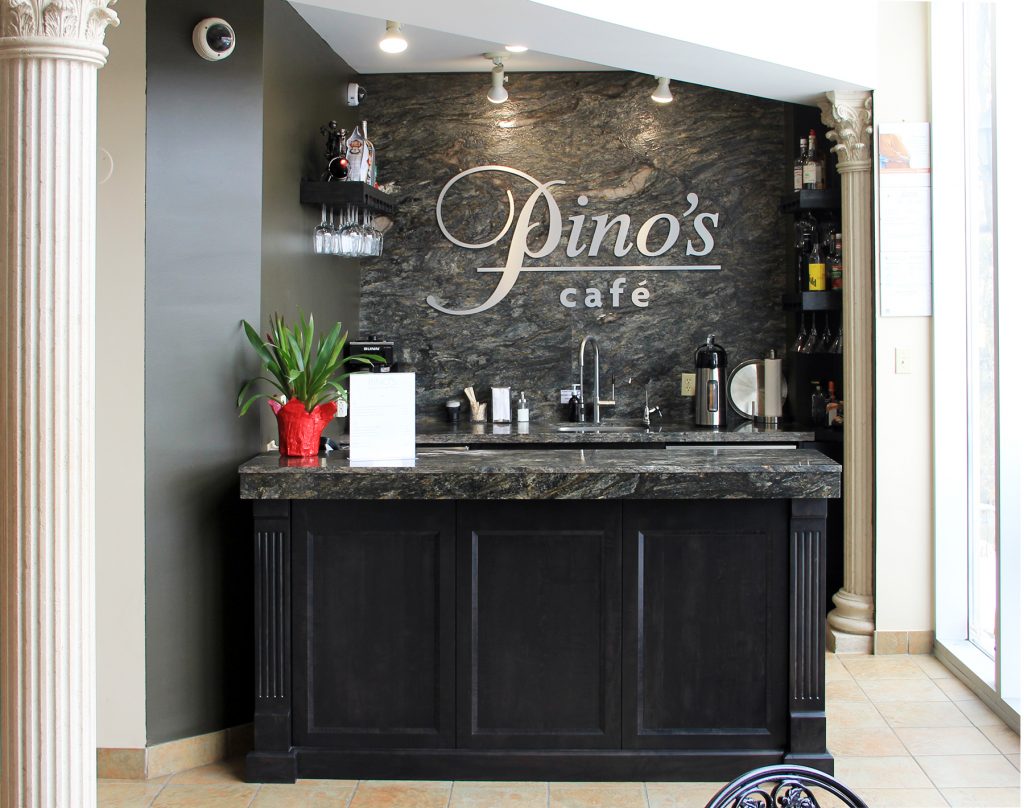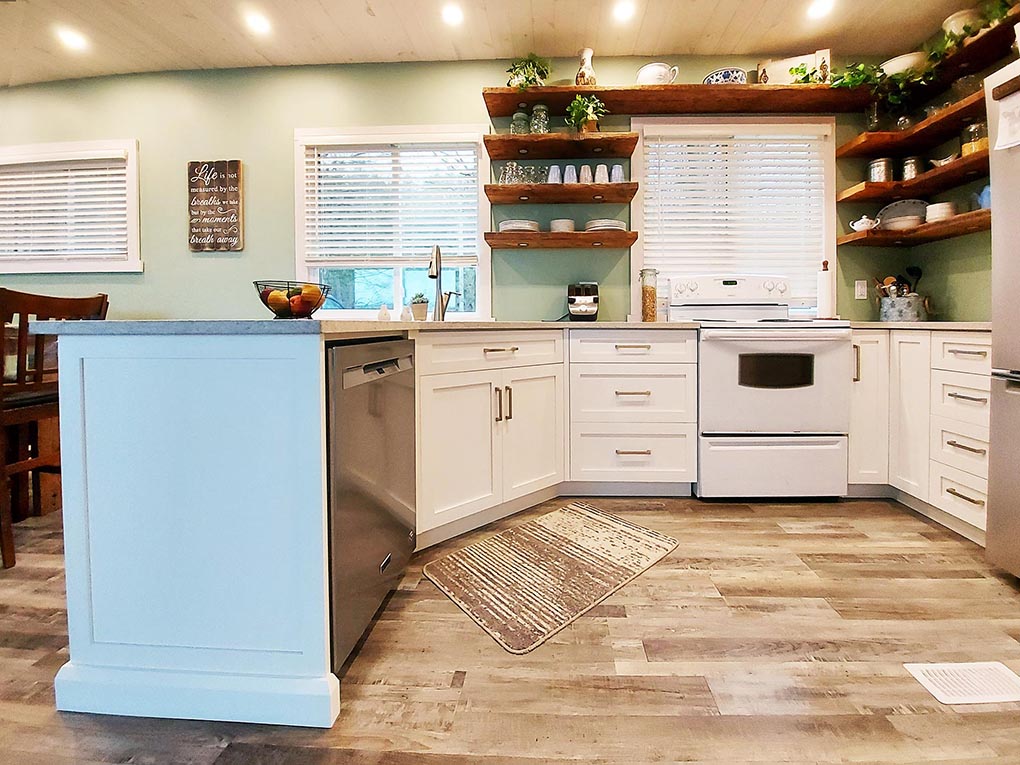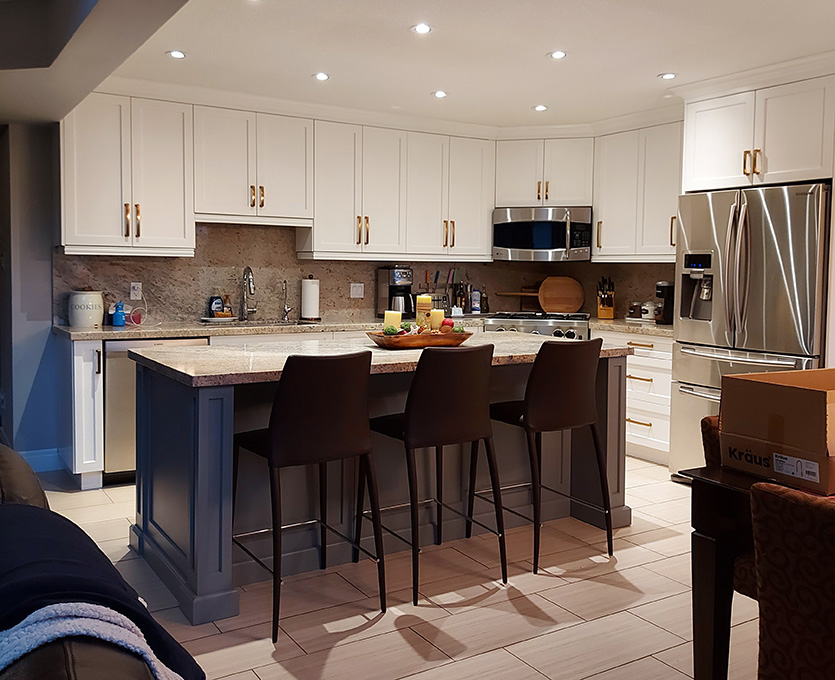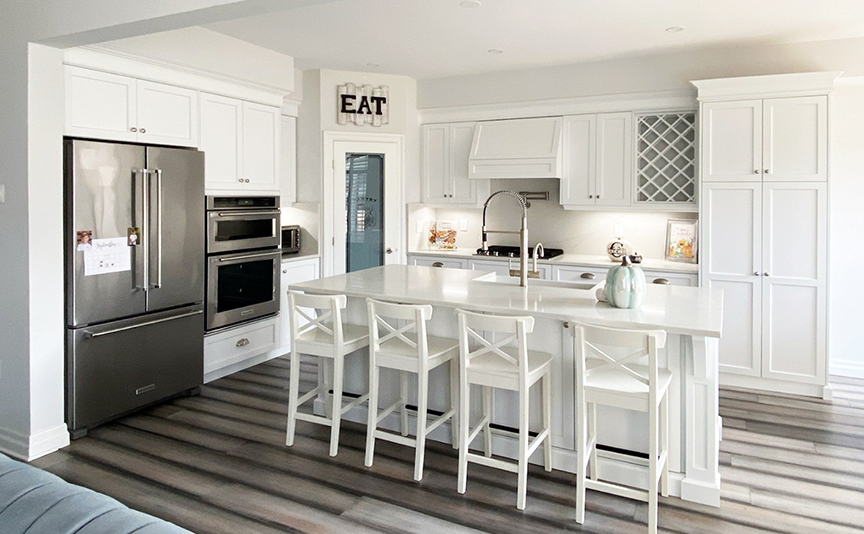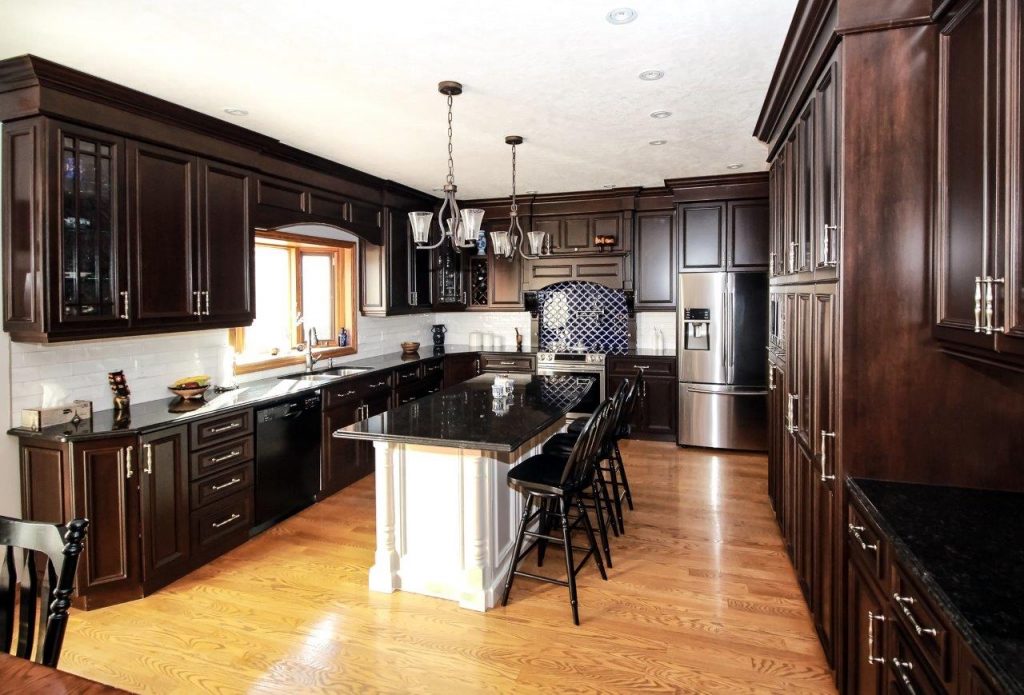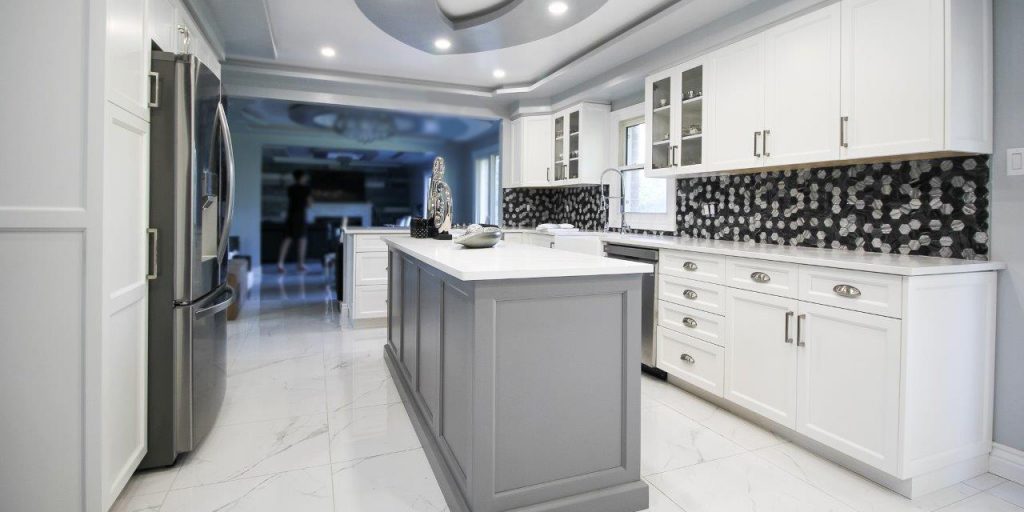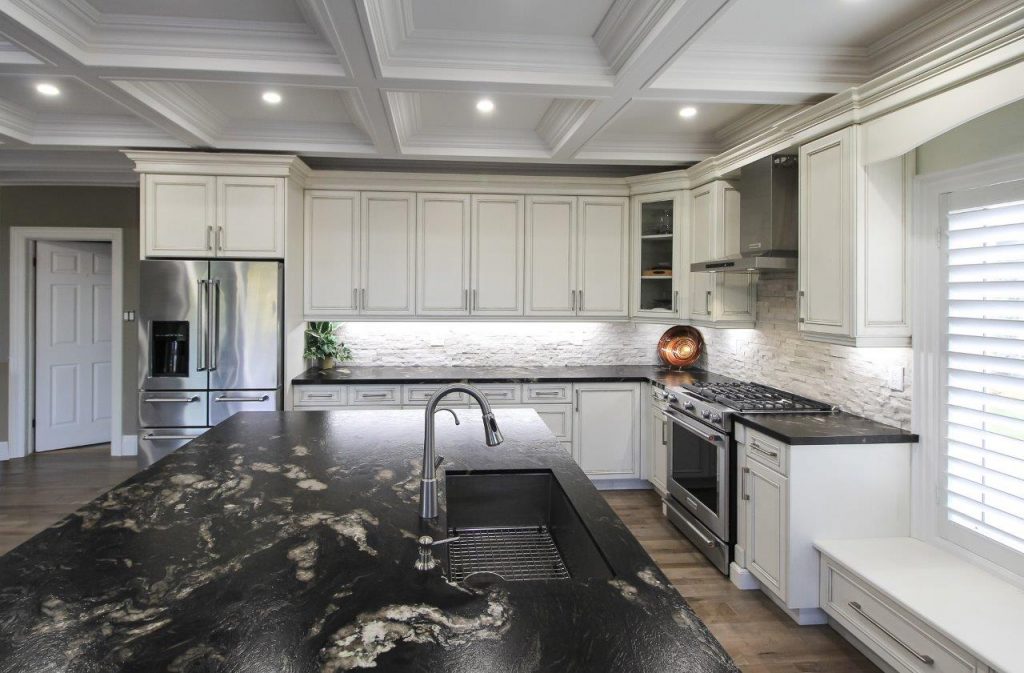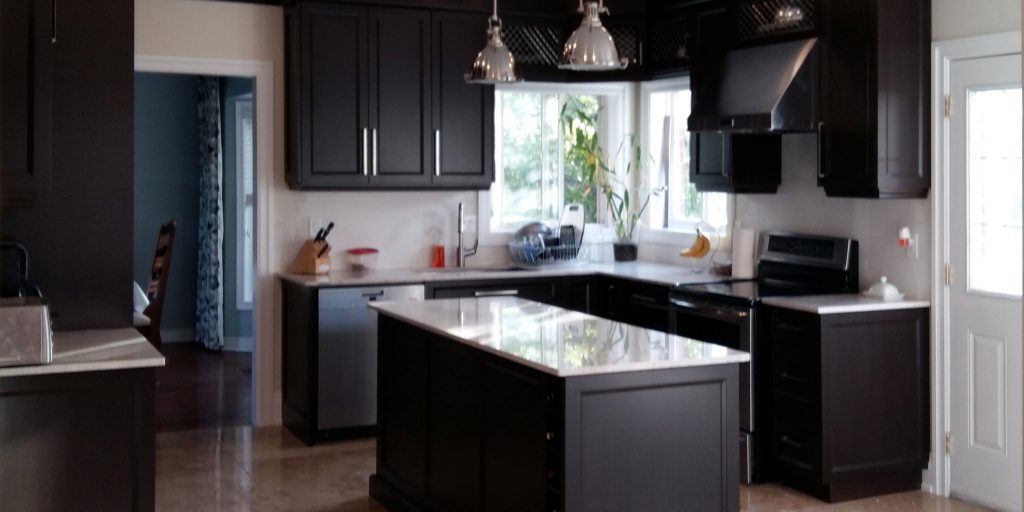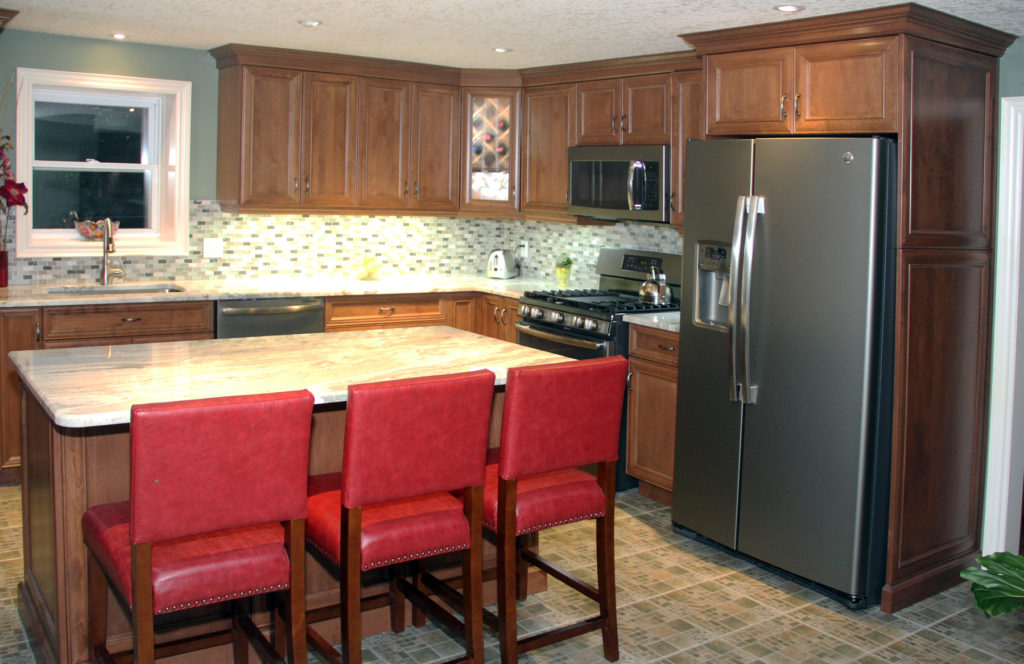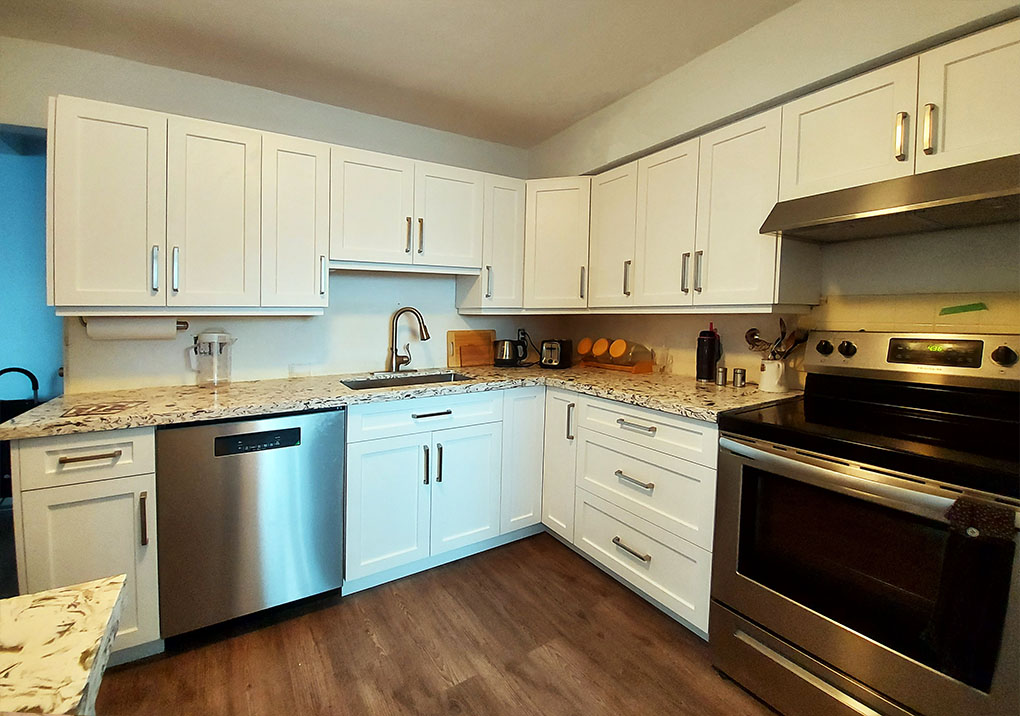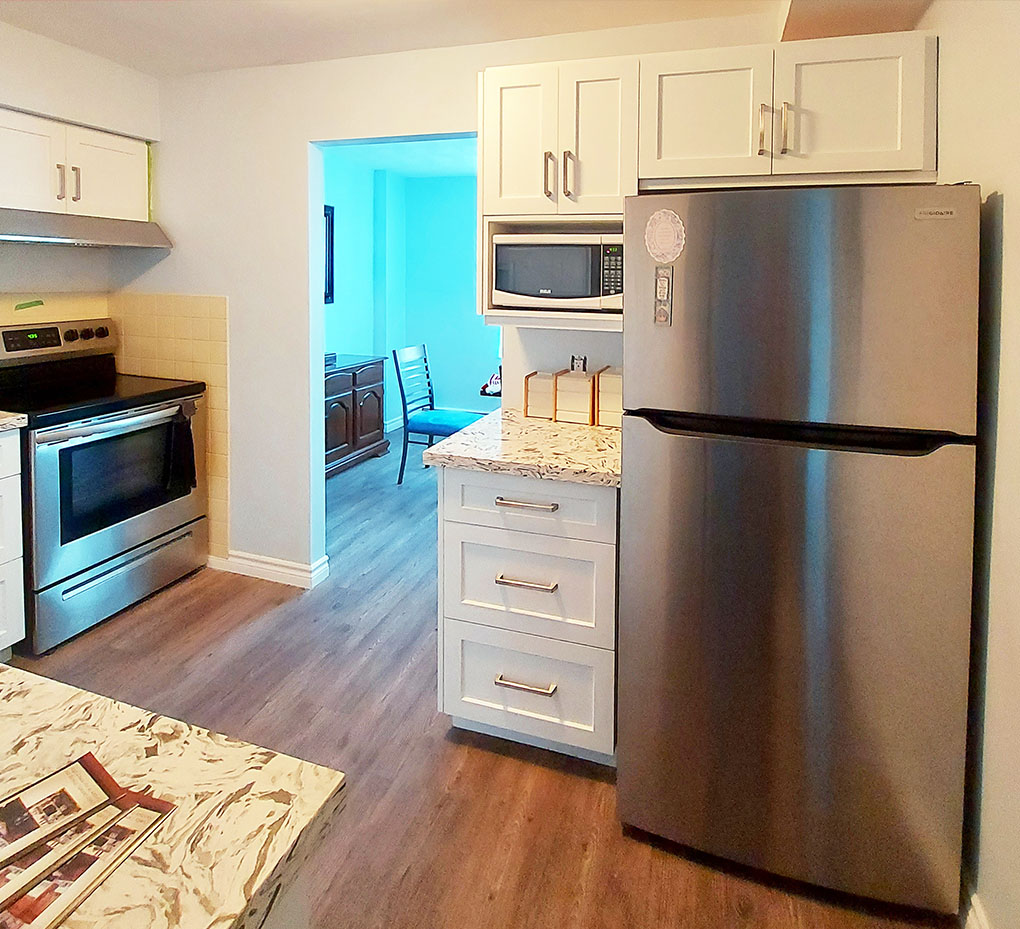 Kitchener
New, open-concept kitchen compliments tasteful home renovation
Bright white kitchen cabinets with contrasting dark maple island add to the tasteful remodeling effort throughout this Kitchener Idlewood home.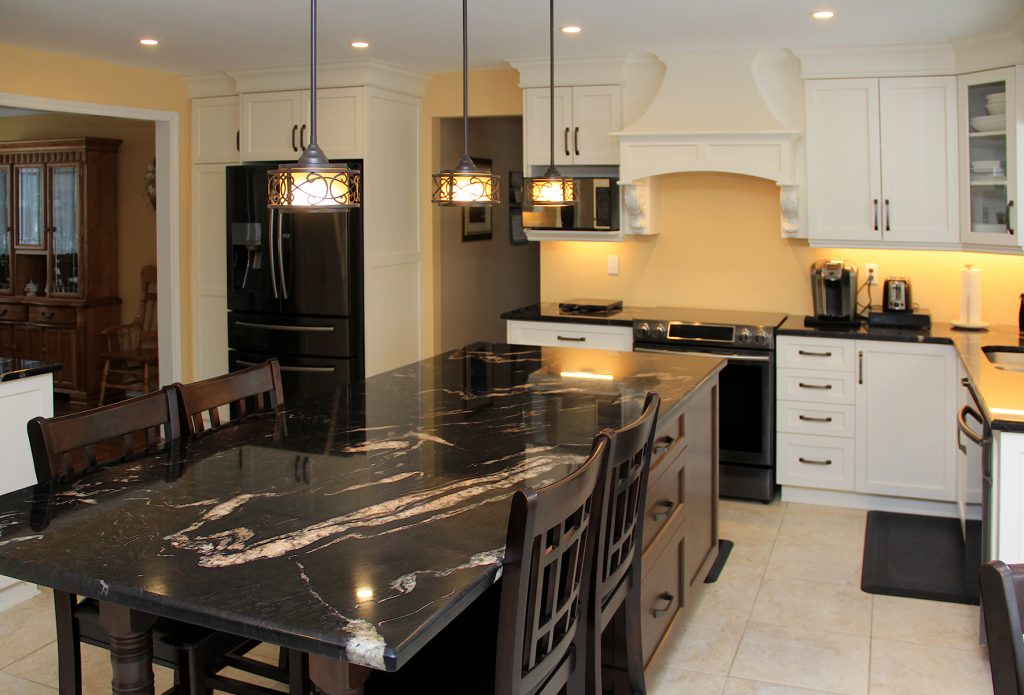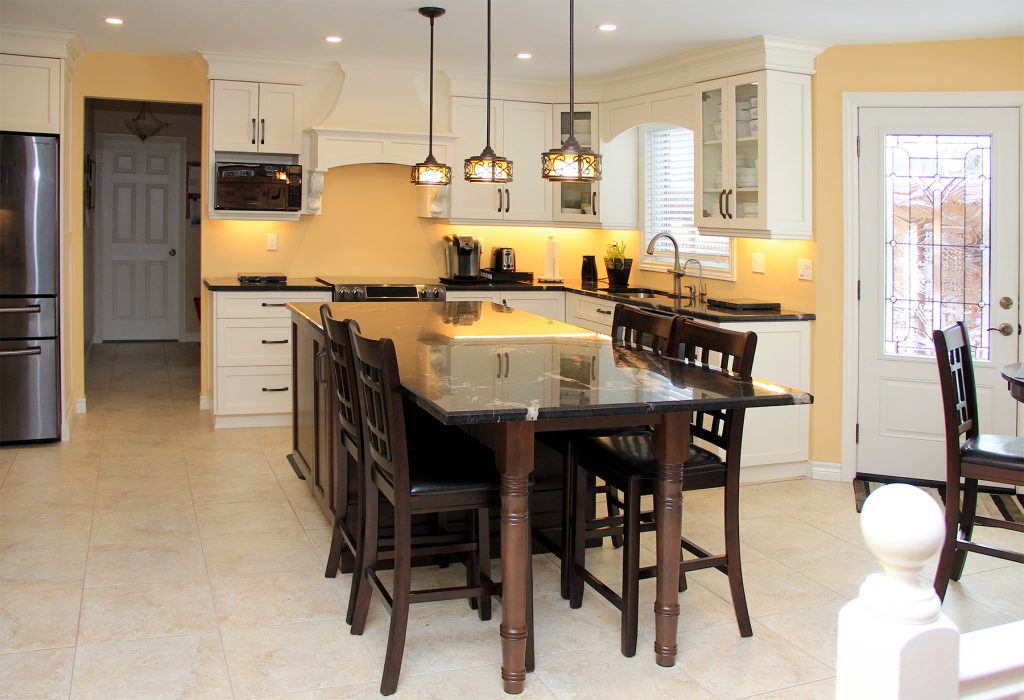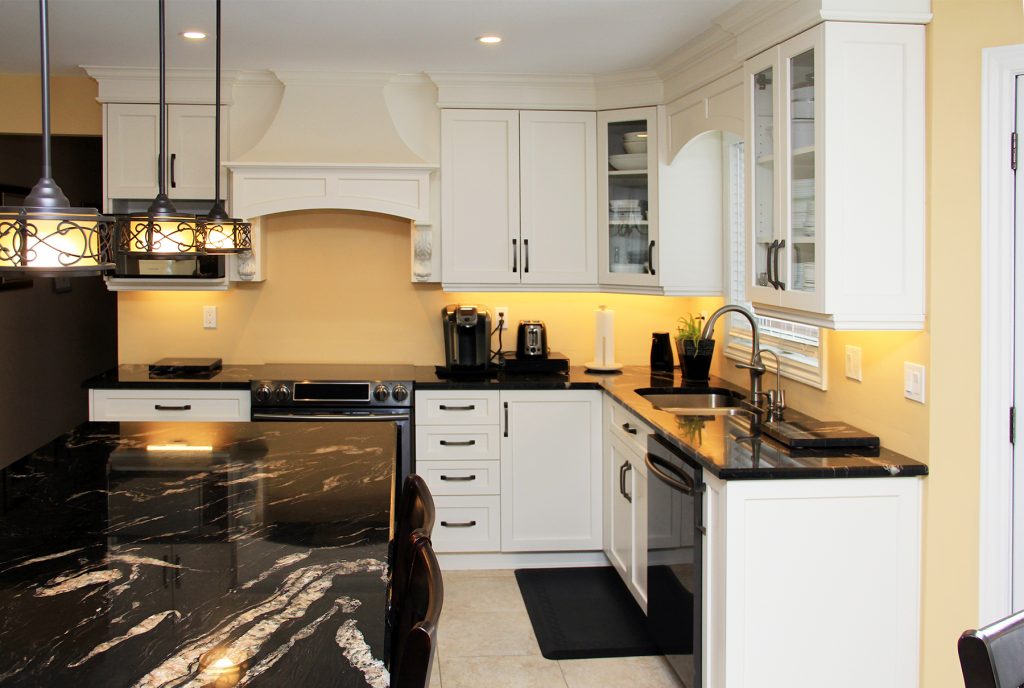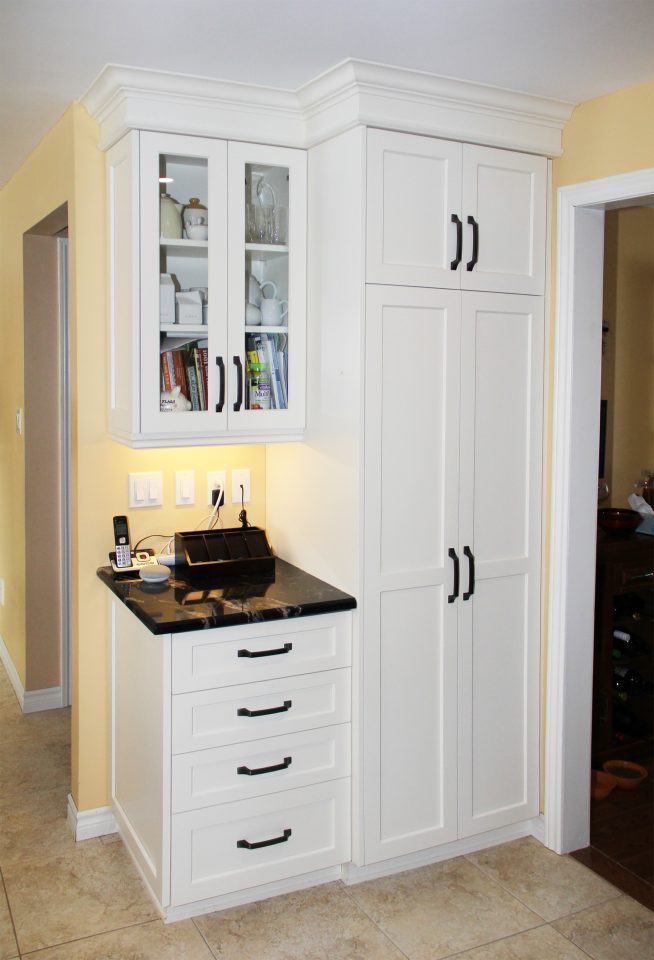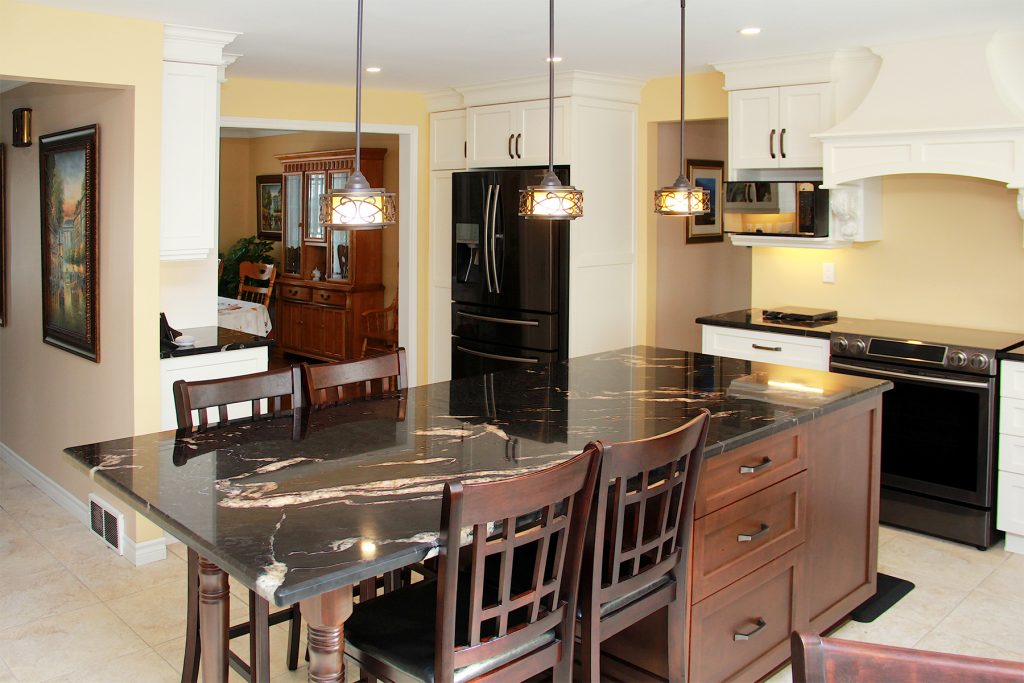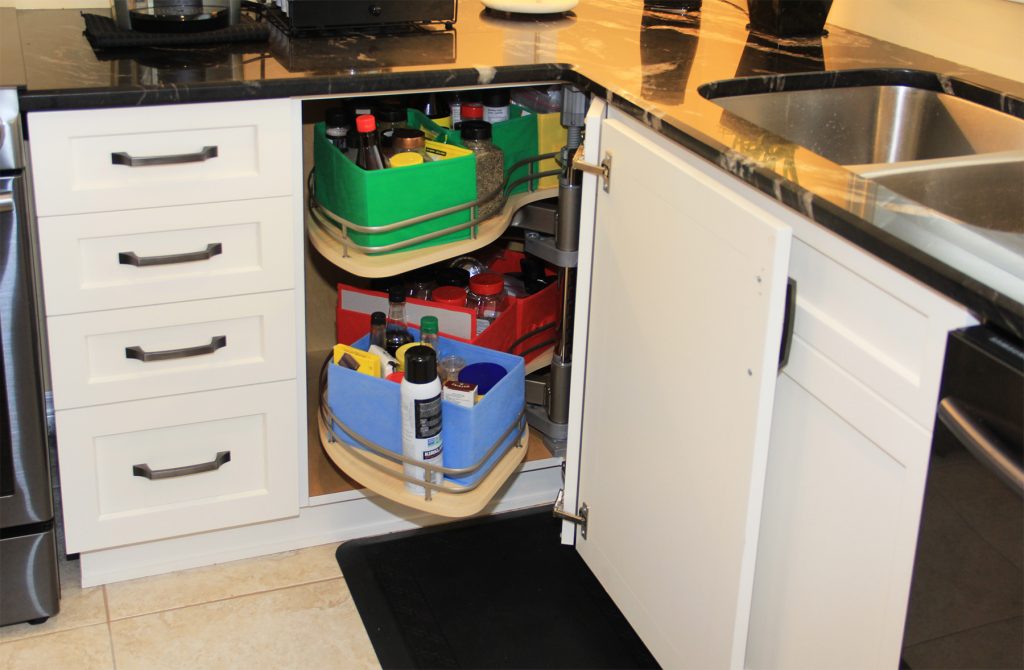 Conestogo – Woowich
White Shaker Bent Peninsula Kitchen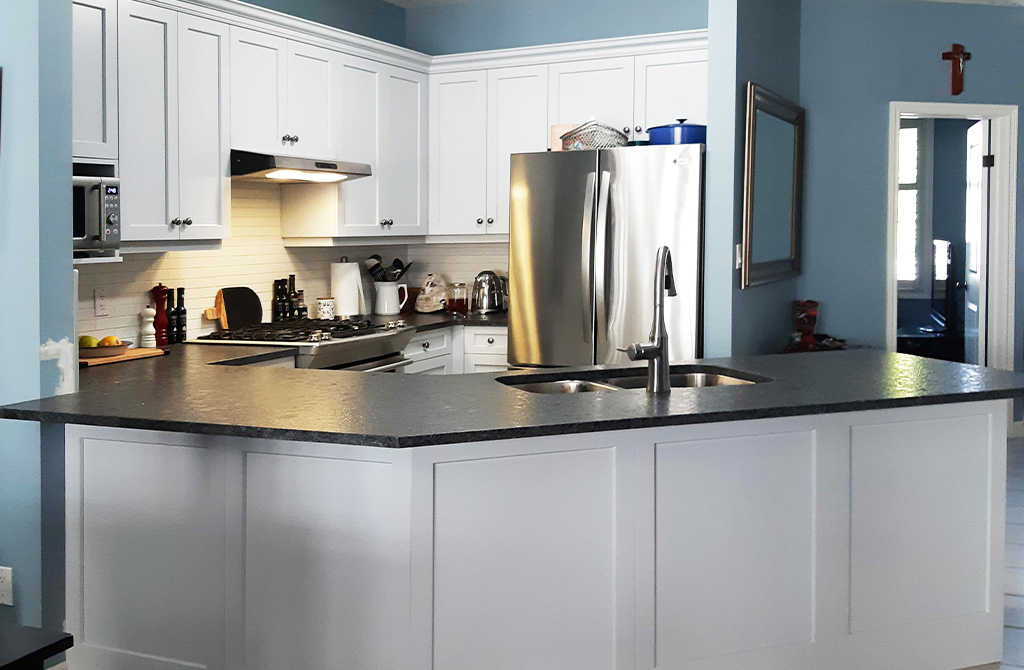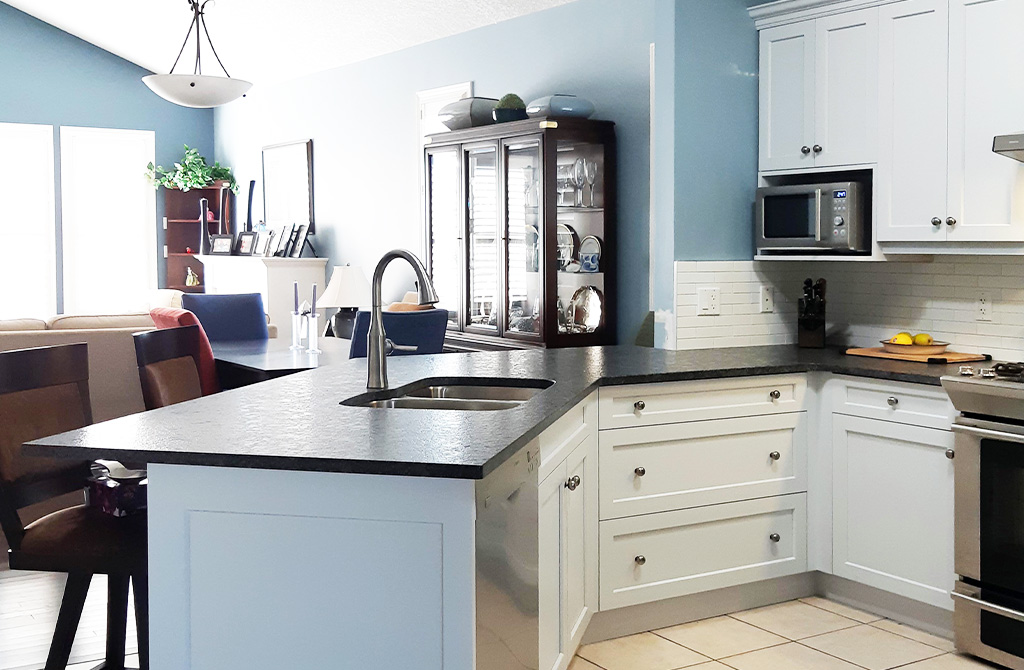 Conestogo – Woowich
White Shaker Bent Peninsula Kitchen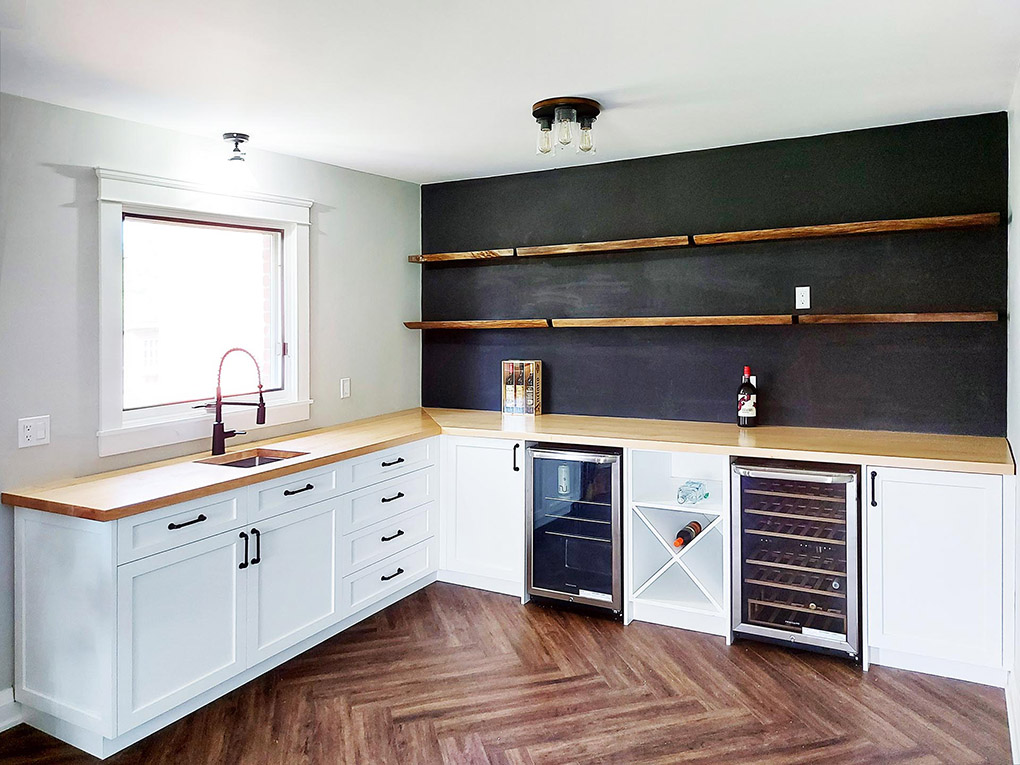 Conestogo Lake – Wallenstein
Cottage Kitchen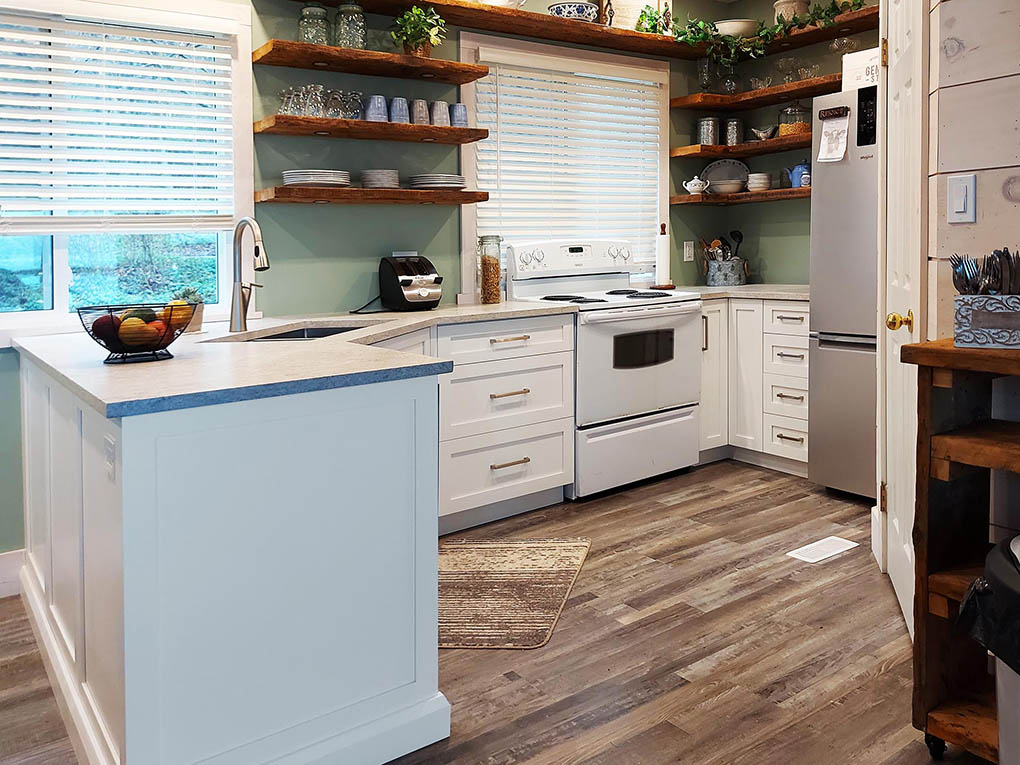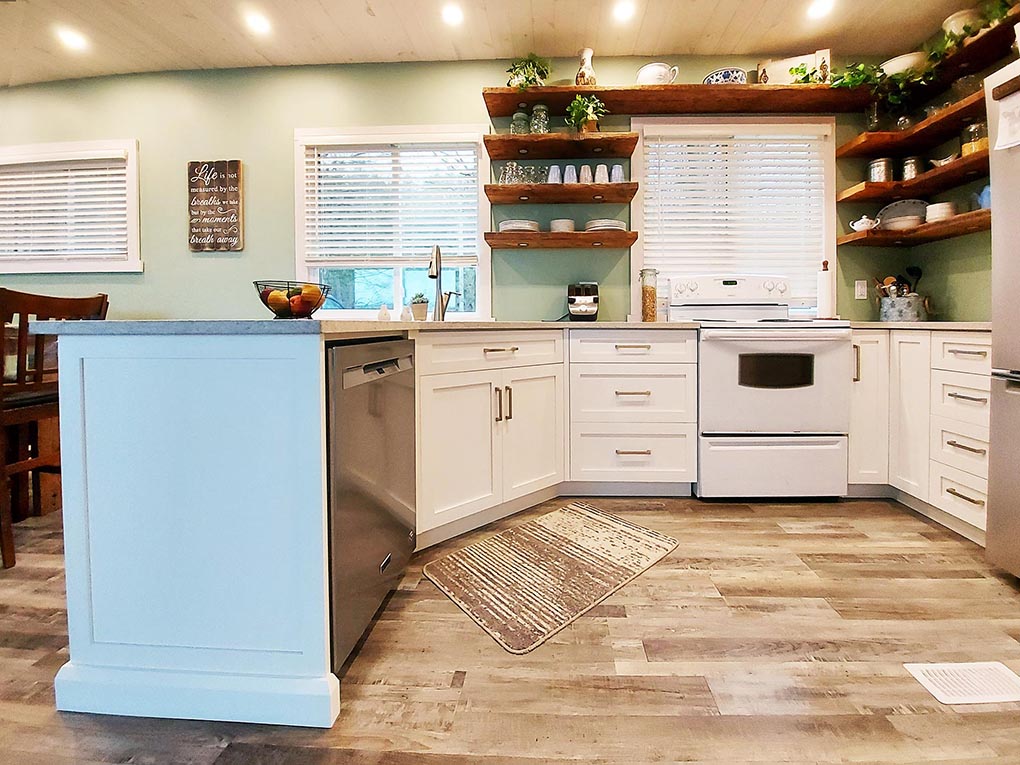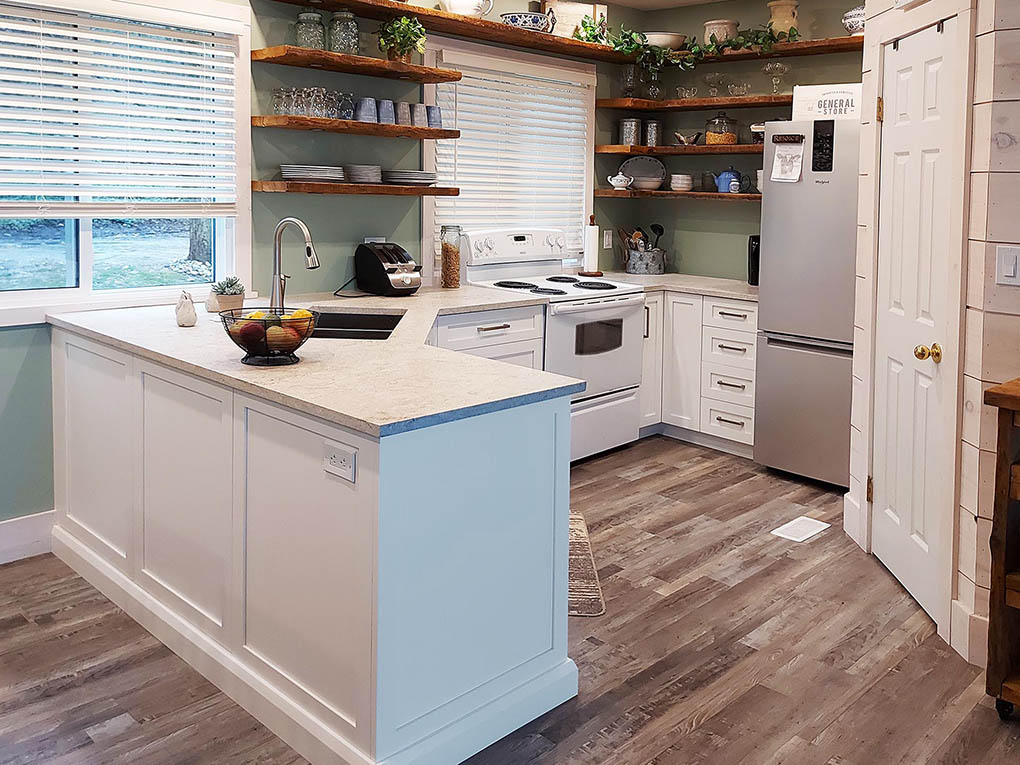 Stoney Creek
Maple Kitchen with Fireplace and Bar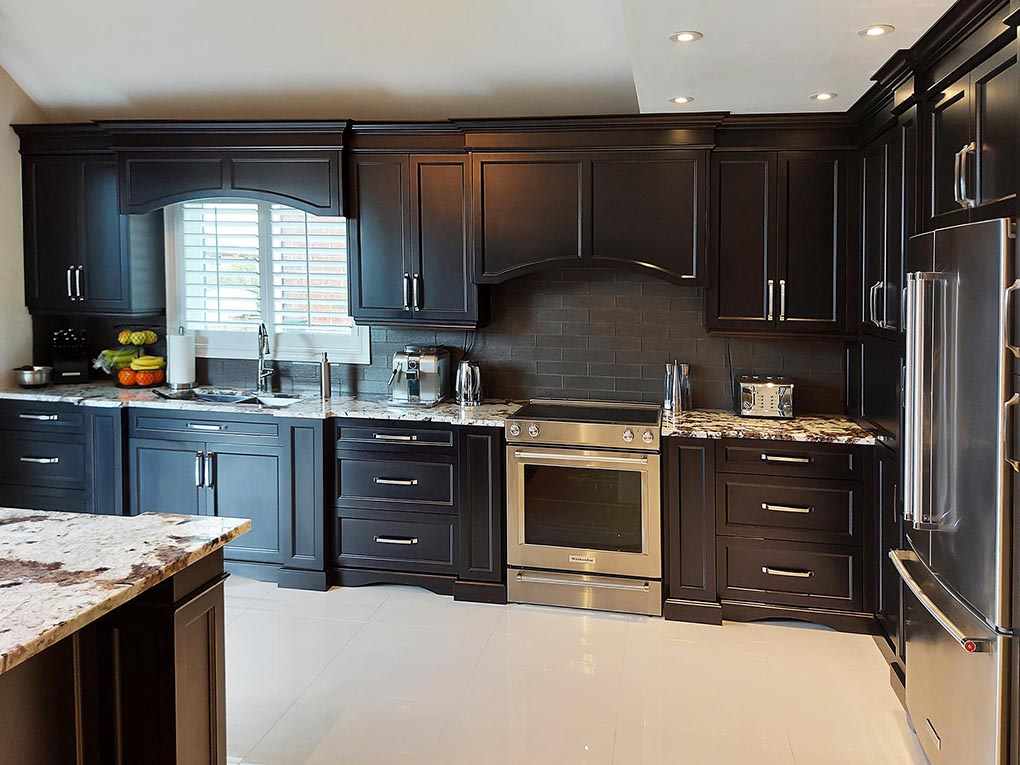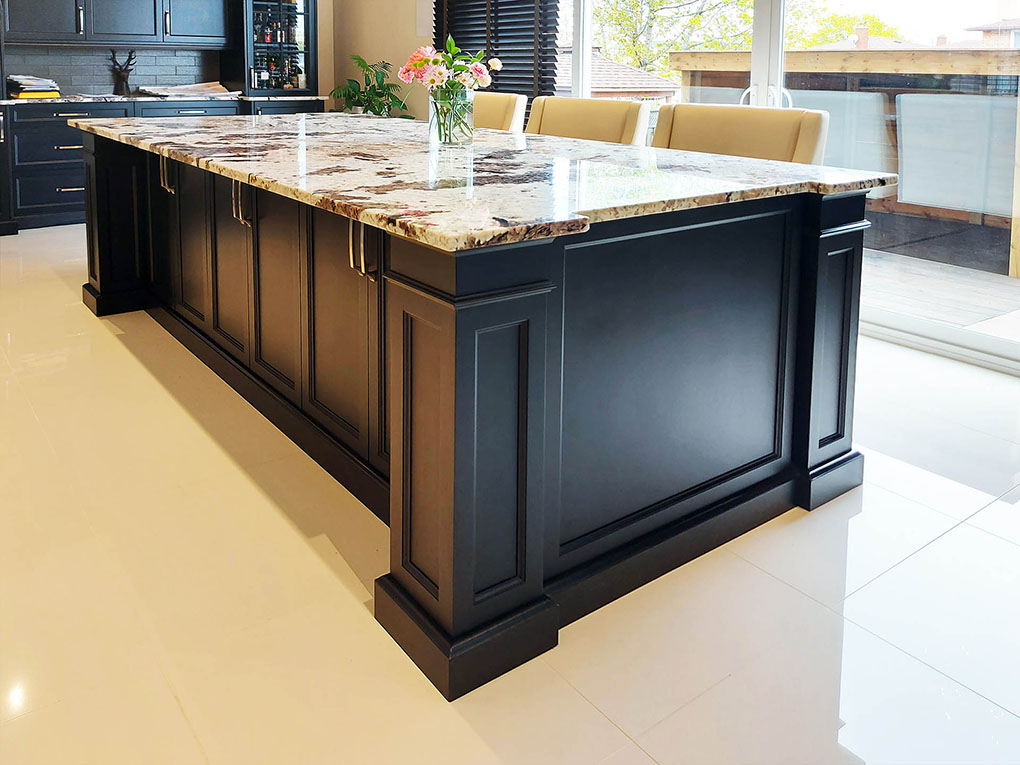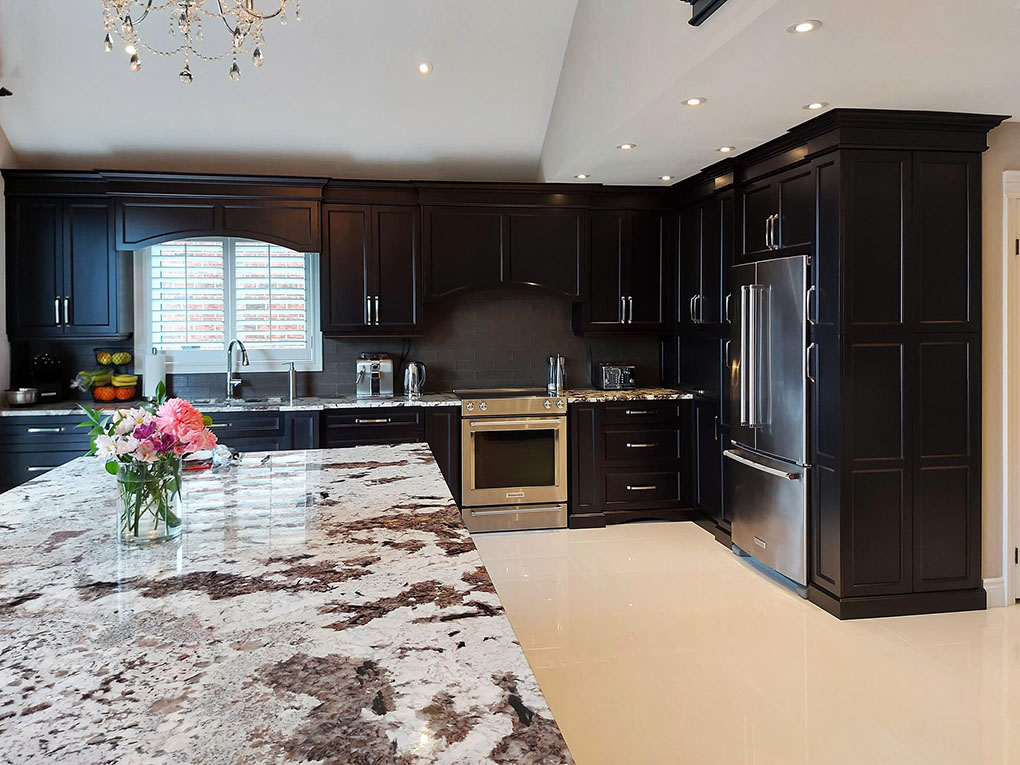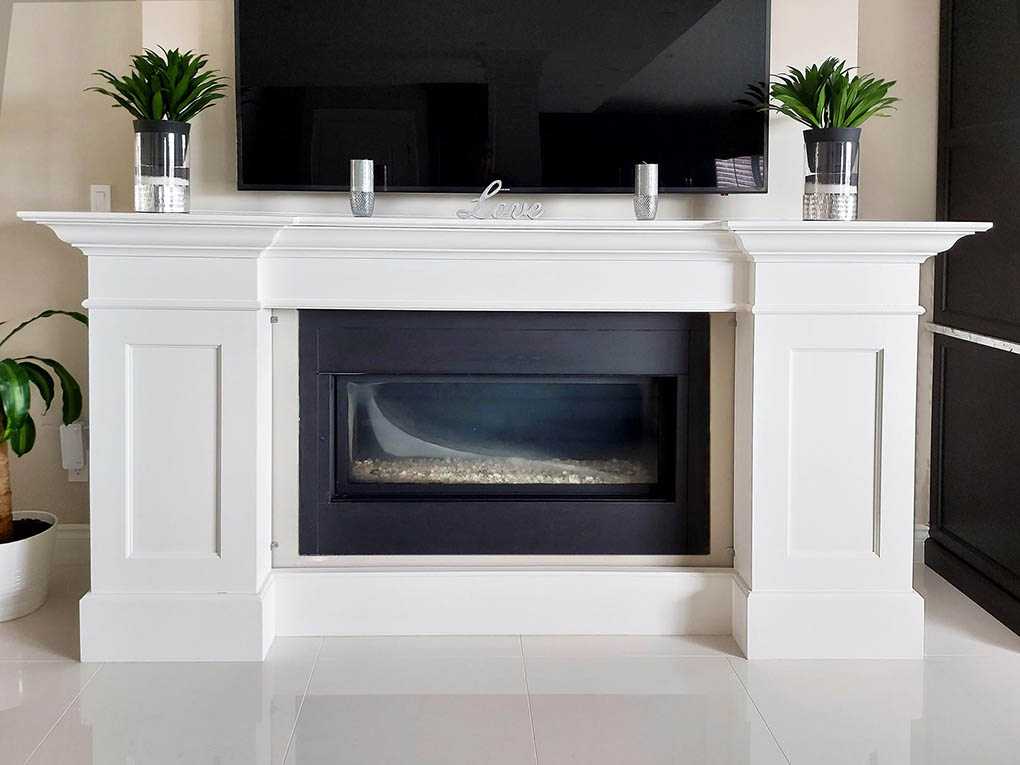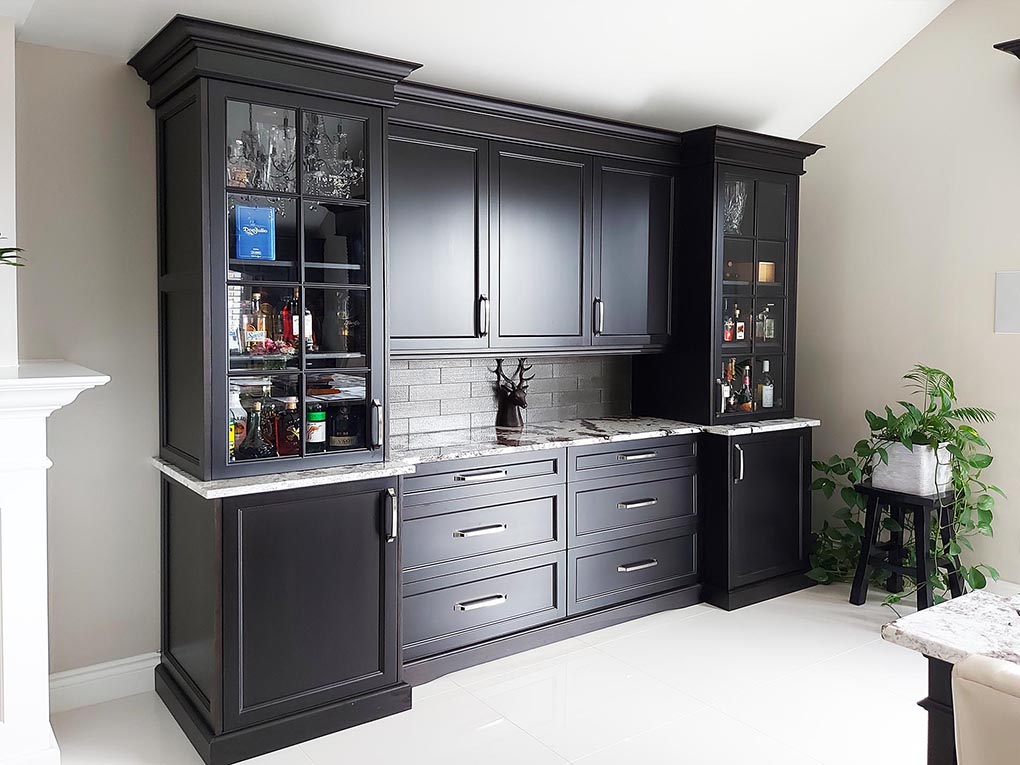 Kitchen Refacing in Conestogo
New white kitchen cabinets and contrasting island with live-edge dark enhance the aesthetic of this open concept Conestogo home.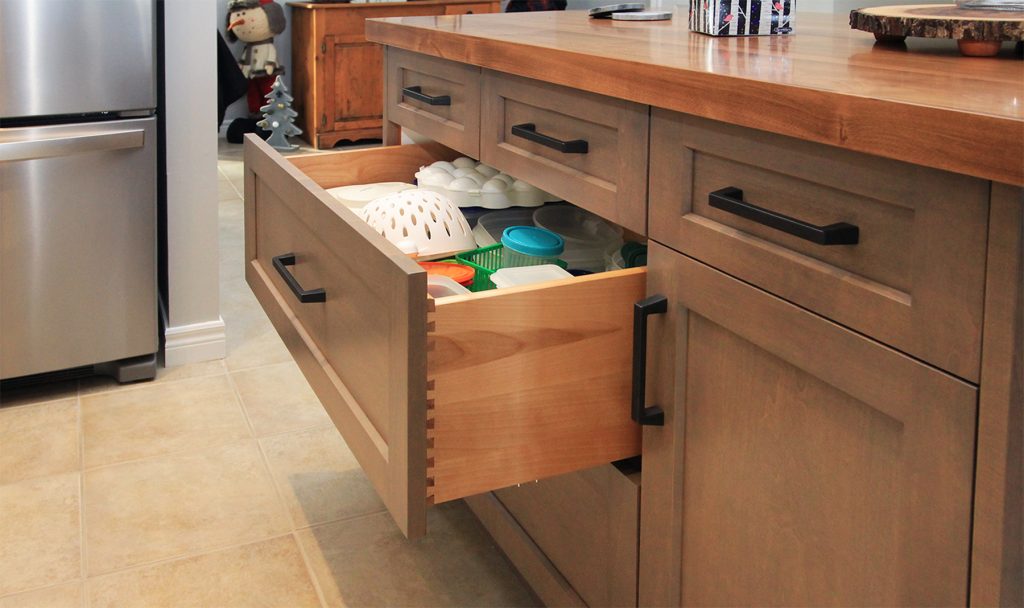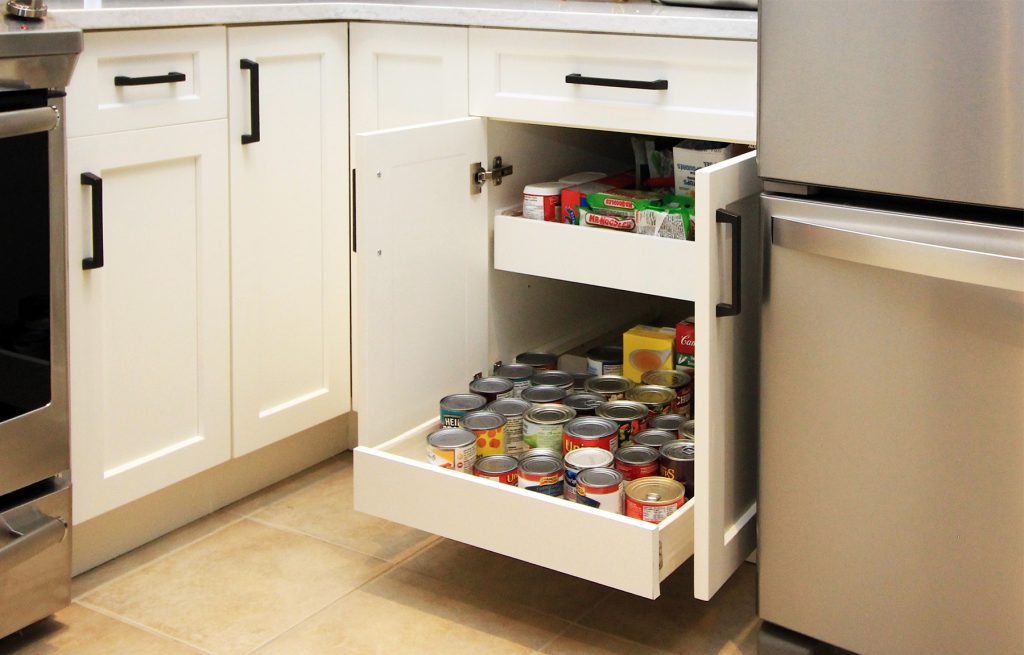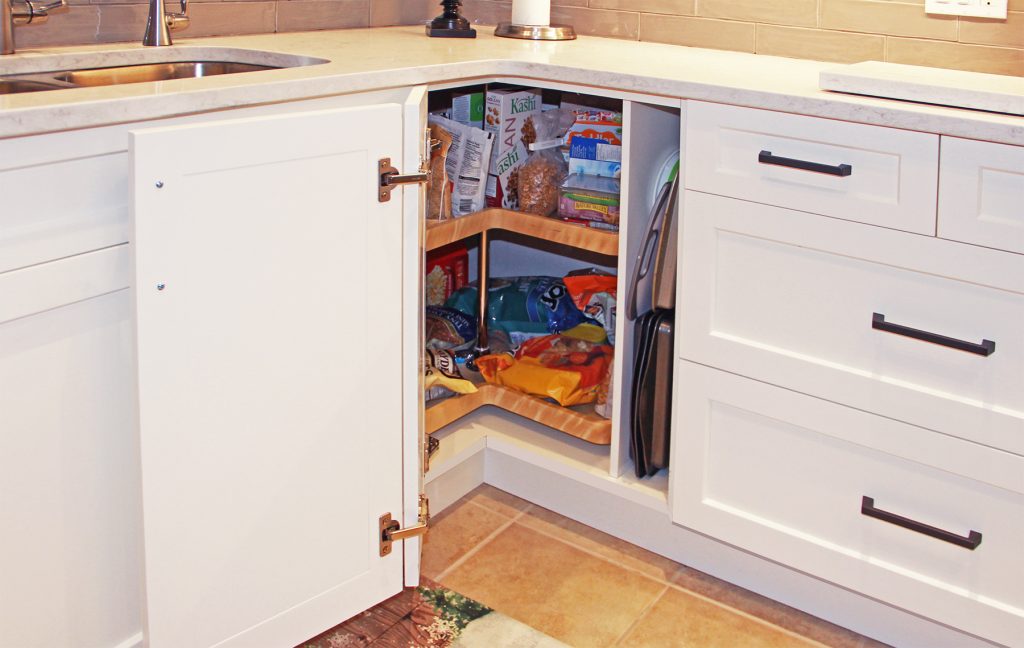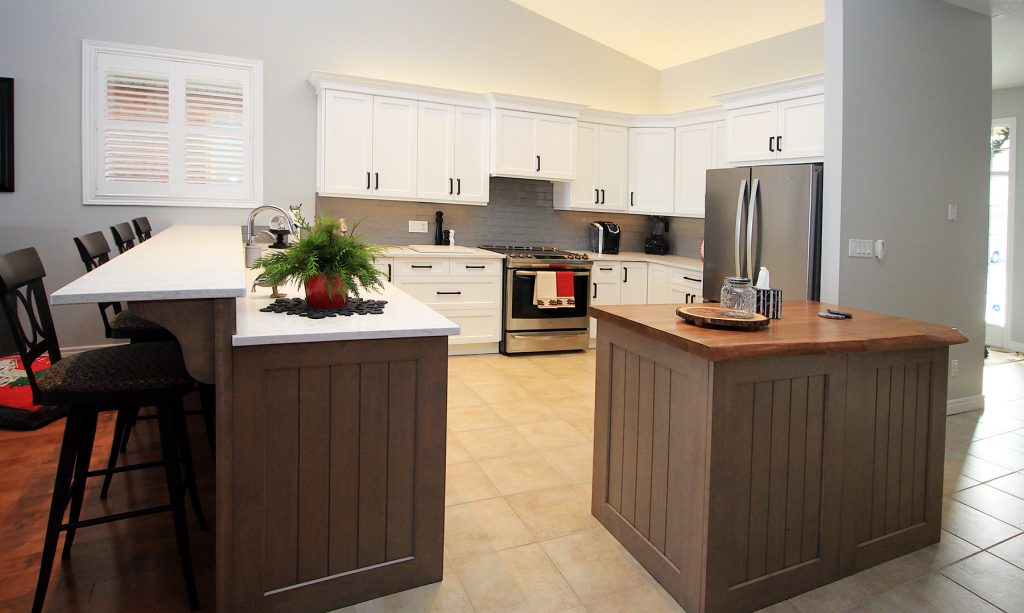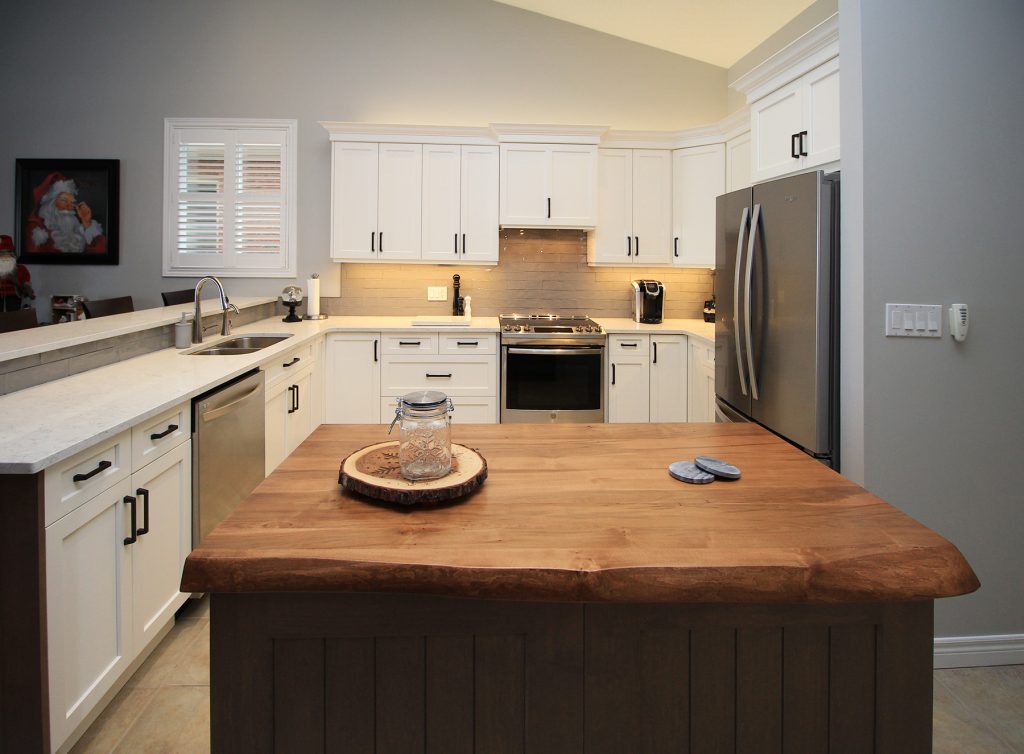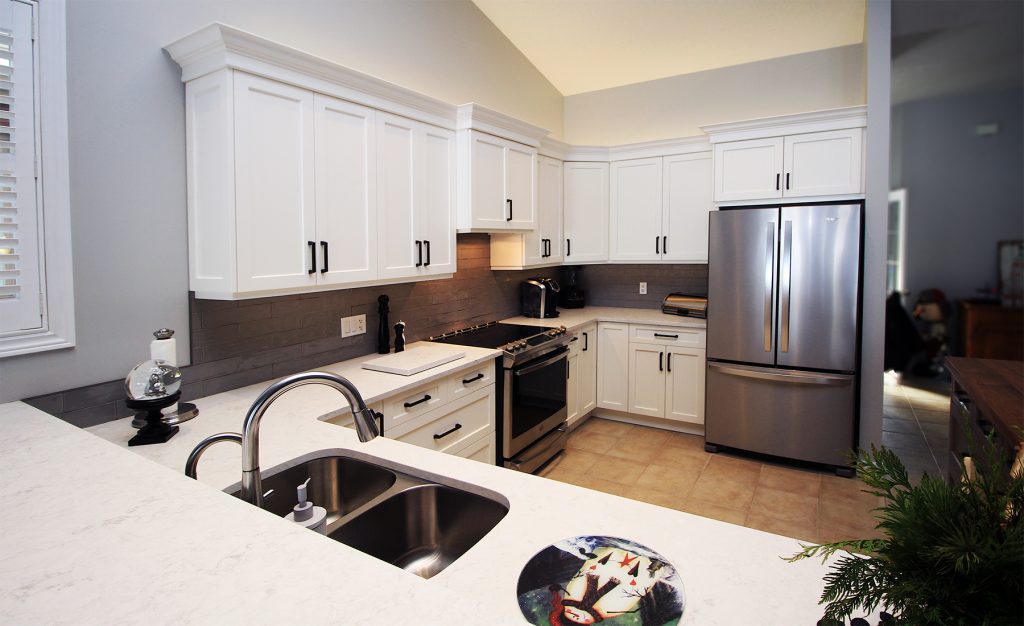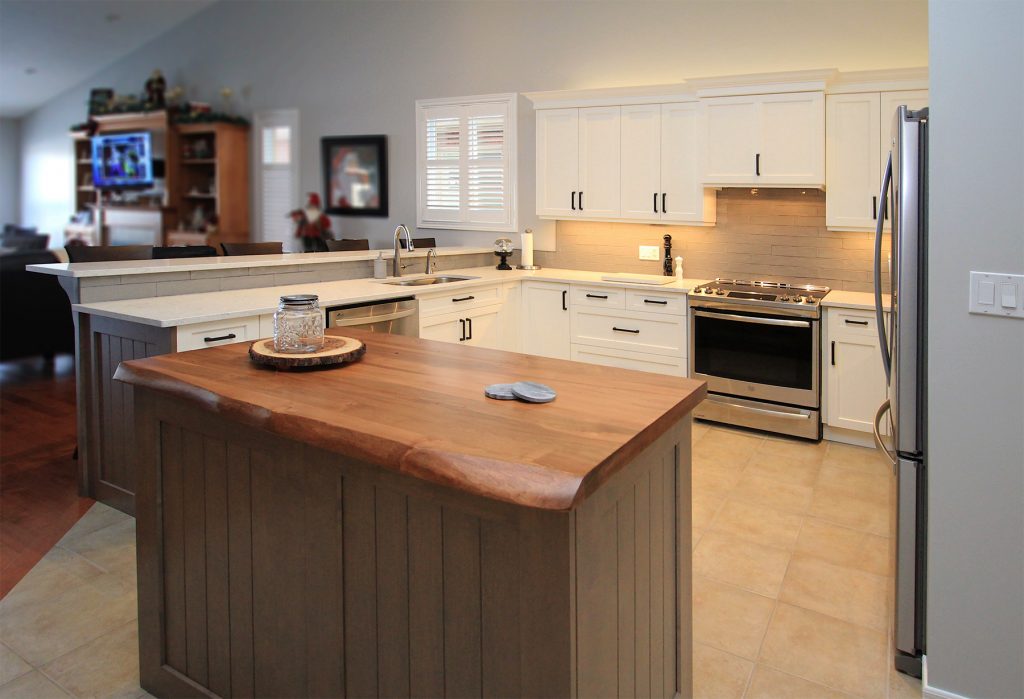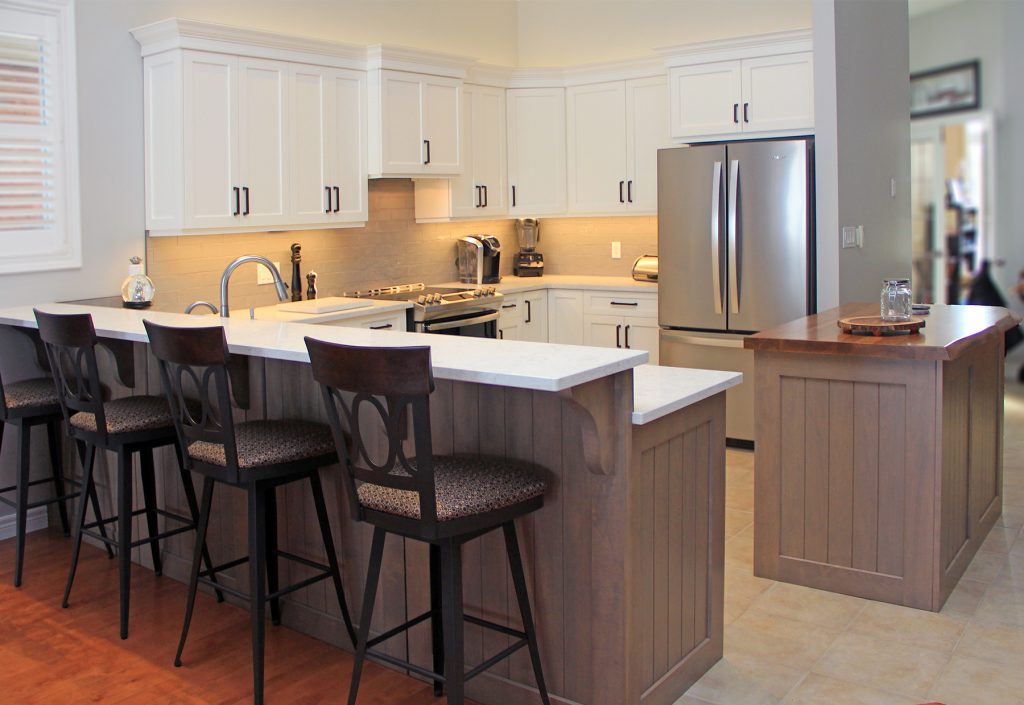 Baden
New Cabinets & Clever Storage Solutions Optimize Angular Kitchen Space
A fresh white kitchen remodel with reconfigured wall space and storage solutions create a brighter, more functional, and inviting space!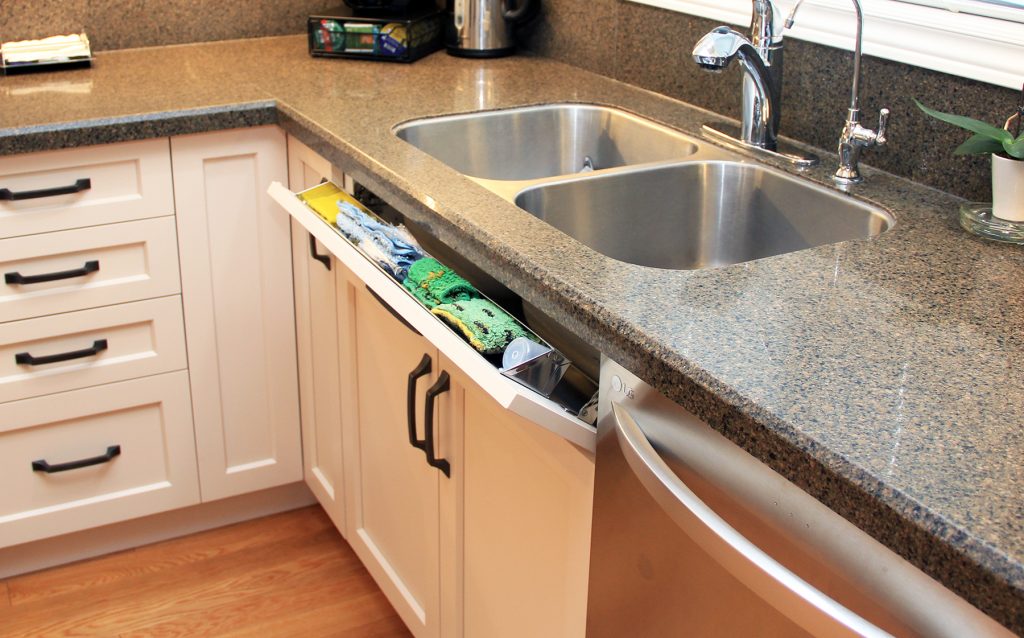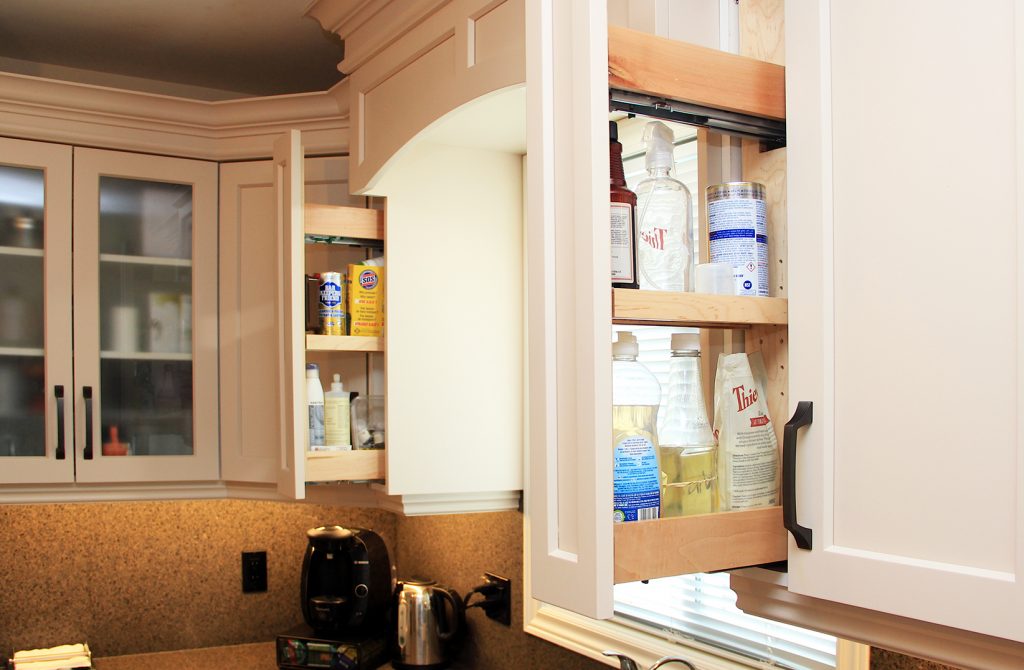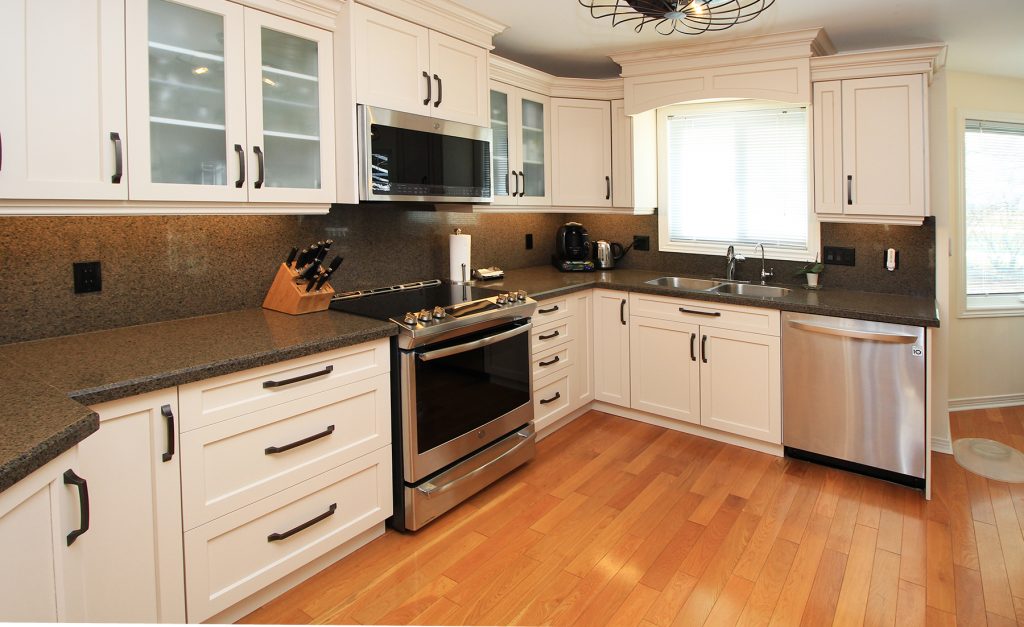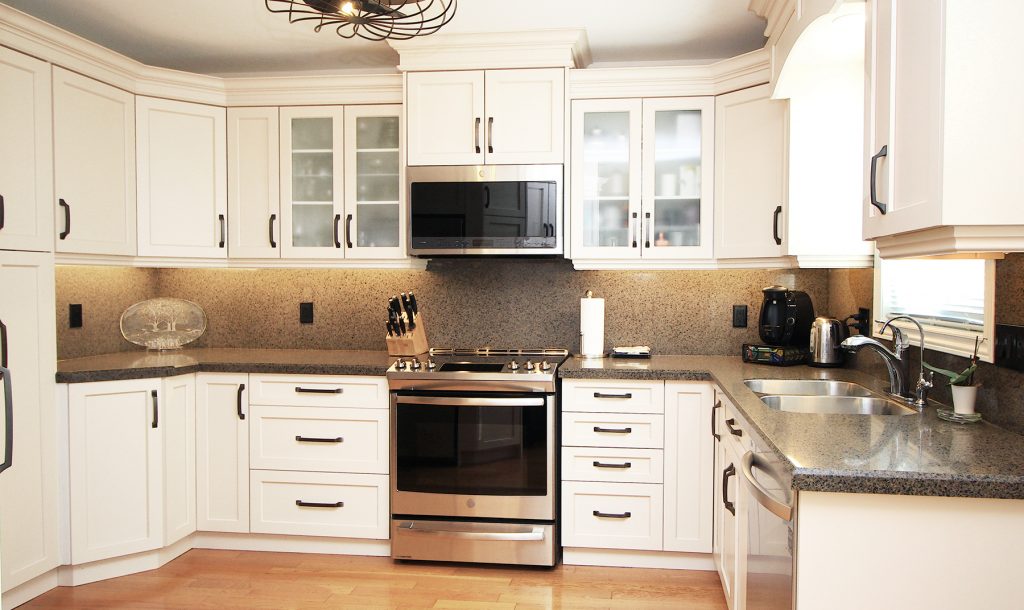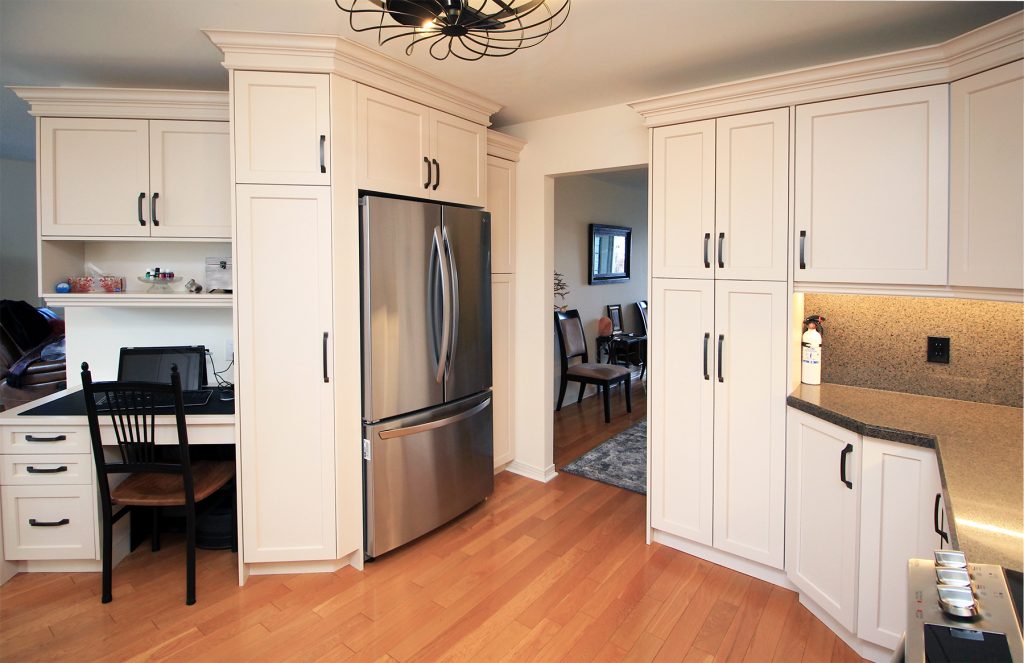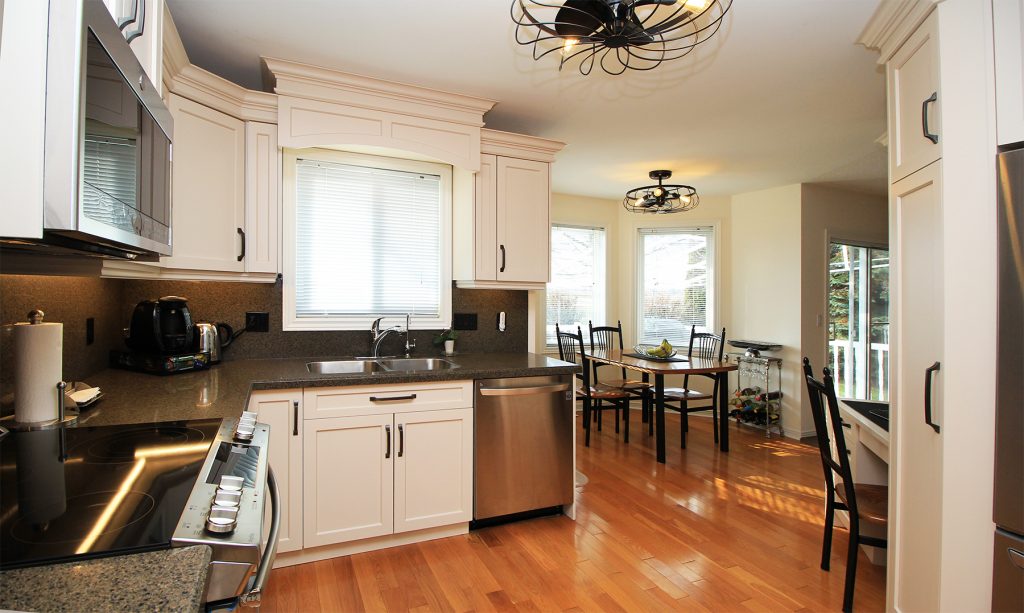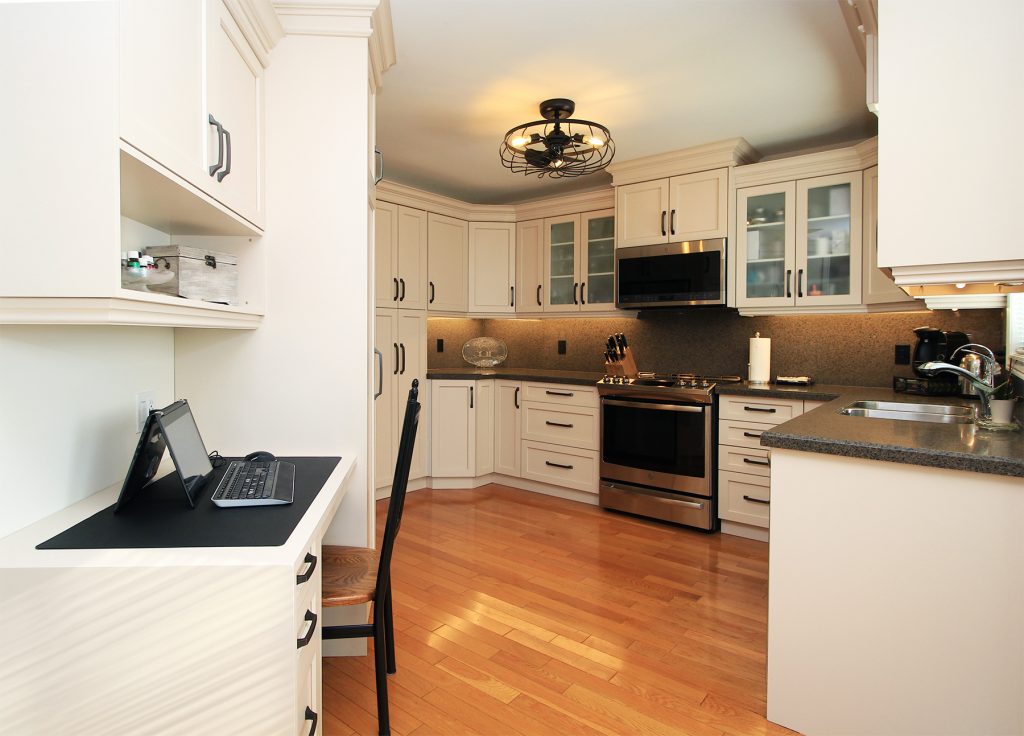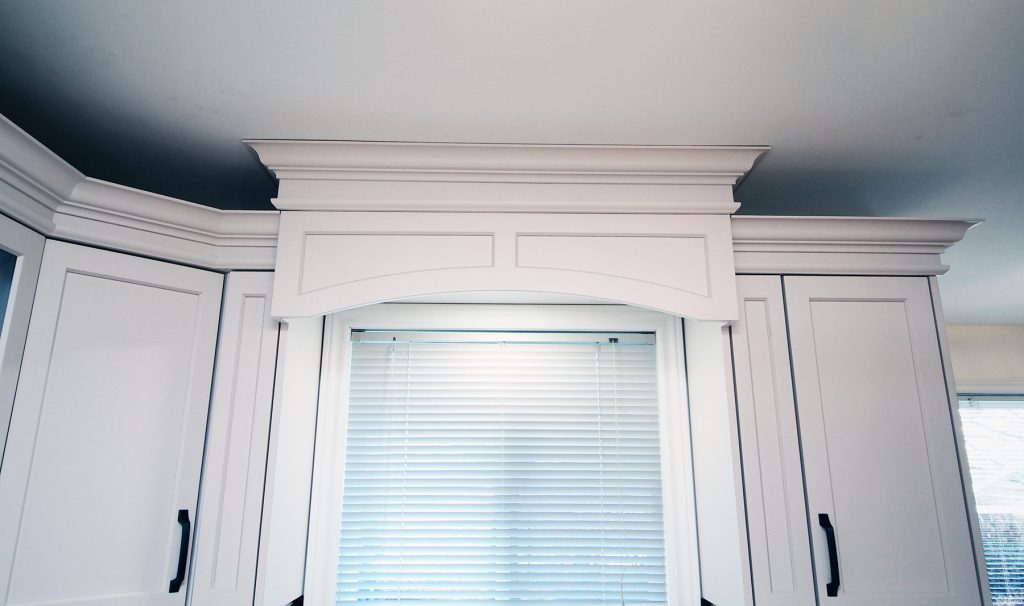 Kitchener – Mannheim
Transitional Kitchen Reface – with Terrific New Features!
A fresh white cabinet resurface and reconfiguration transformed this kitchen into an inspiring and functional gathering place for family and friends – improving storage space, organization, and a brighter, more open aesthetic.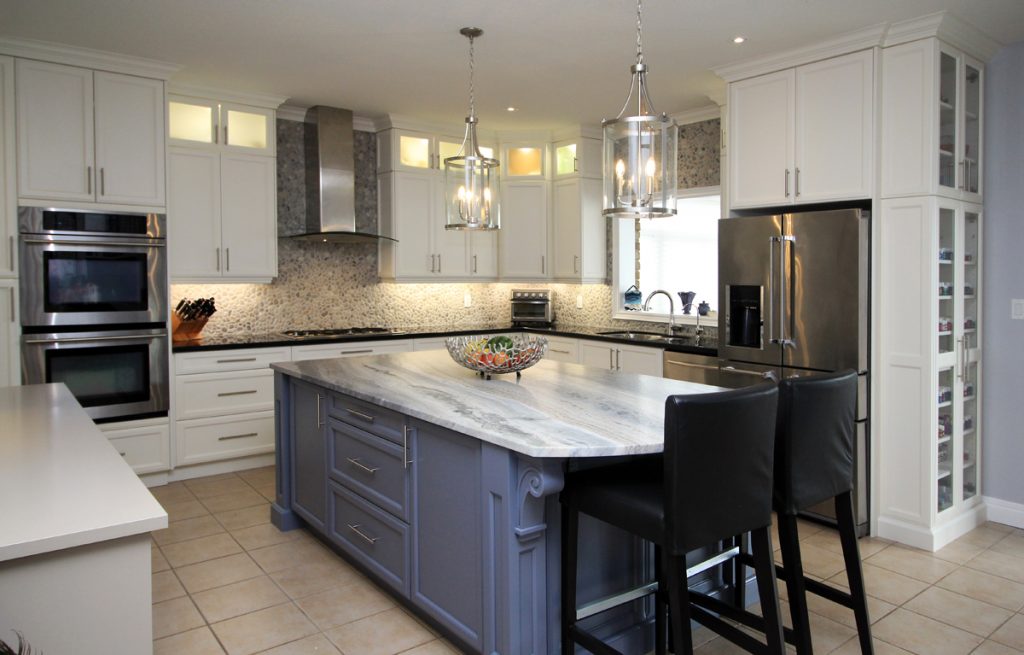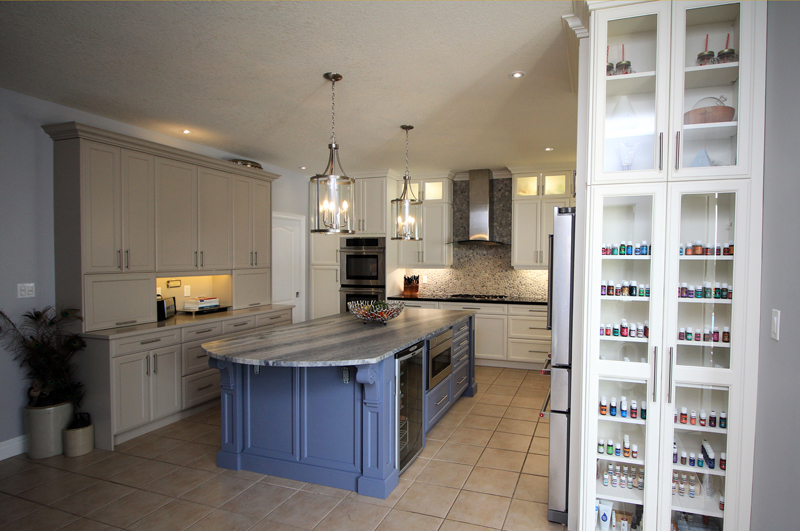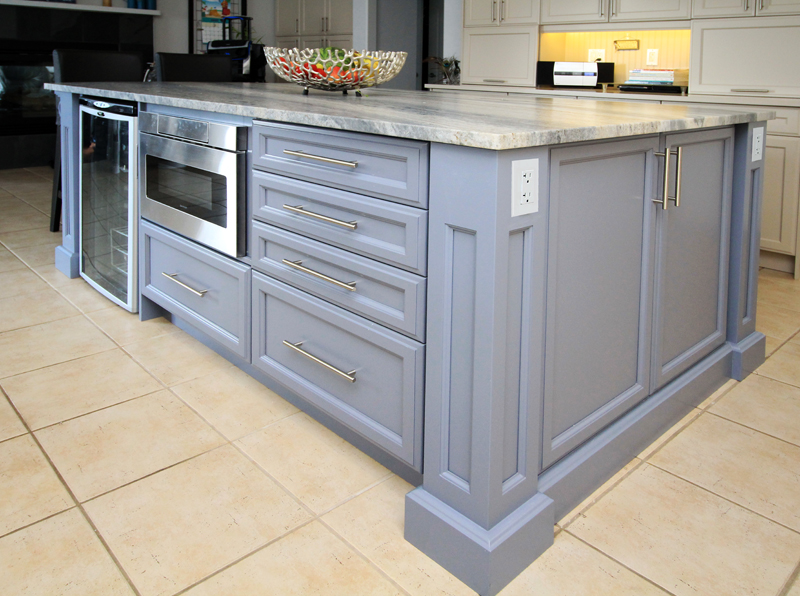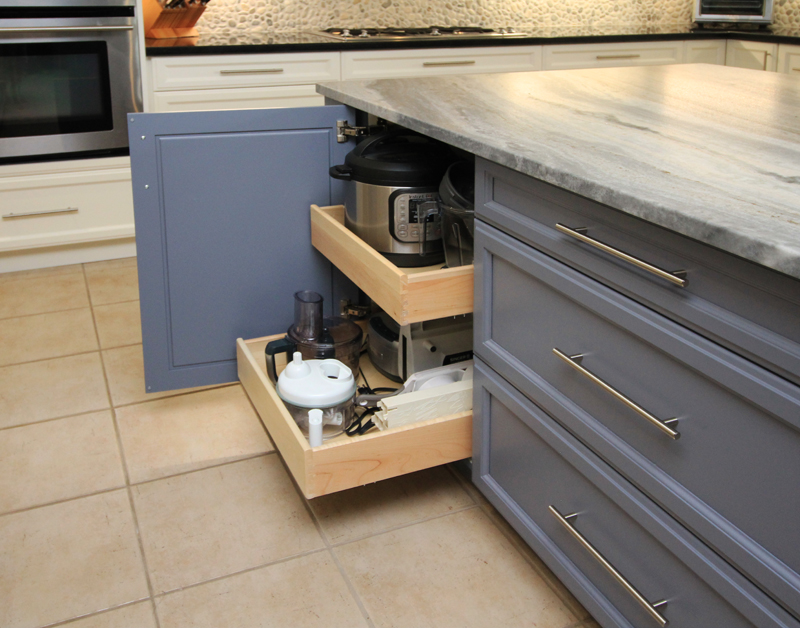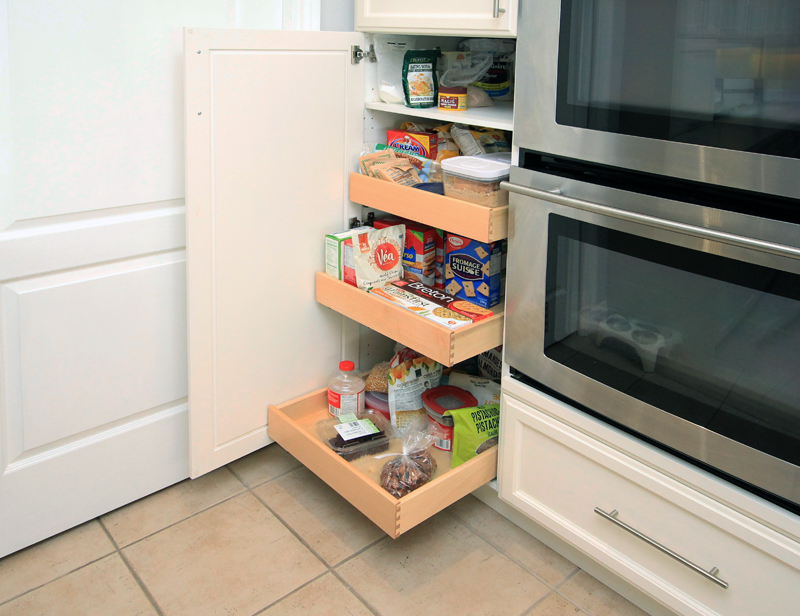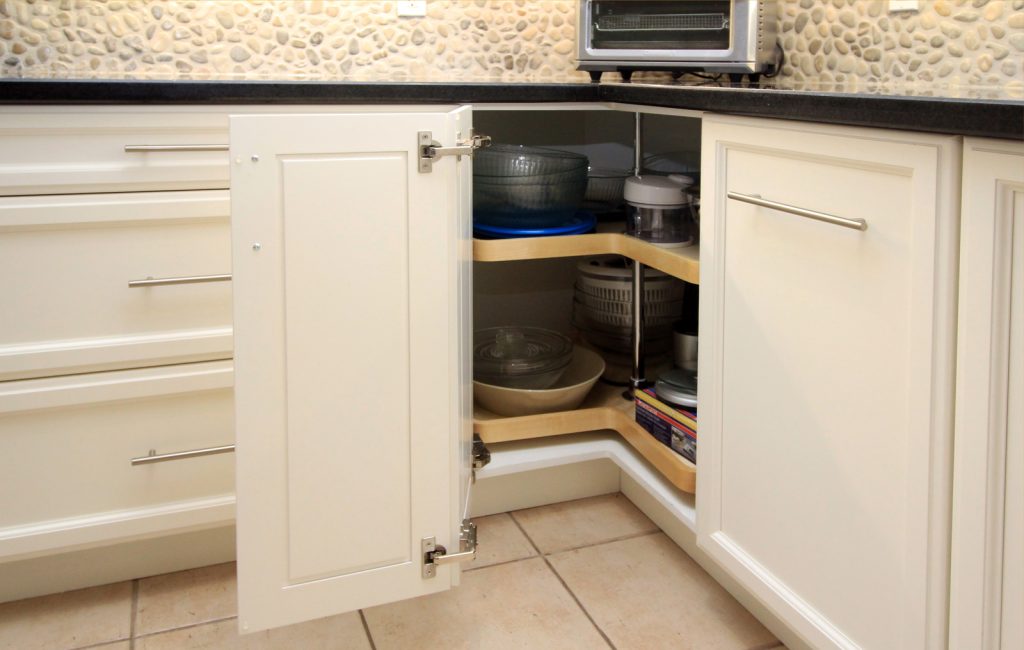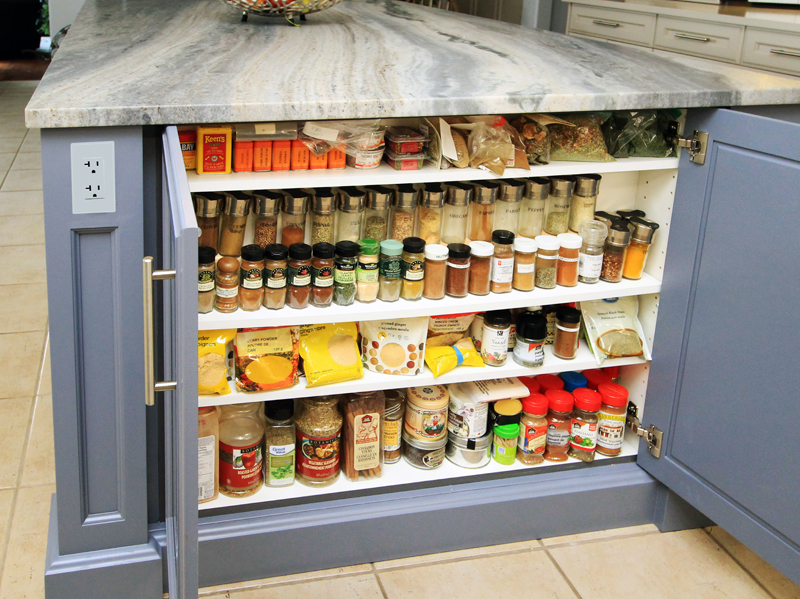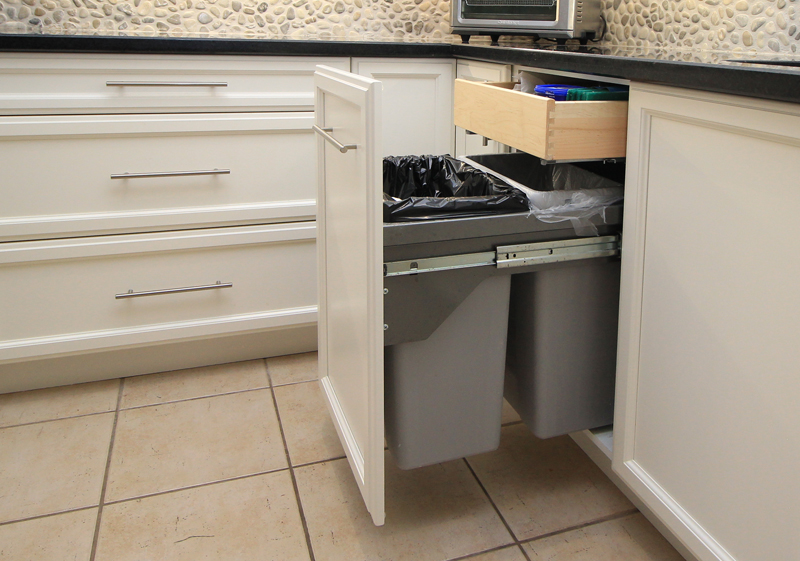 Kitchener
New Shaker Cabinets Compliment Victorian Furnishings
New cabinets and storage features add functionality and a clean new coordinated look.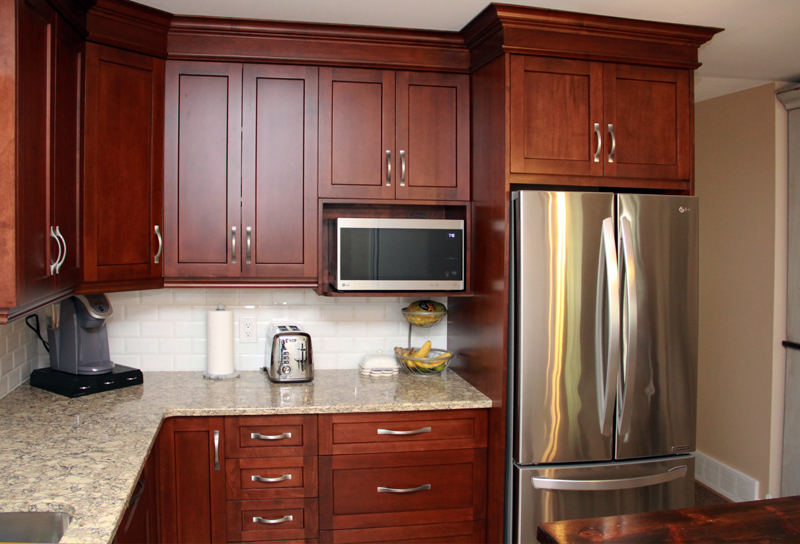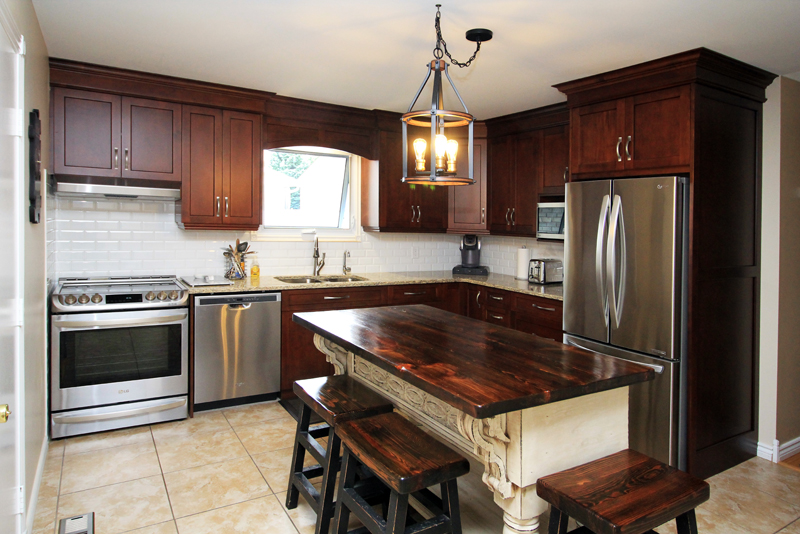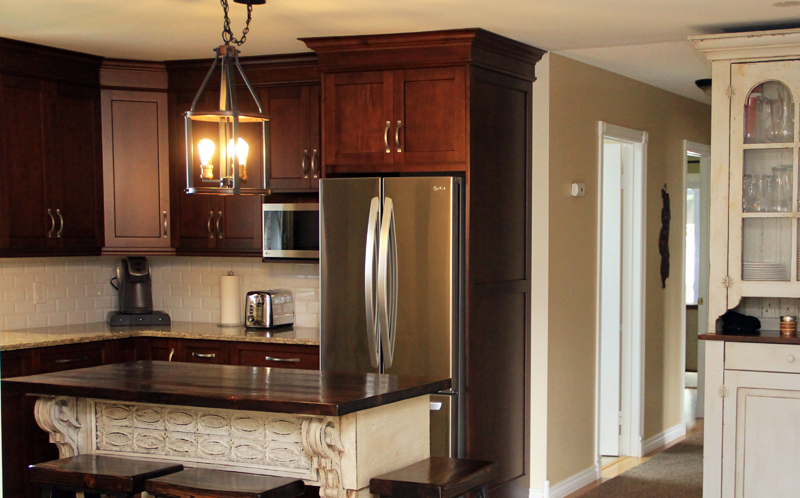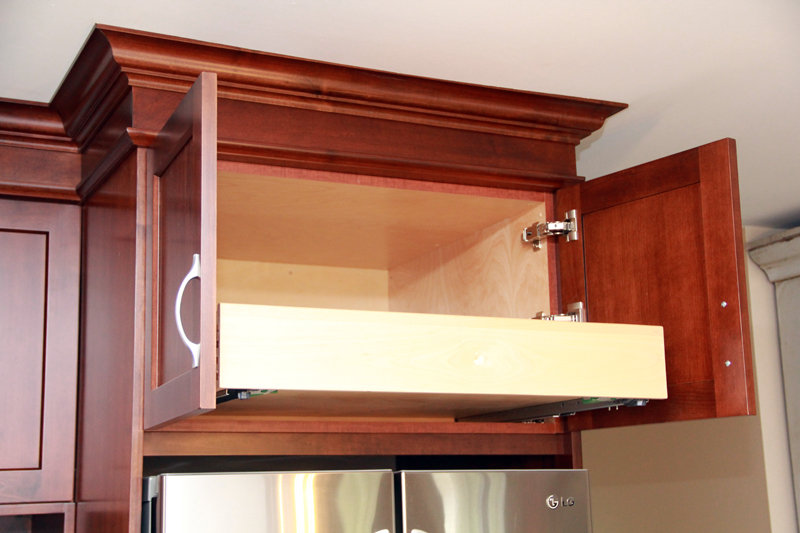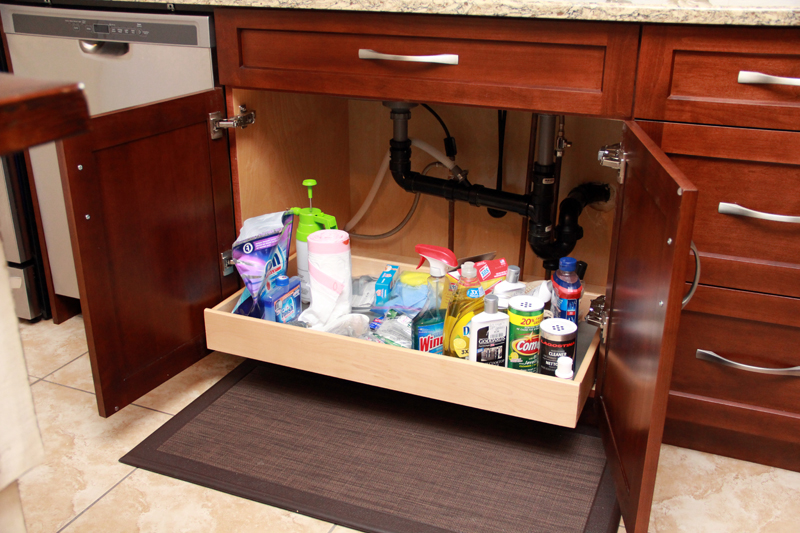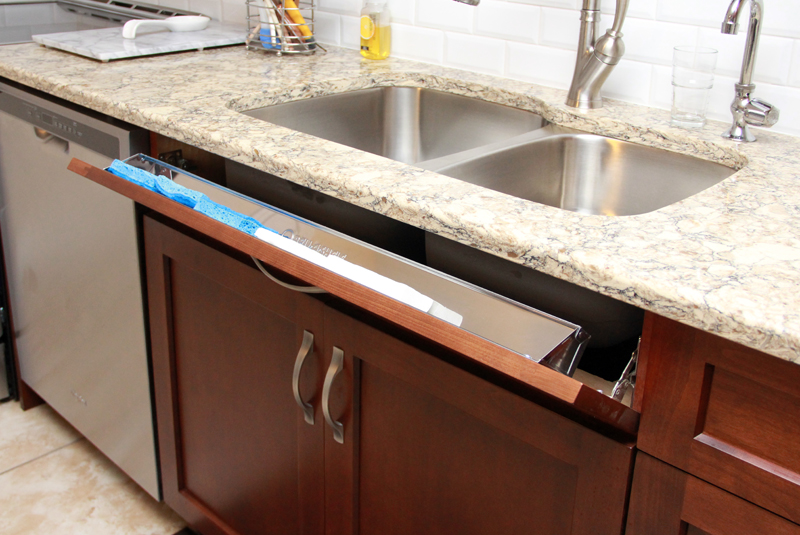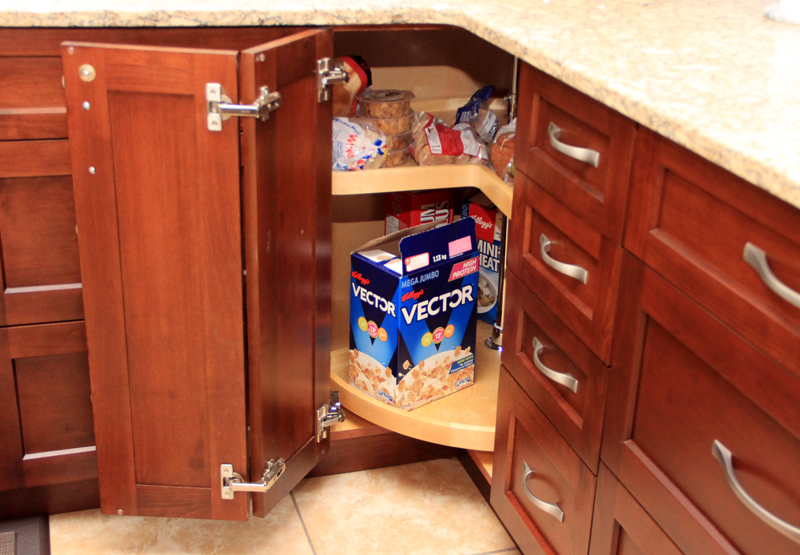 Kitchener – Pino's Spa
Cafe Bar Reconstruction
As part of an interior remodeling project the cafe bar counter was replaced with a new look in ebony-stained solid maple. The rear counter was refaced with new doors and a new drawer bank and side cabinet.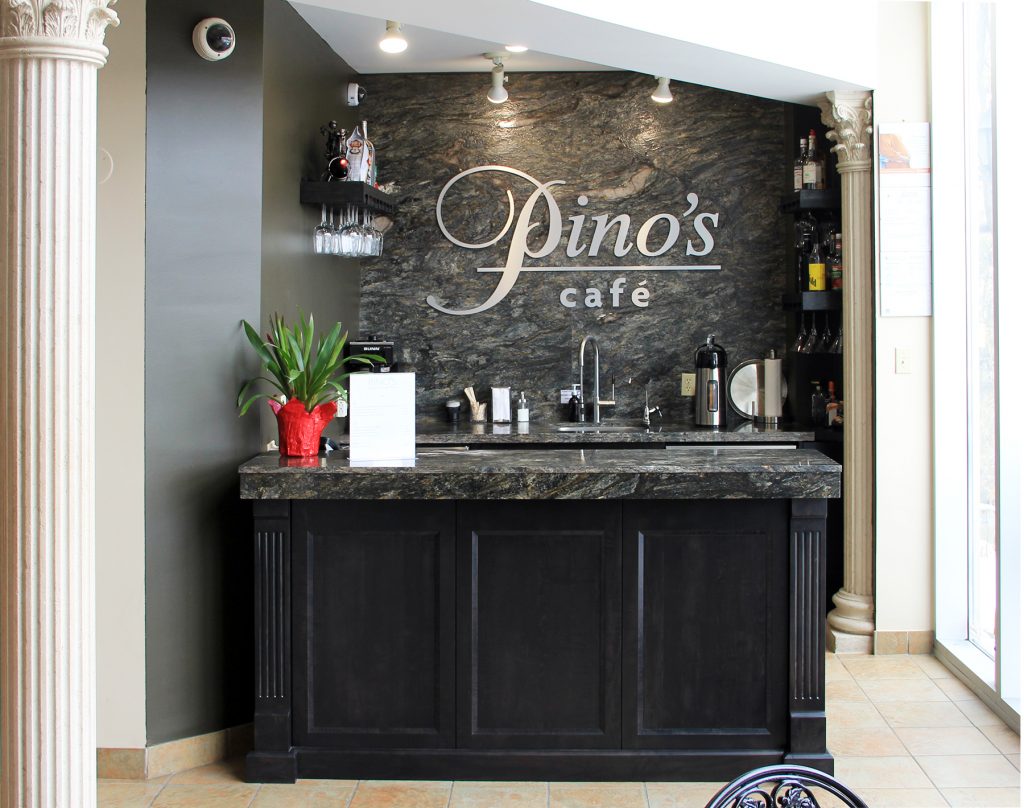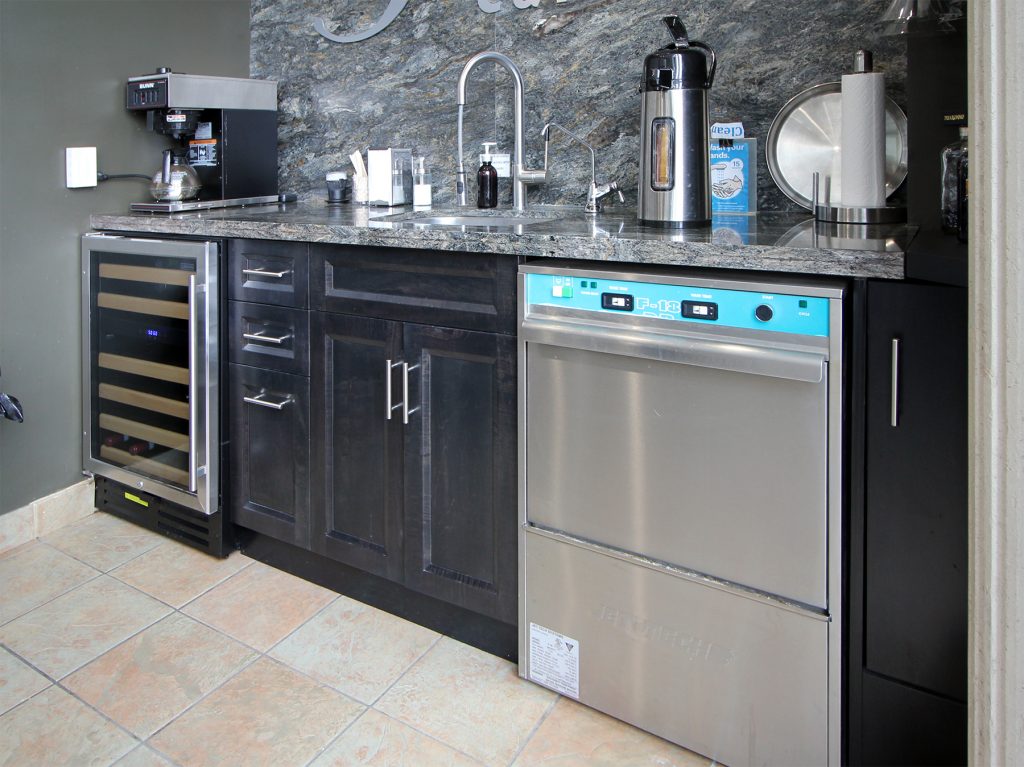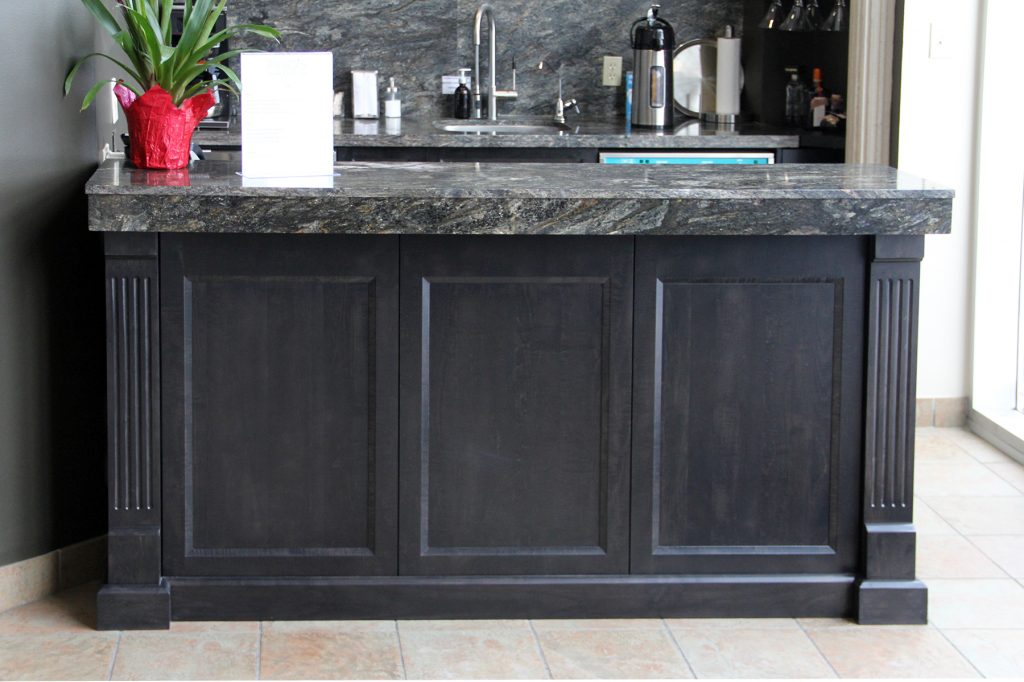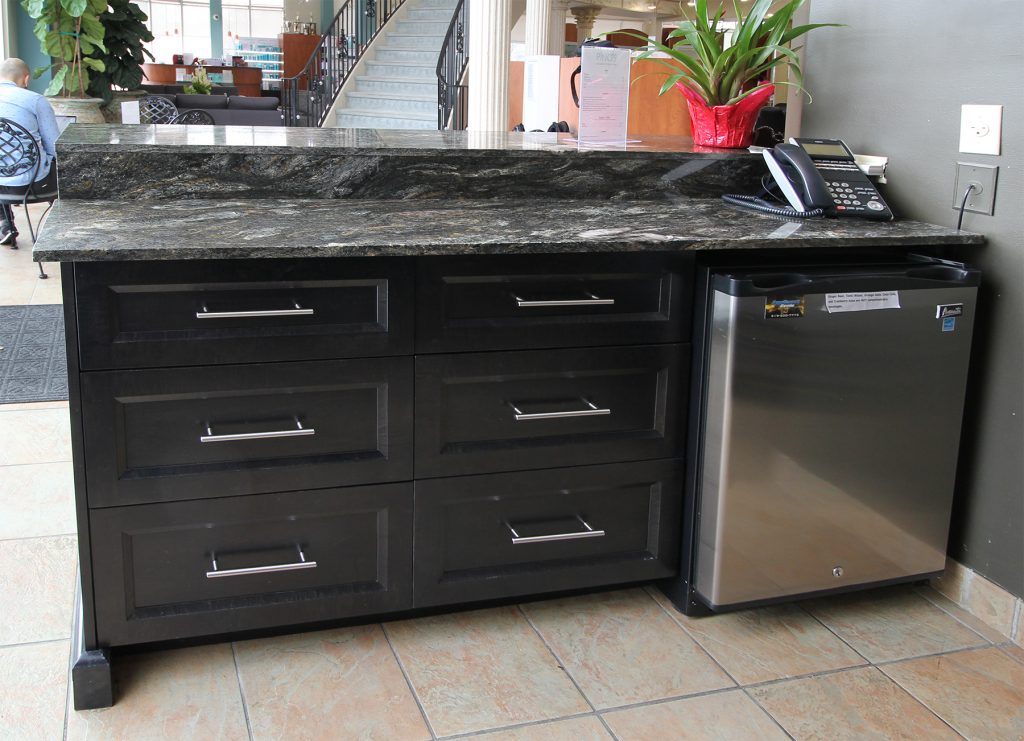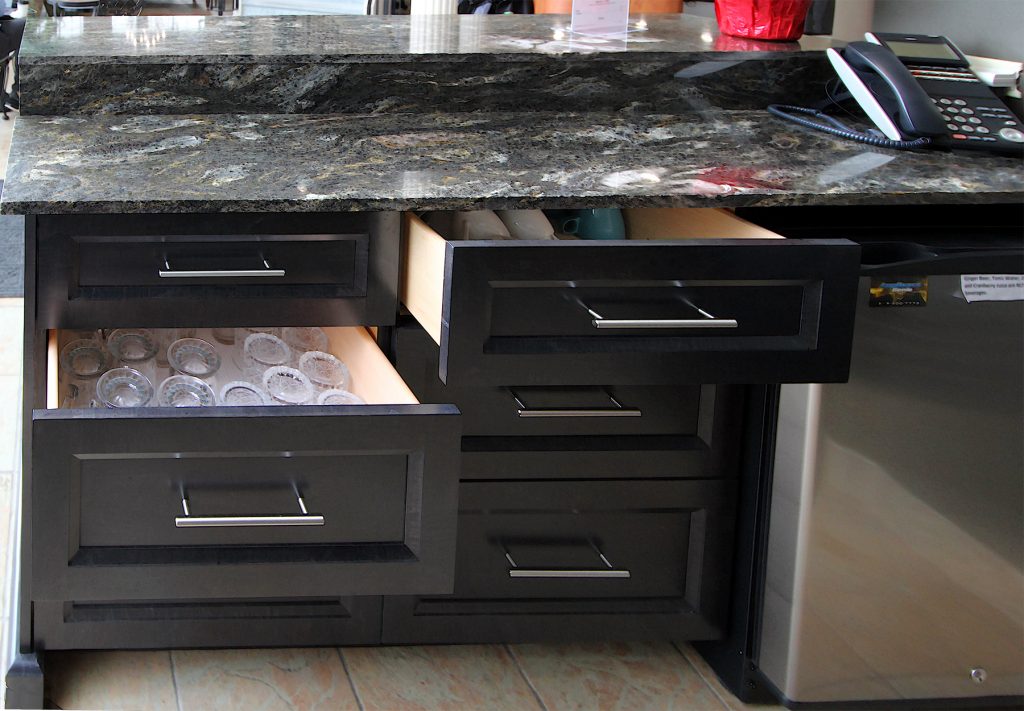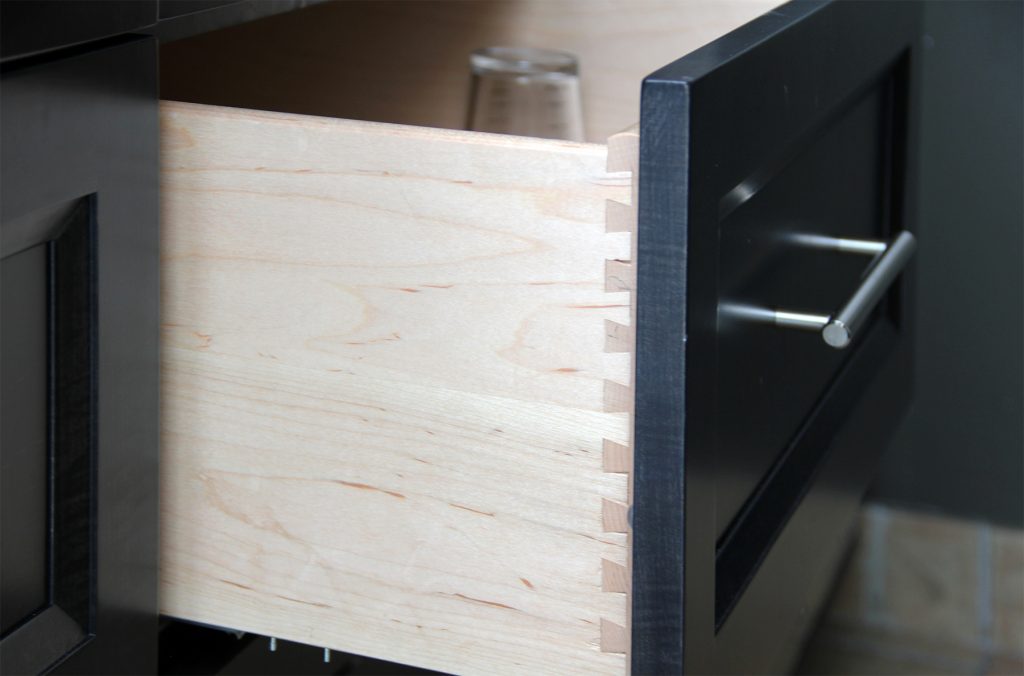 Freelton / Hamilton
Traditional Antique White Kitchen
Traditional elegance, modern accents, and practical functionality define this beautiful kitchen and dining space in Freelton Ontario. With wide open access, smart storage options, and solid wood construction throughout, this kitchen is a welcoming gathering spot that adds much beauty to this home.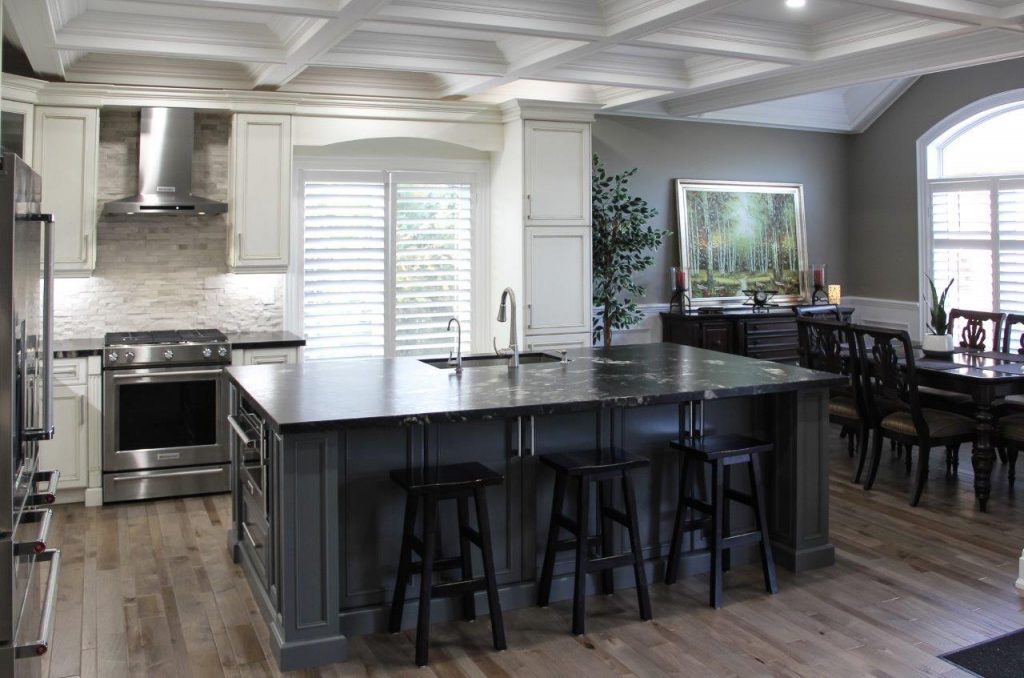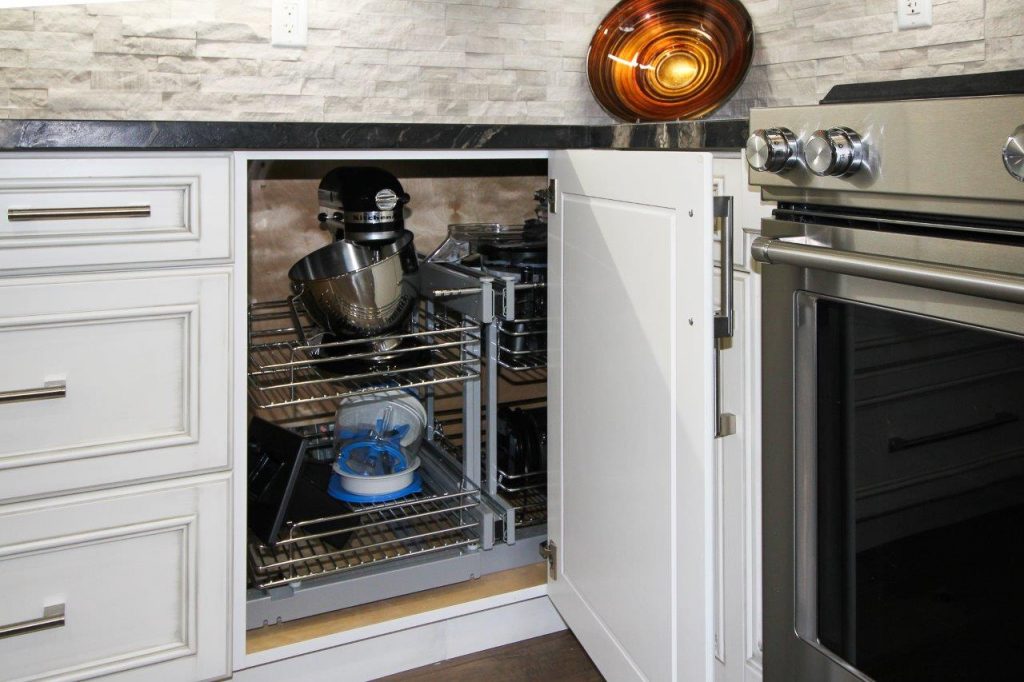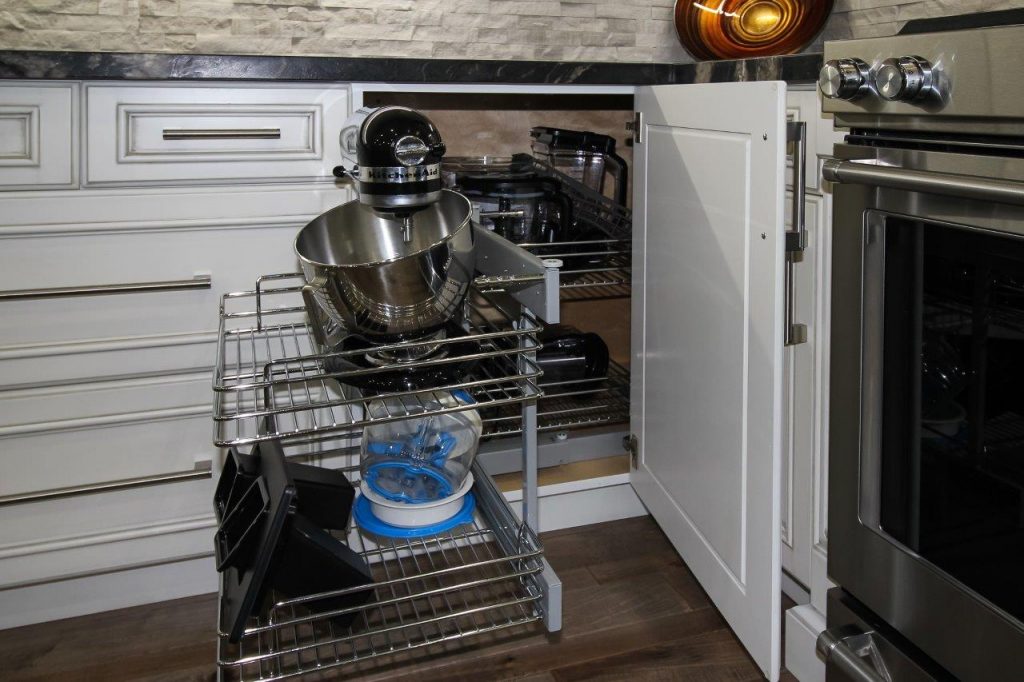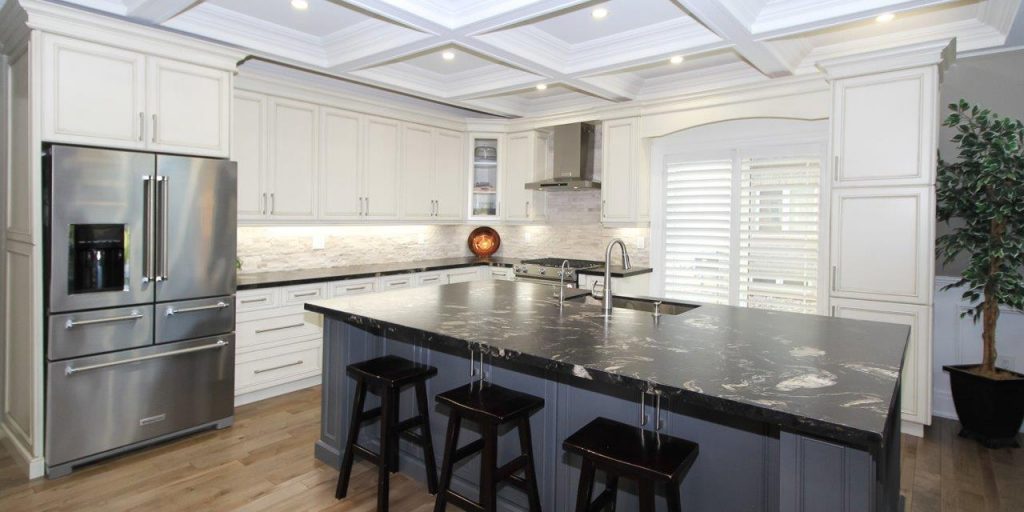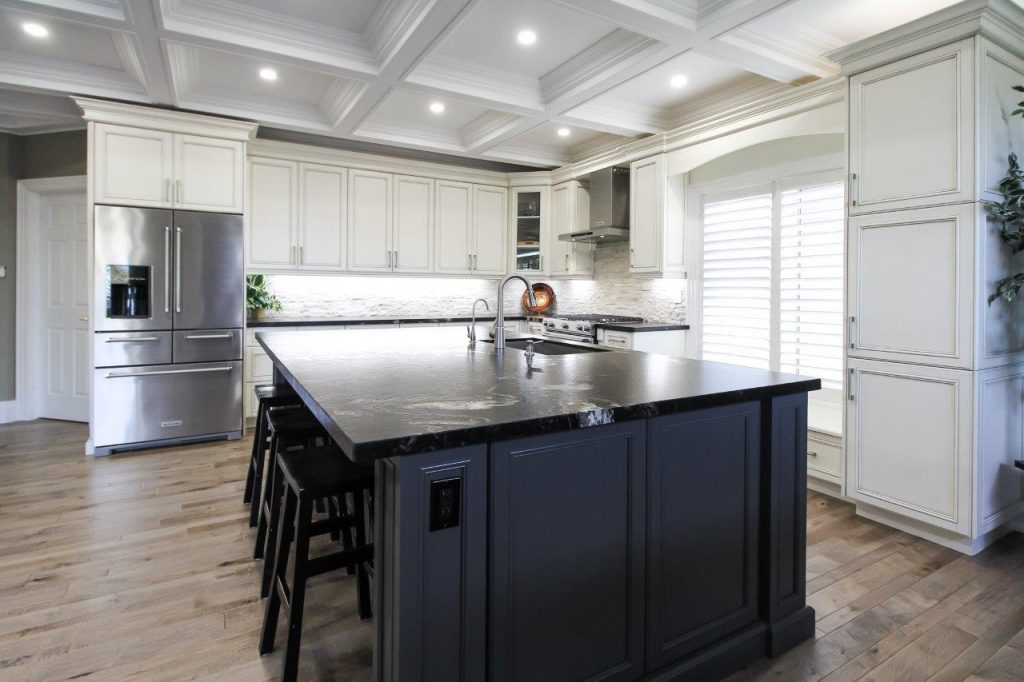 Guelph
Kitchen Cabinet Refacing
Incredible Transformation! This kitchen in Guelph received a dynamic new look with new cabinet doors, facings, mouldings and trim. You would never know the same existing cabinet structures are still there! When you like your existing layout and cabinet design, but are looking for an updated look, consider refacing your cabinets with new doors, and facings. Drawers, hardware, hinges, organizers, and other features can also be included to improve the functionality of your kitchen. Many designs and styles are available to transform your existing kitchen!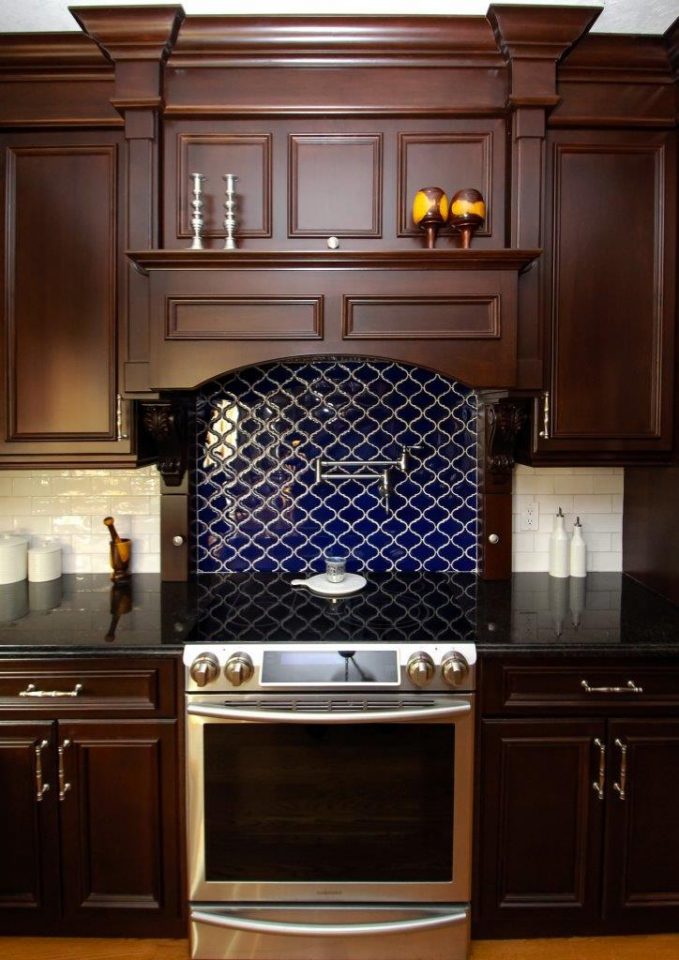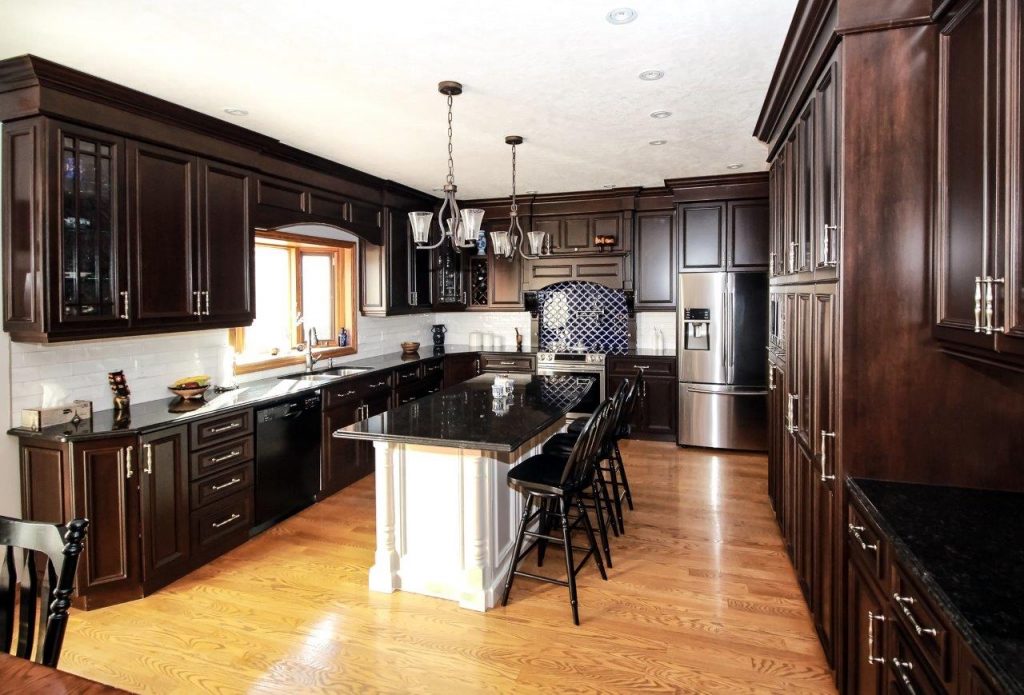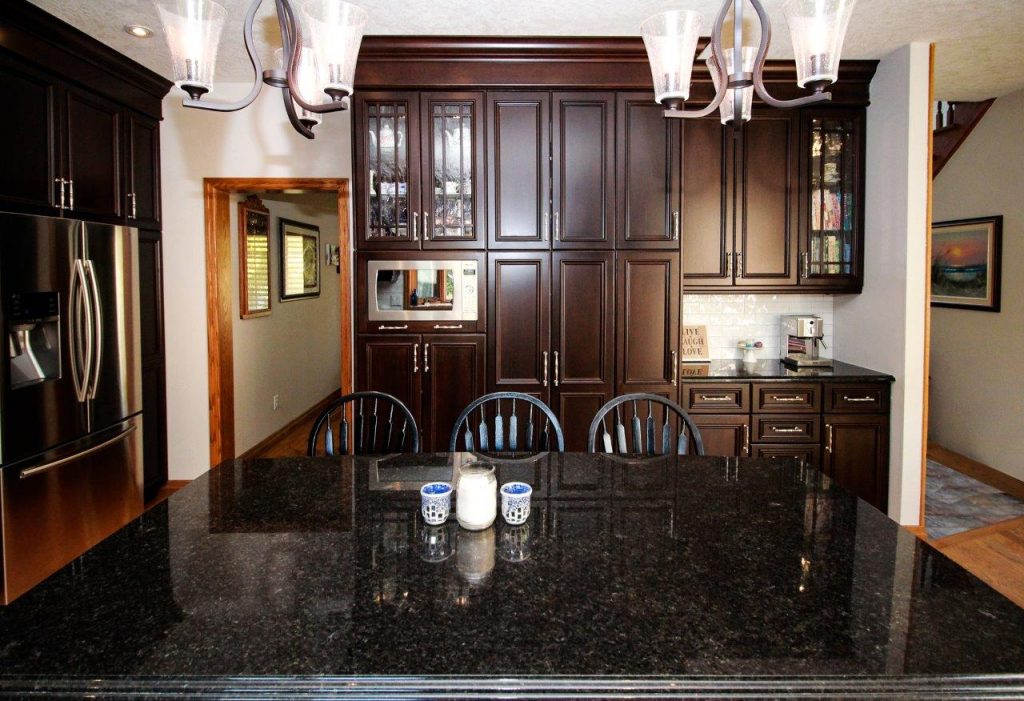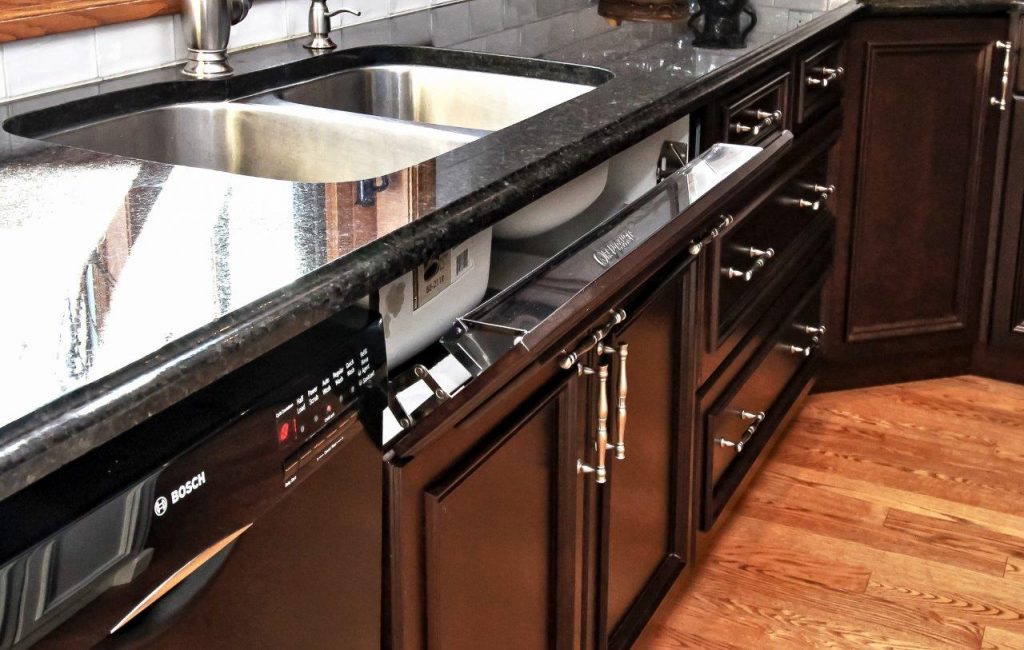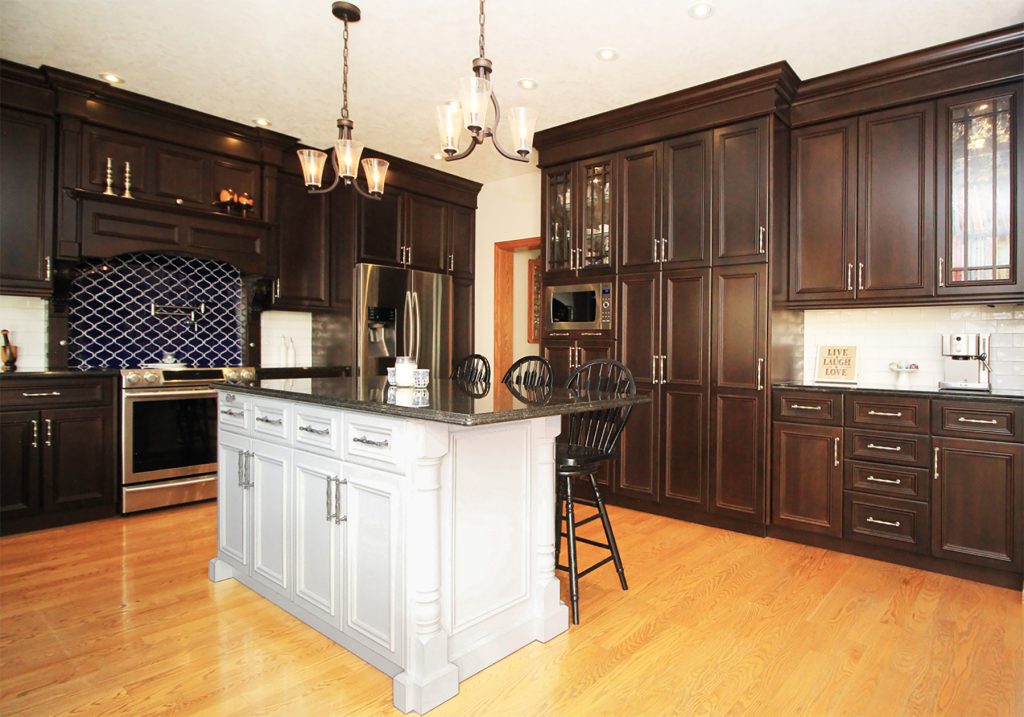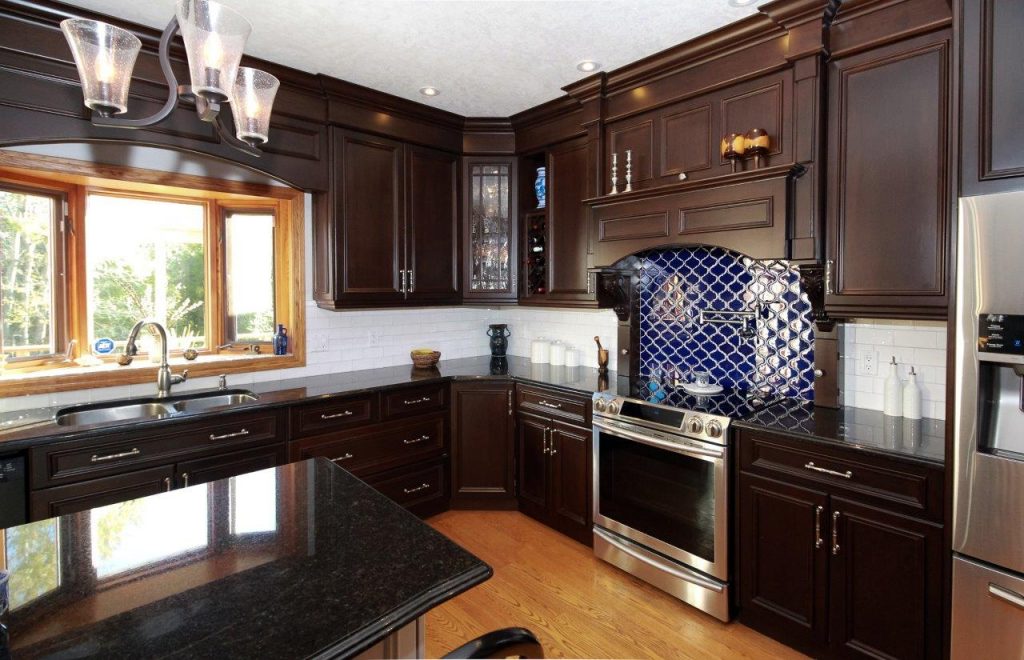 Mannheim
Transitional Kitchen Remodel
A tasteful blend of traditional beveled cabinets are complimented by contrasting grey island and architectural accents and a lively hexagonal tile backsplash. Solid wood construction and space maximizing features like spice column drawer, and layered cutlery drawer with sliding organizer.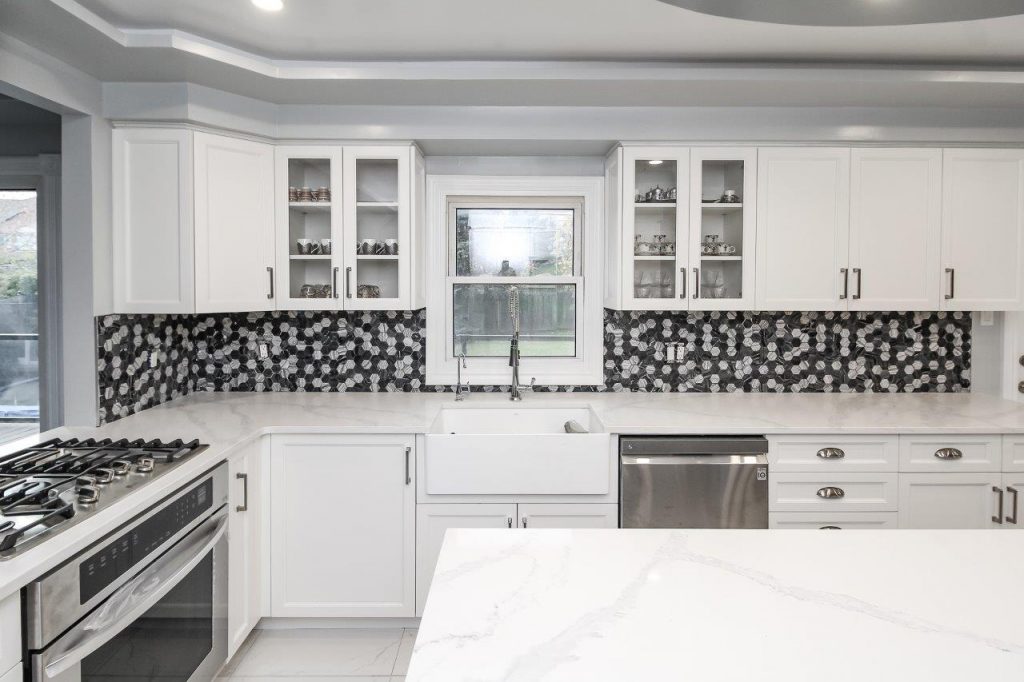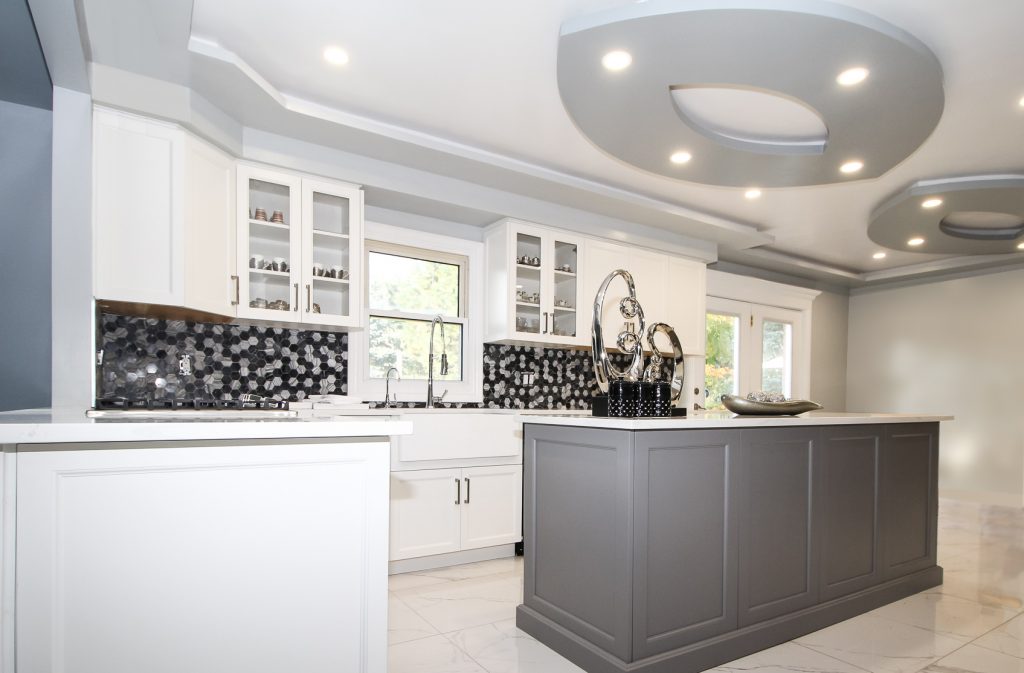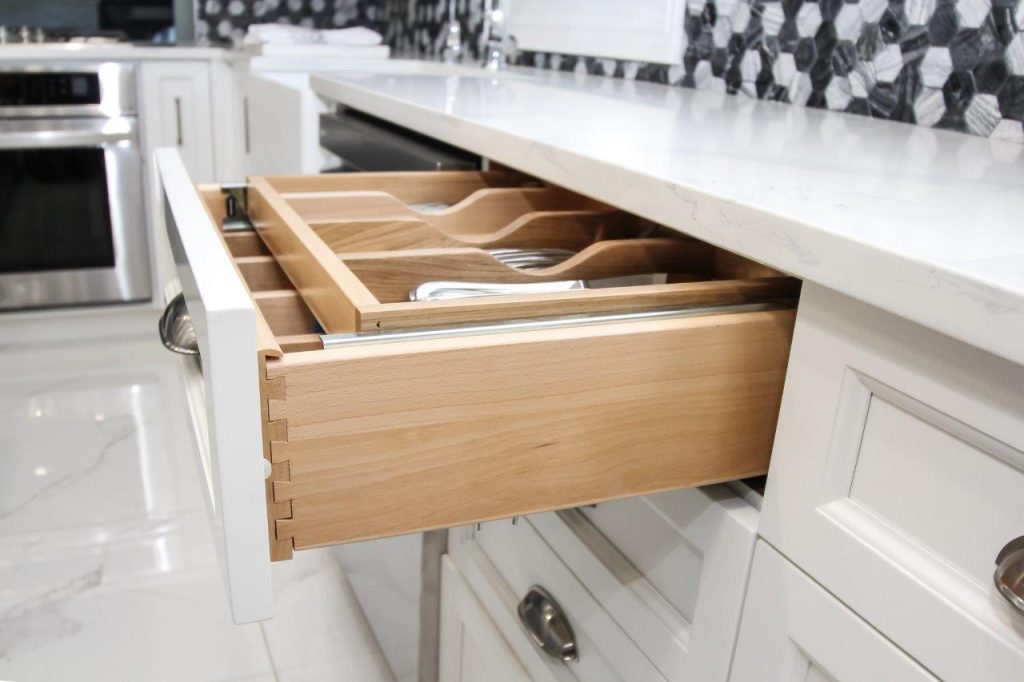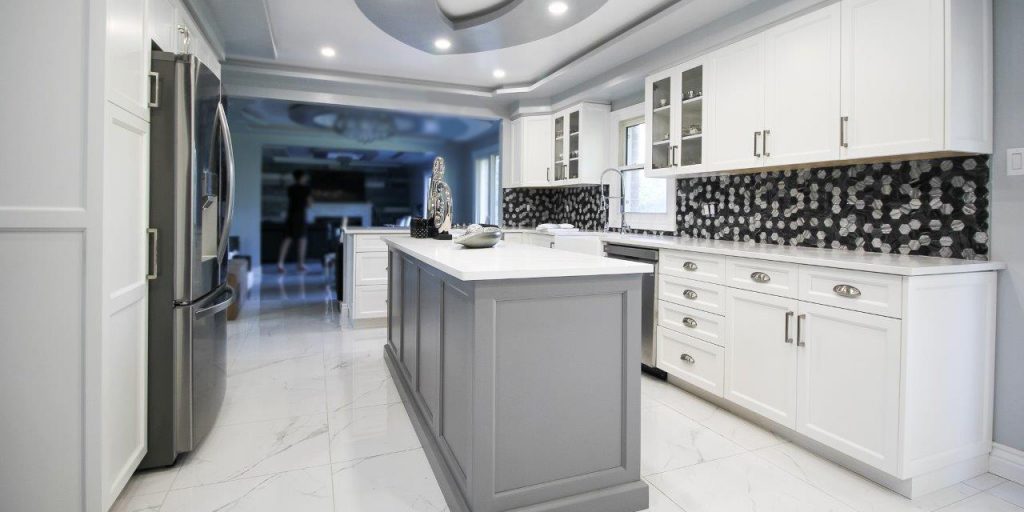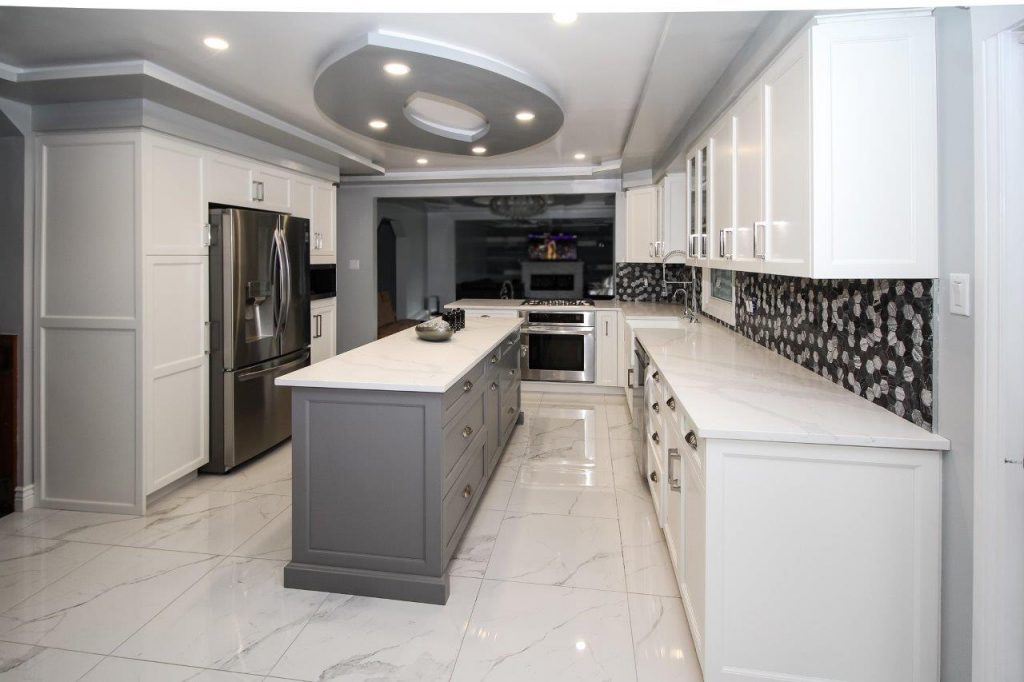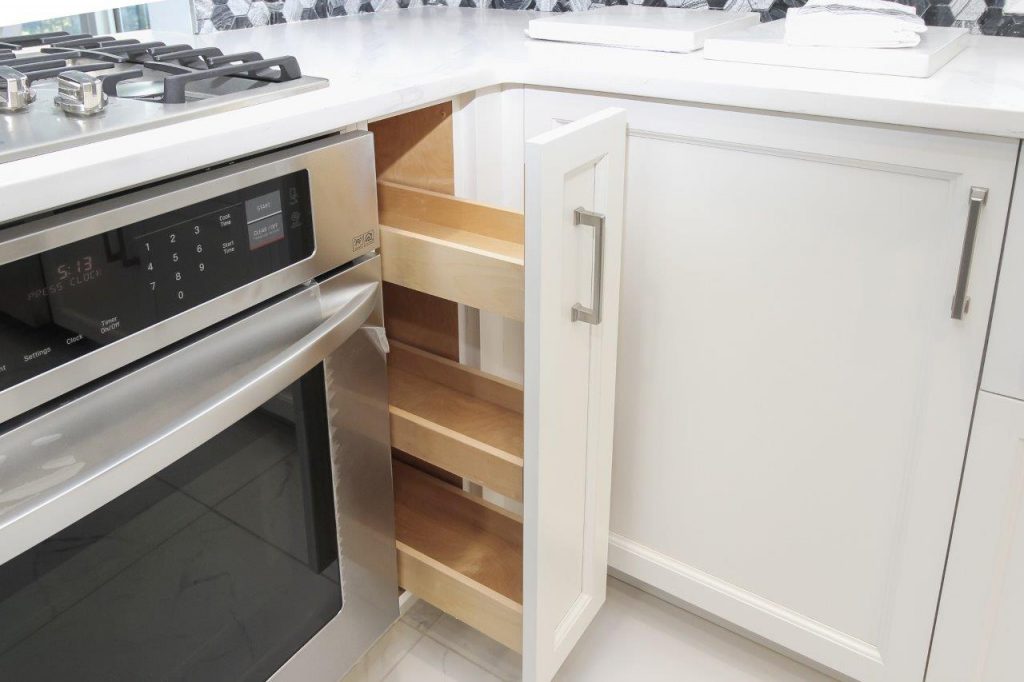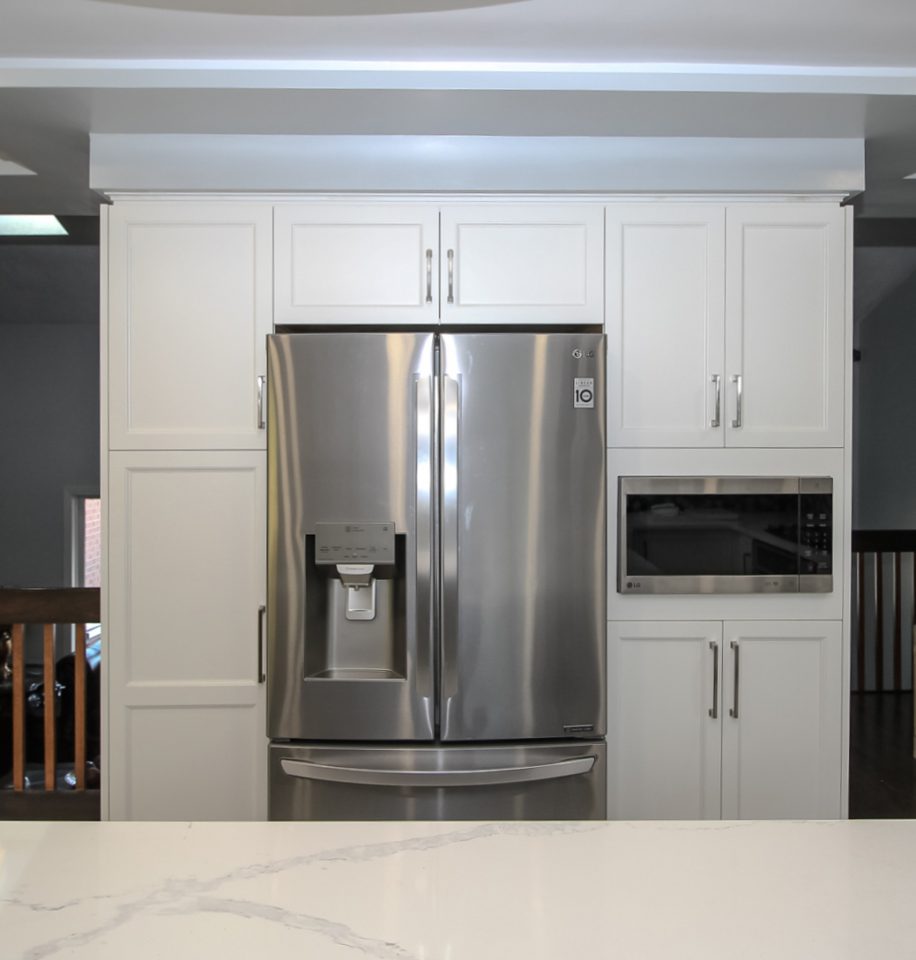 Waterloo
Transitional White Kitchen
Classic elegance and practical functionality define this new kitchen in Waterloo. Efficient design includes vertical baking pan organizers, pull-out trash receptacle, and column drawer spice rack. Traditional craftsmanship includes solid wood construction throughout.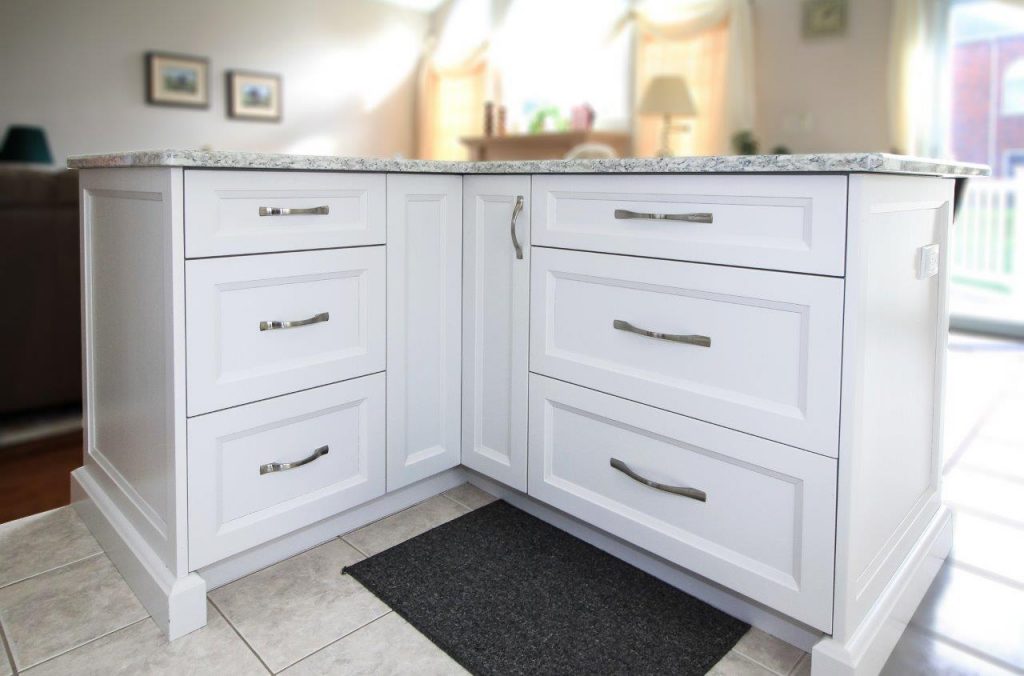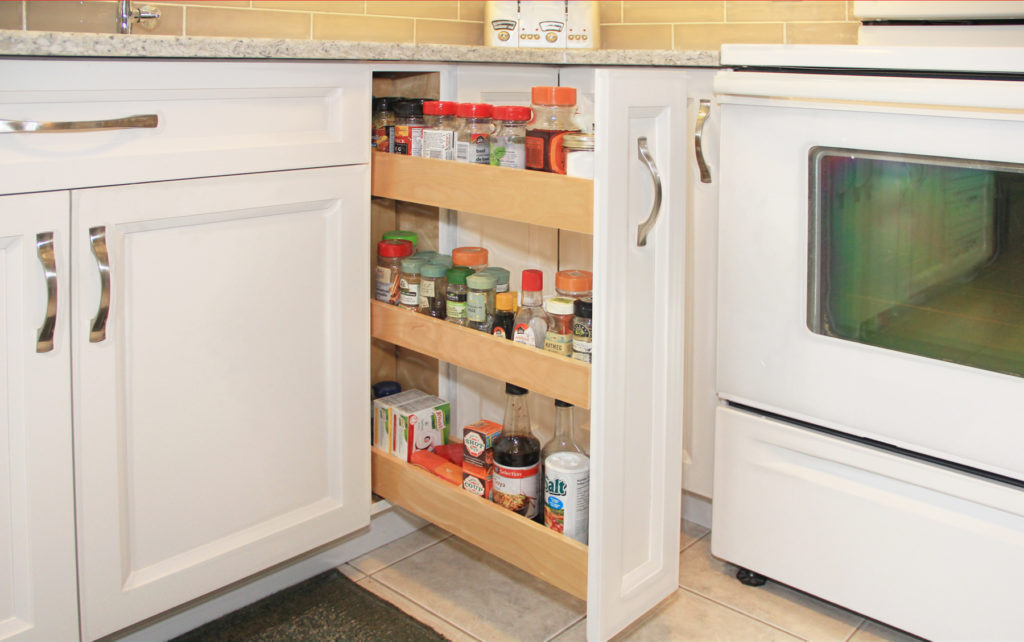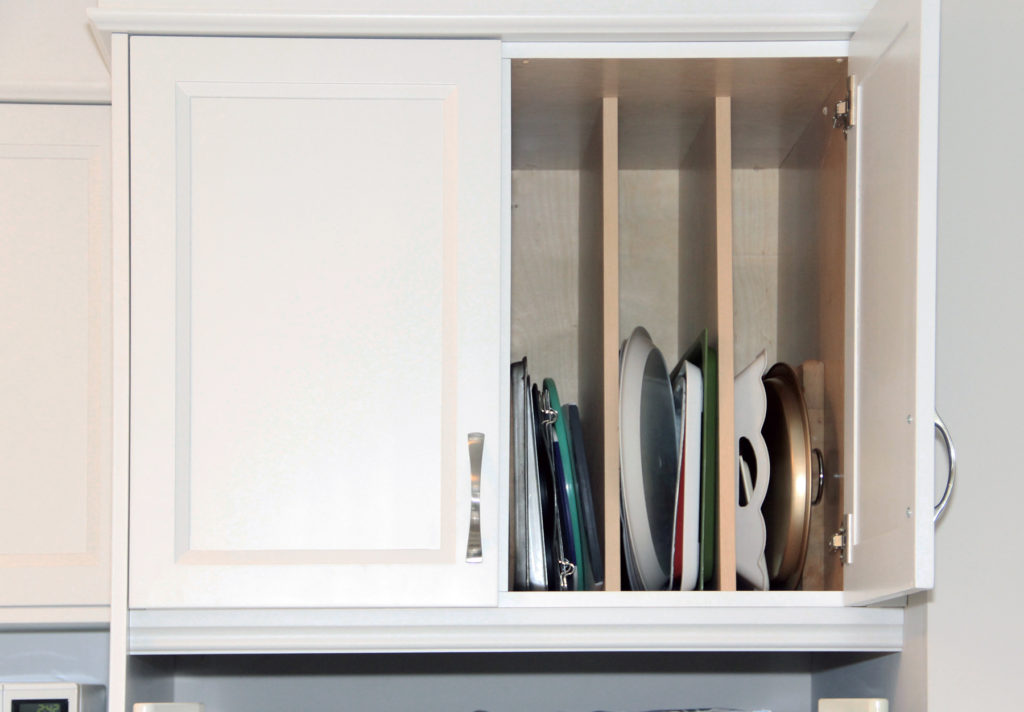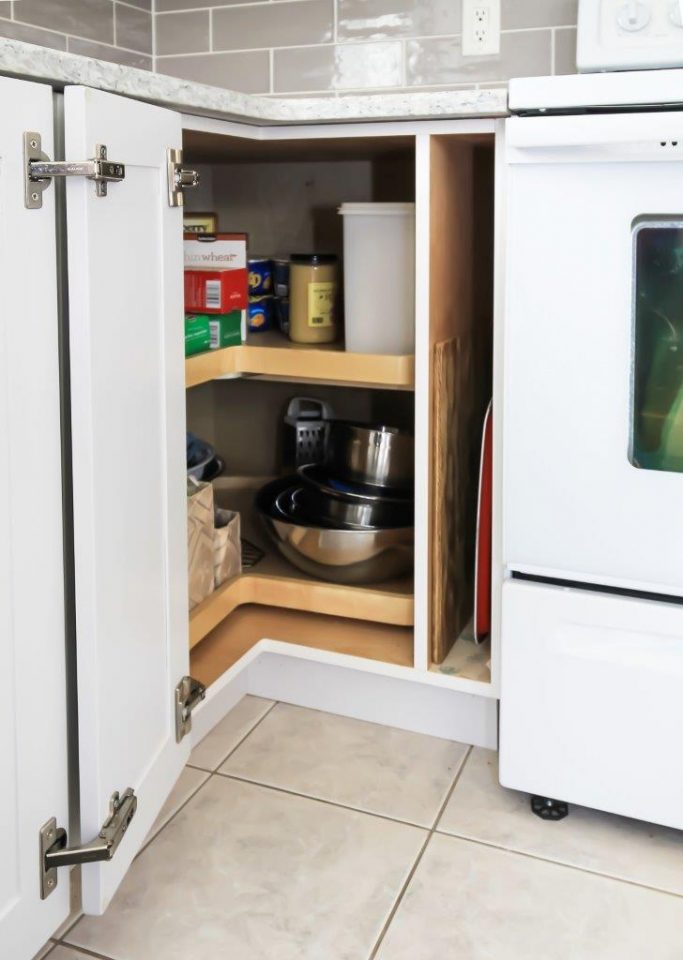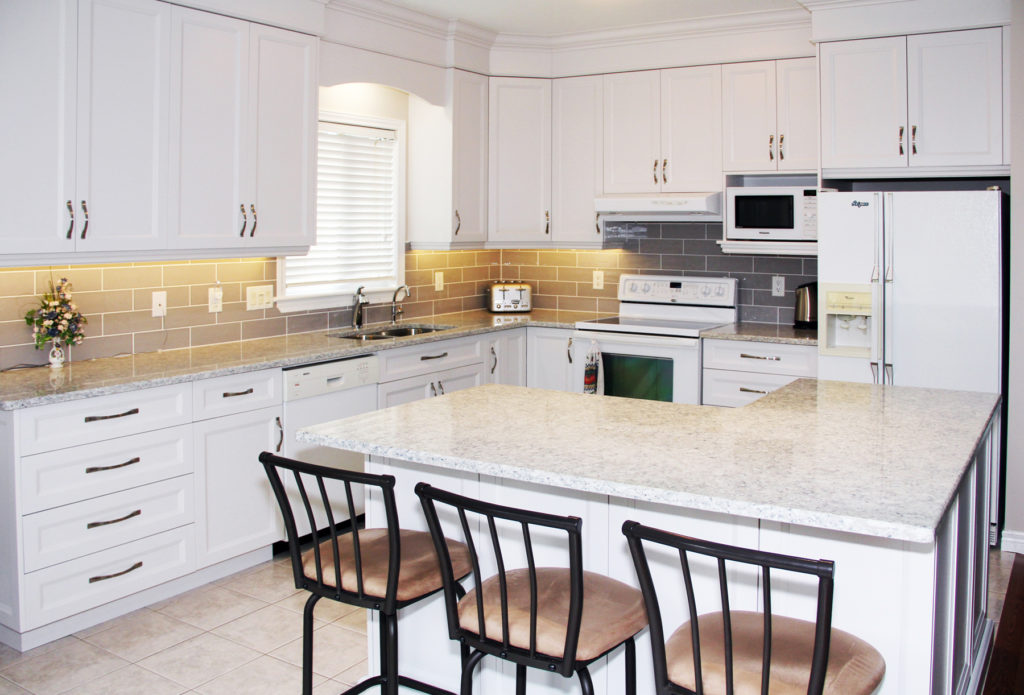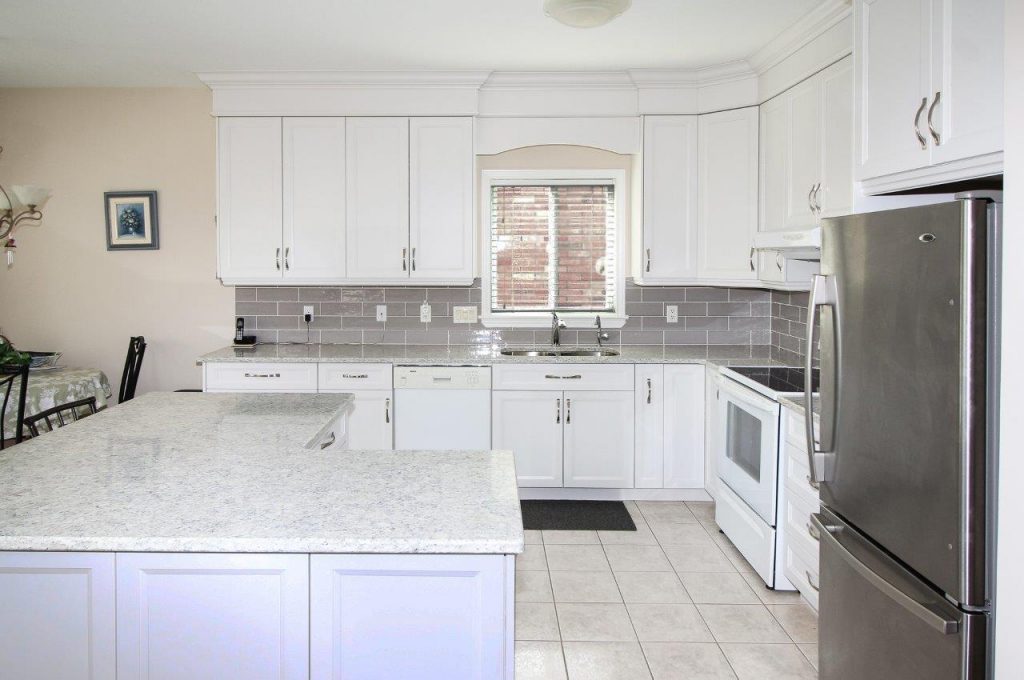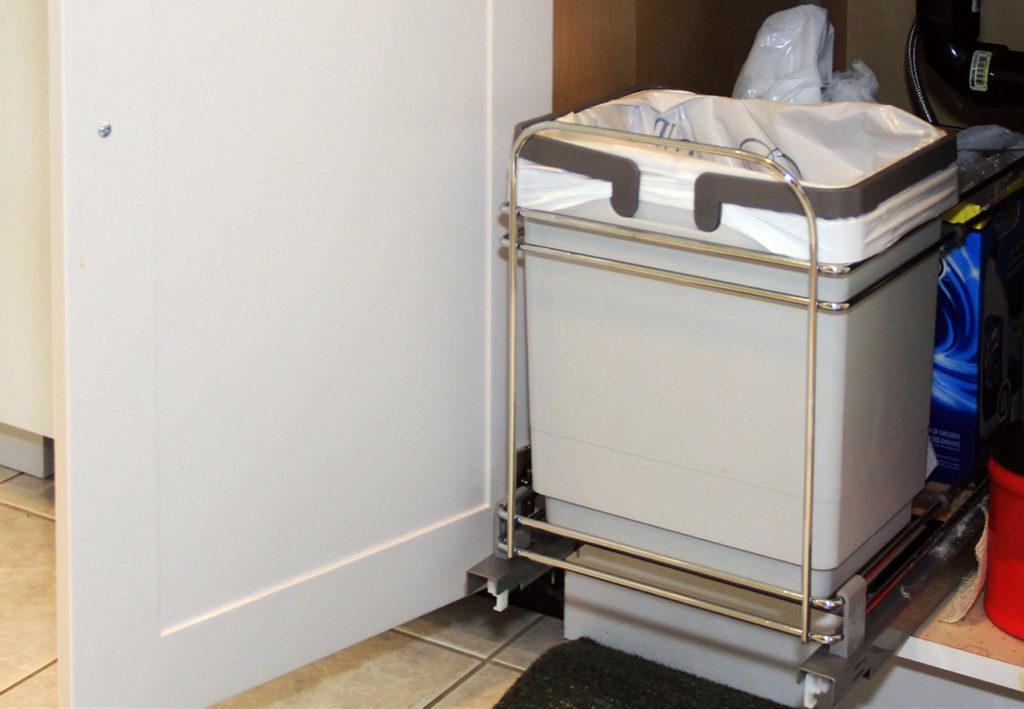 St. Clements
Traditional Maple Kitchen
Solid maple kitchen cabinets warm up this functional and attractive space in St. Clements, Ontario.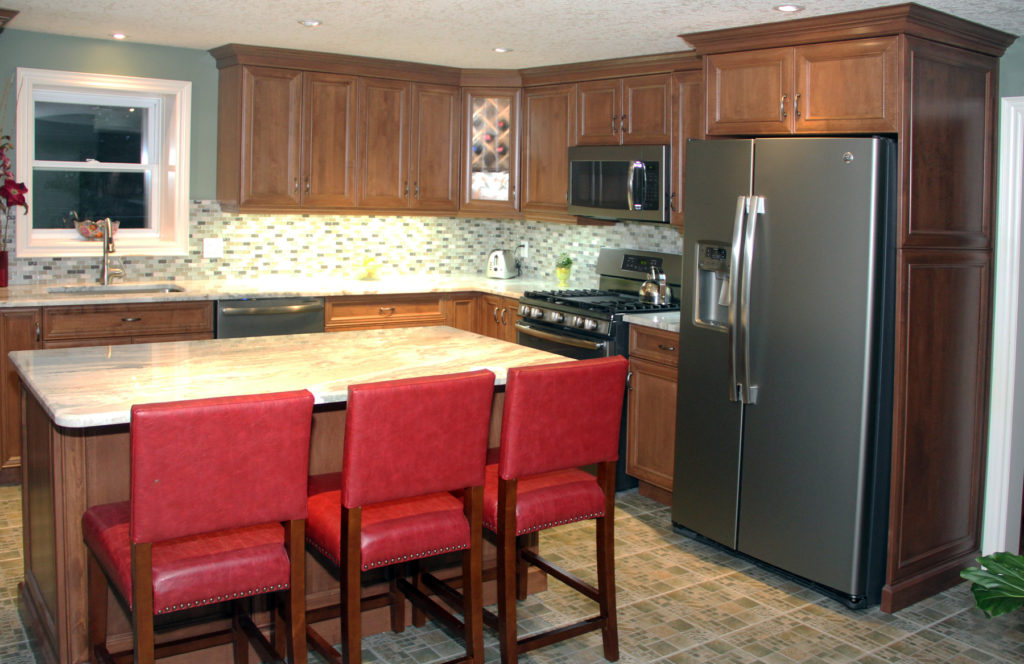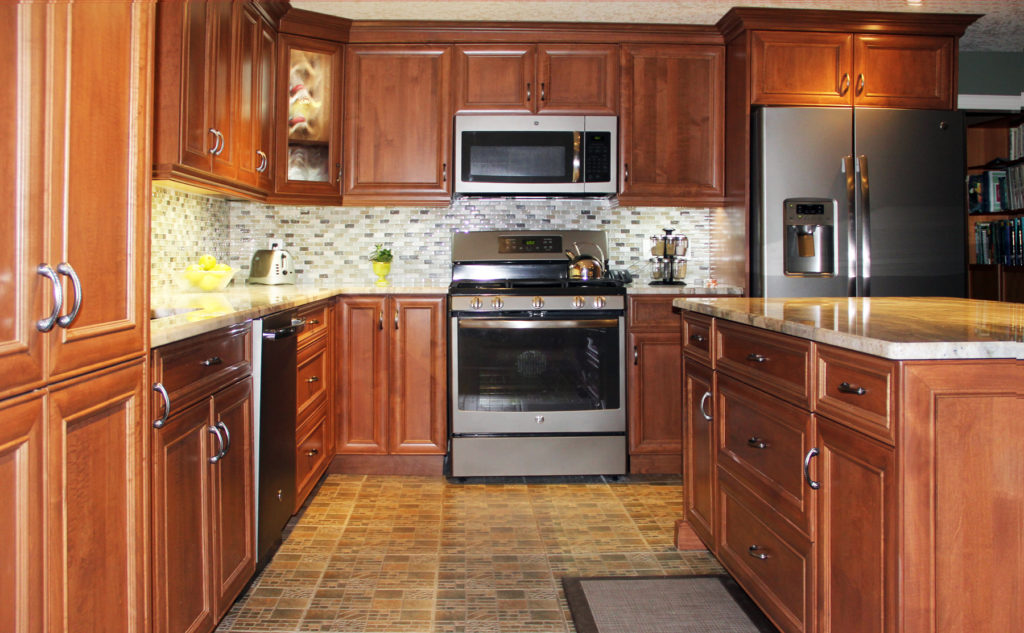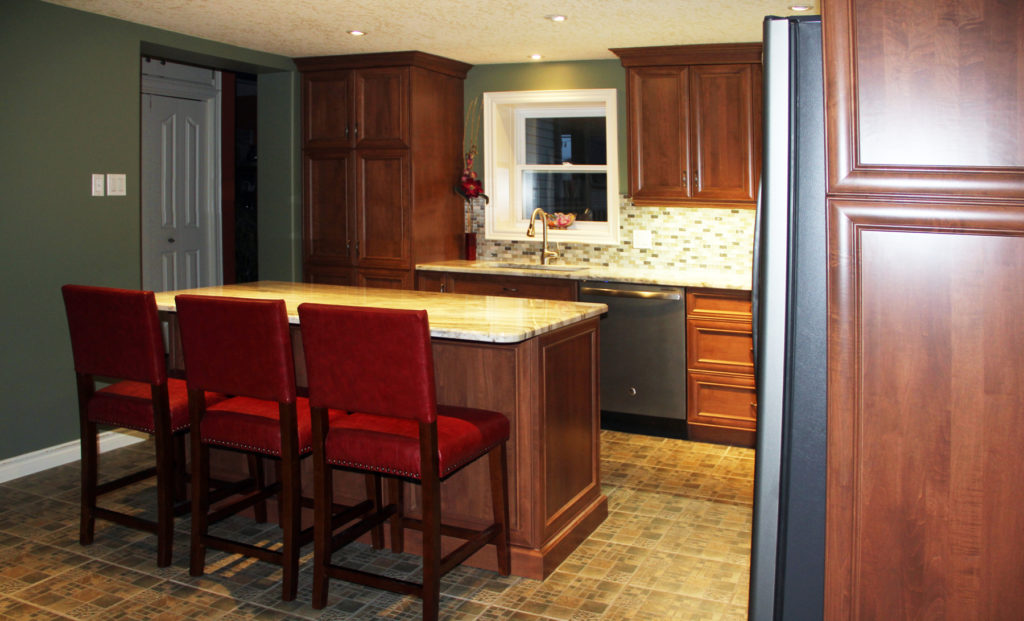 Toronto
Modern Contemporary Cabinets
Modern Contemporary styling is popular in smaller kitchen spaces and urban settings. Kitchen cabinets with straighter lines, lighter wood, and other materials, can brighten up available space and open up the room. Regardless of the style, we don't compromise quality or craftsmanship. Unless there is a preference otherwise, solid wood cabinets and doors still apply!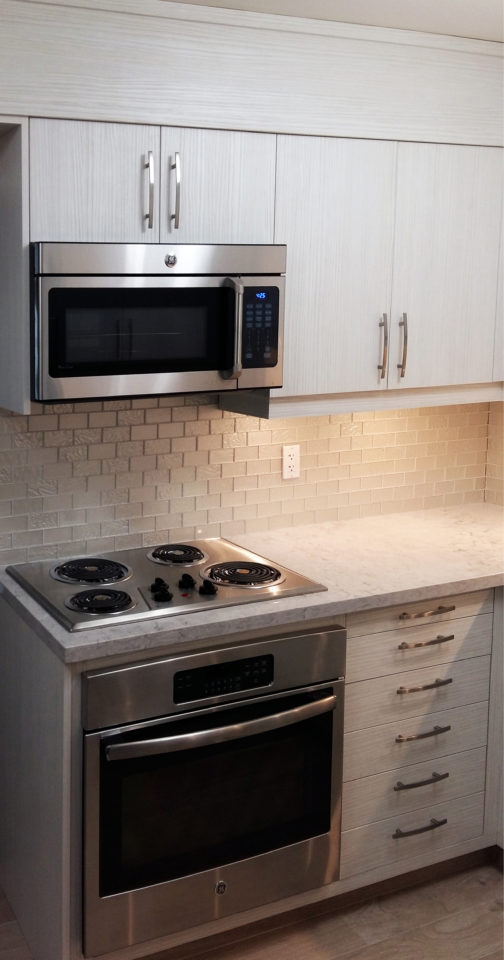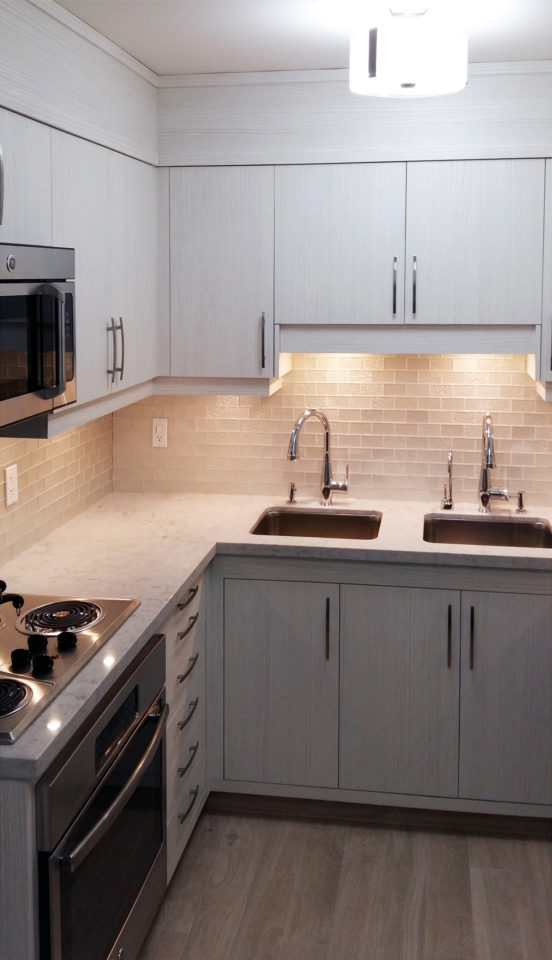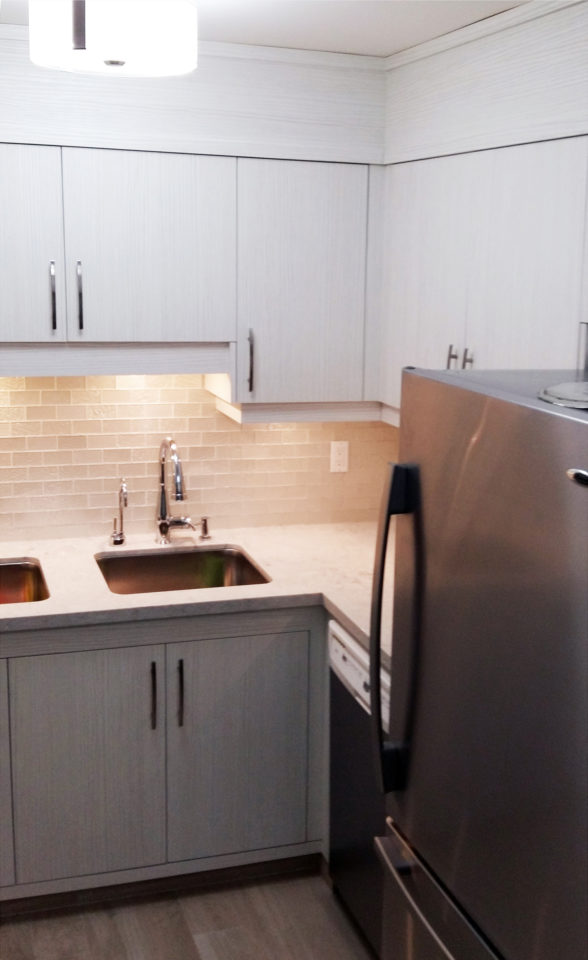 Kitchen cabinets upgraded on same footprint, maintaining original country kitchen charm.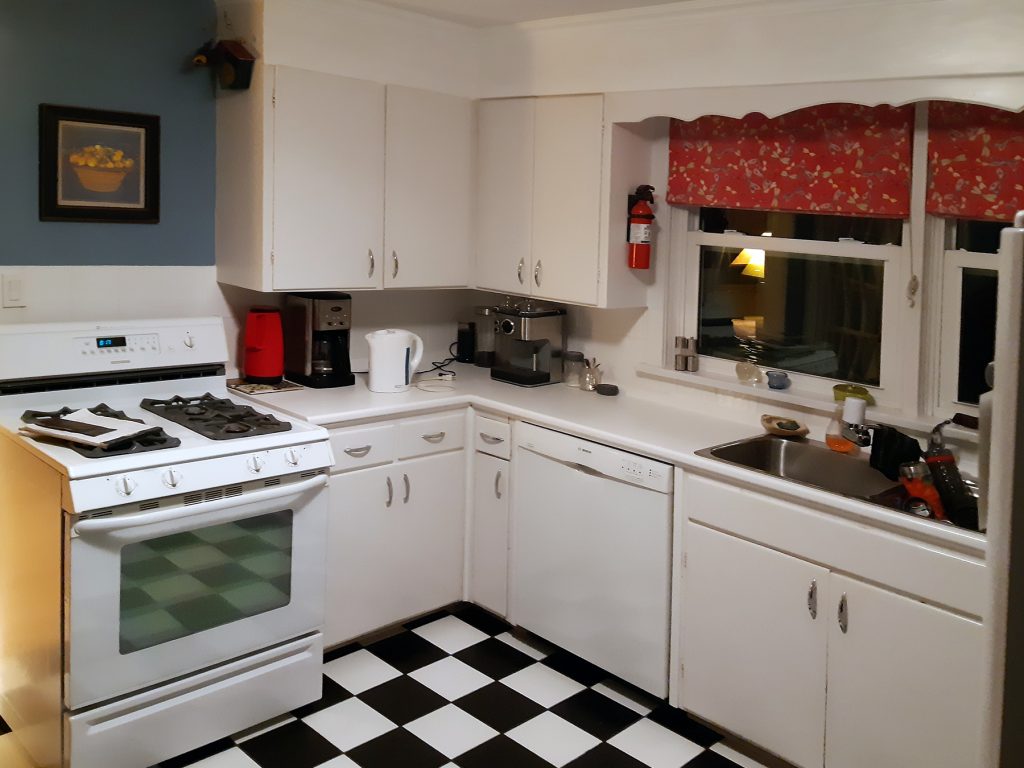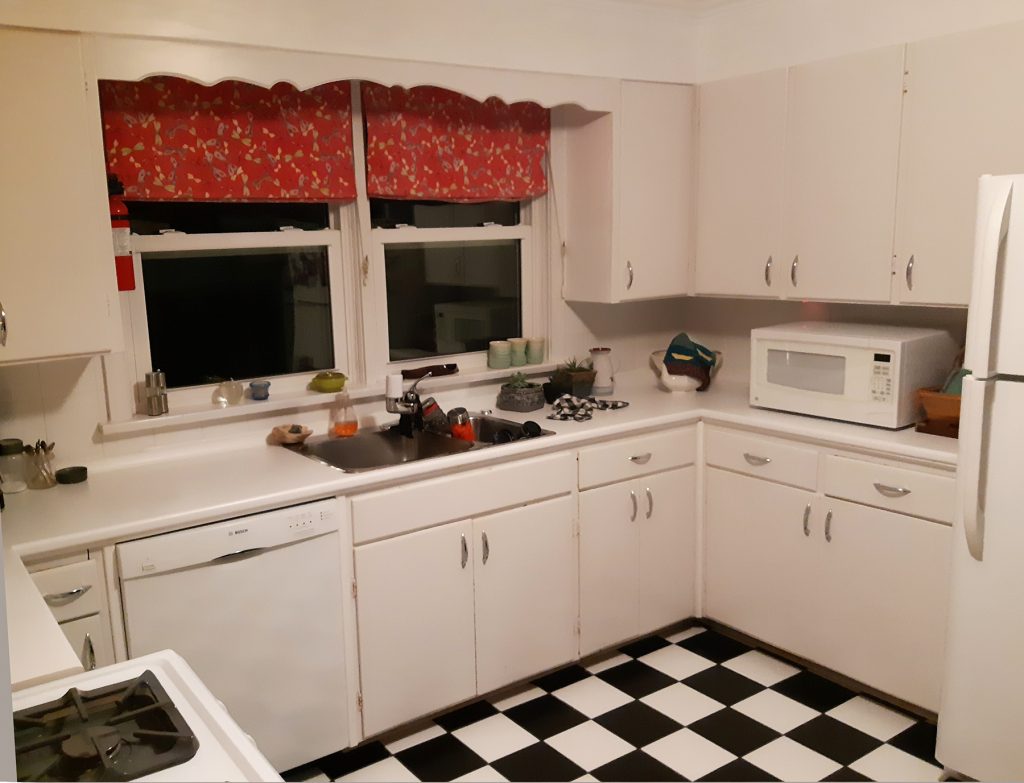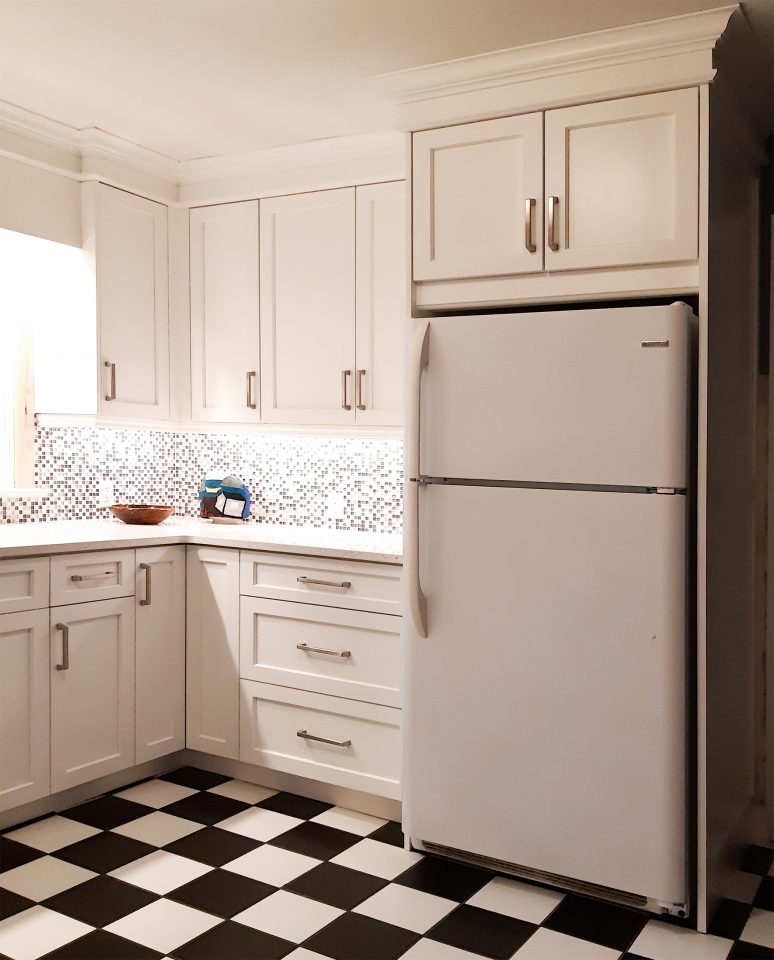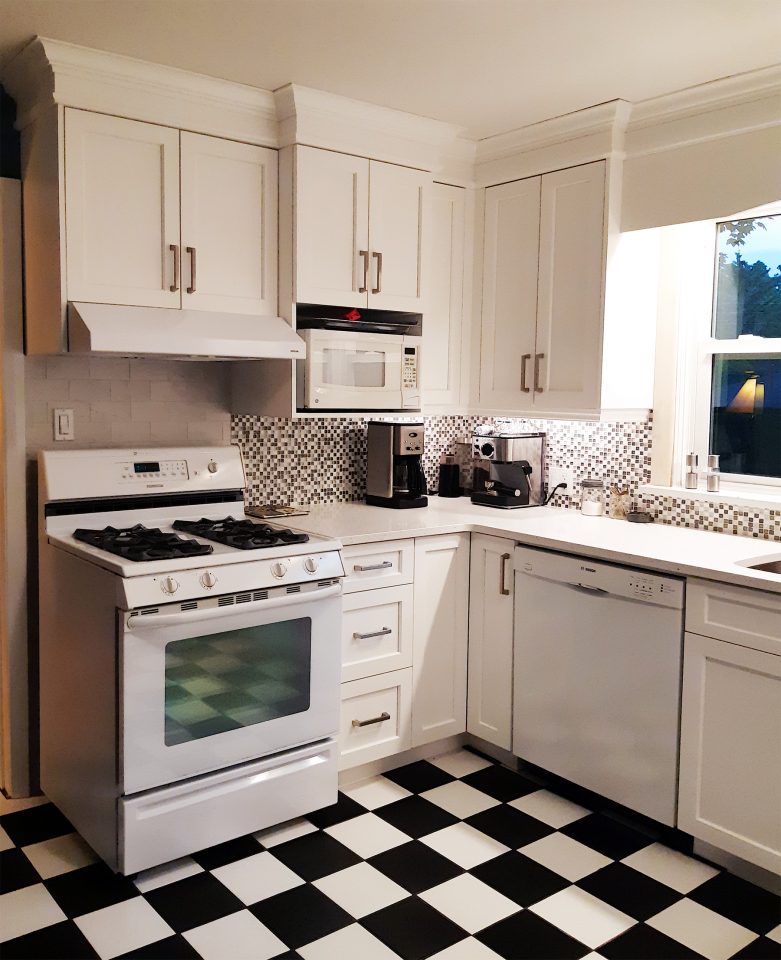 Hamilton
Shaker Cabinets – Custom Kitchen
Shaker furniture is a distinctive style of furniture developed by the United Society of Believers in Christ's Second Appearing, commonly known as Shakers. This group had guiding principles of simplicity, utility and honesty. Their beliefs were reflected in the well-made furniture of minimalist designs. Furniture was made thoughtfully, with functional, form and proportion. Rather than using ornamentation they developed "creative solutions such as asymmetrical drawer arrangements and multipurpose forms to add visual interest to your kitchen cabinets.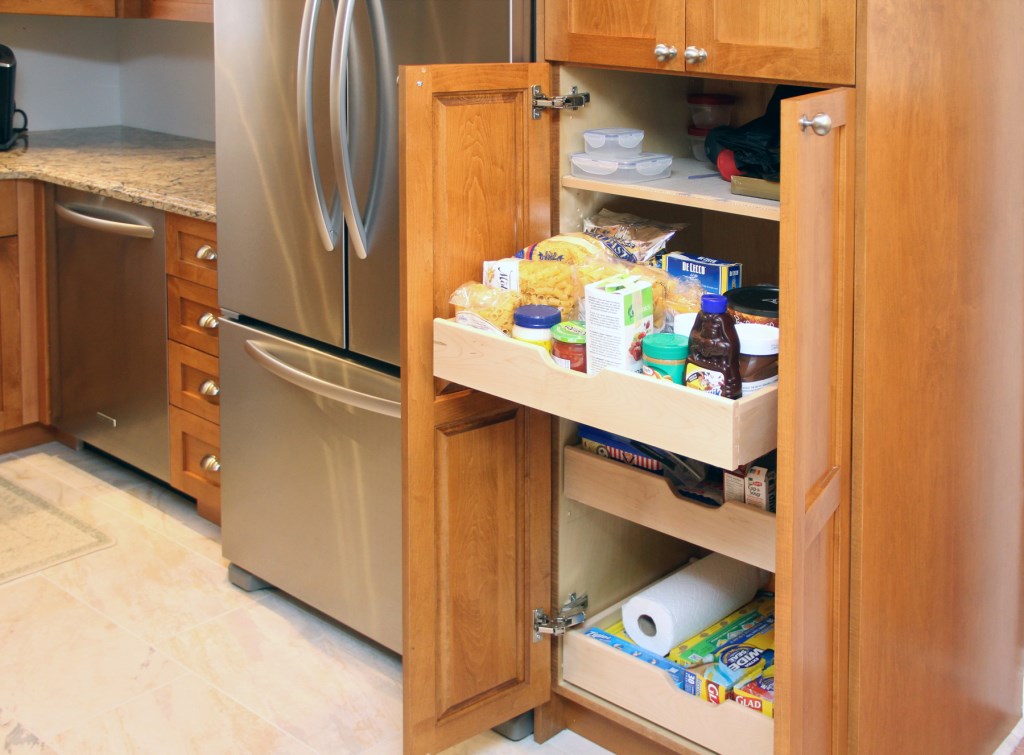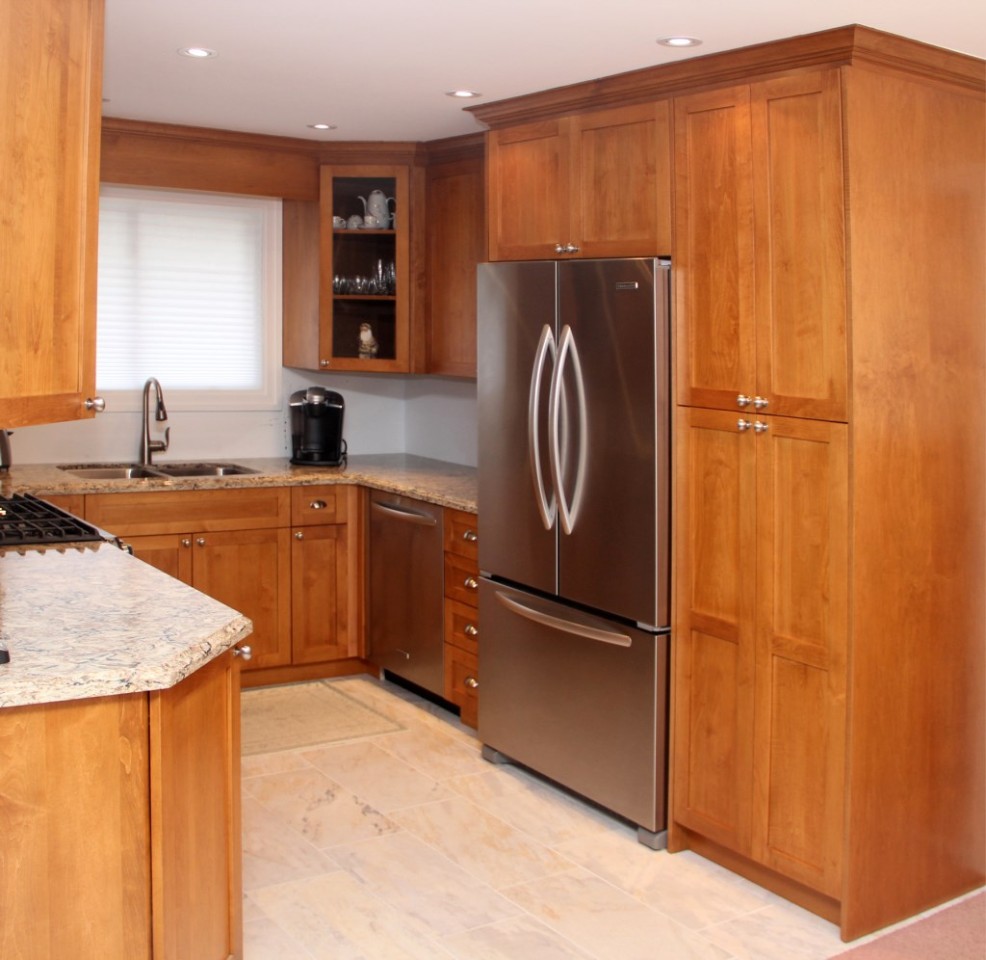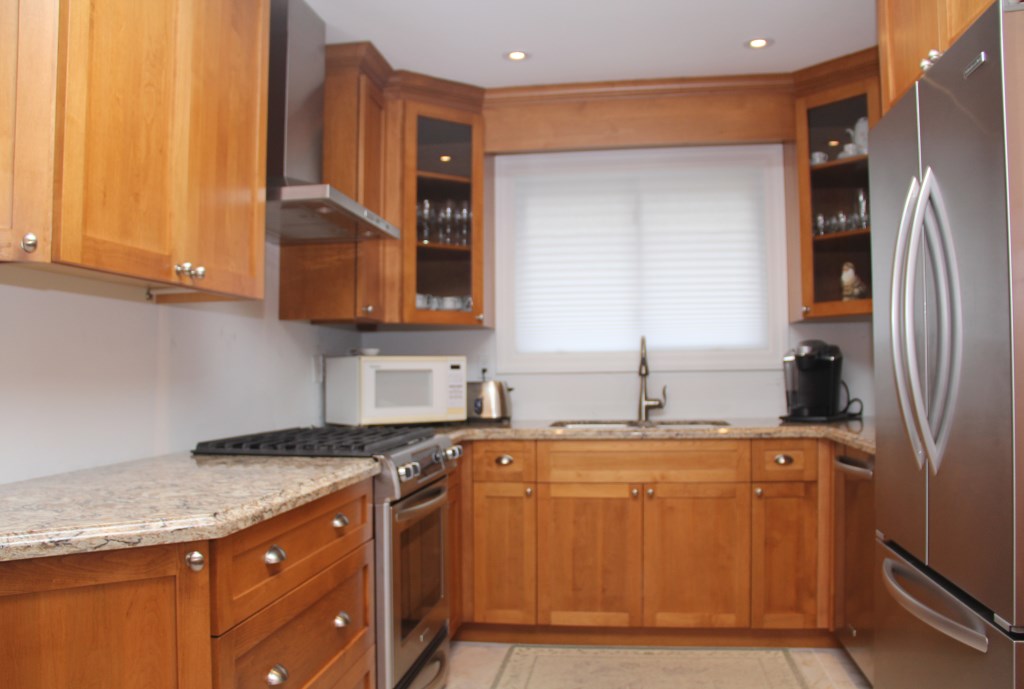 Ancaster and Elmira
Colonial Cabinets
Our Colonial designs reflect the combined furniture and cabinet styling of late 18th century English design that tended to sensibly pragmatic but with some element of elegant embellishment. It was certainly more conservative and less ornate than other European furniture of the same style period.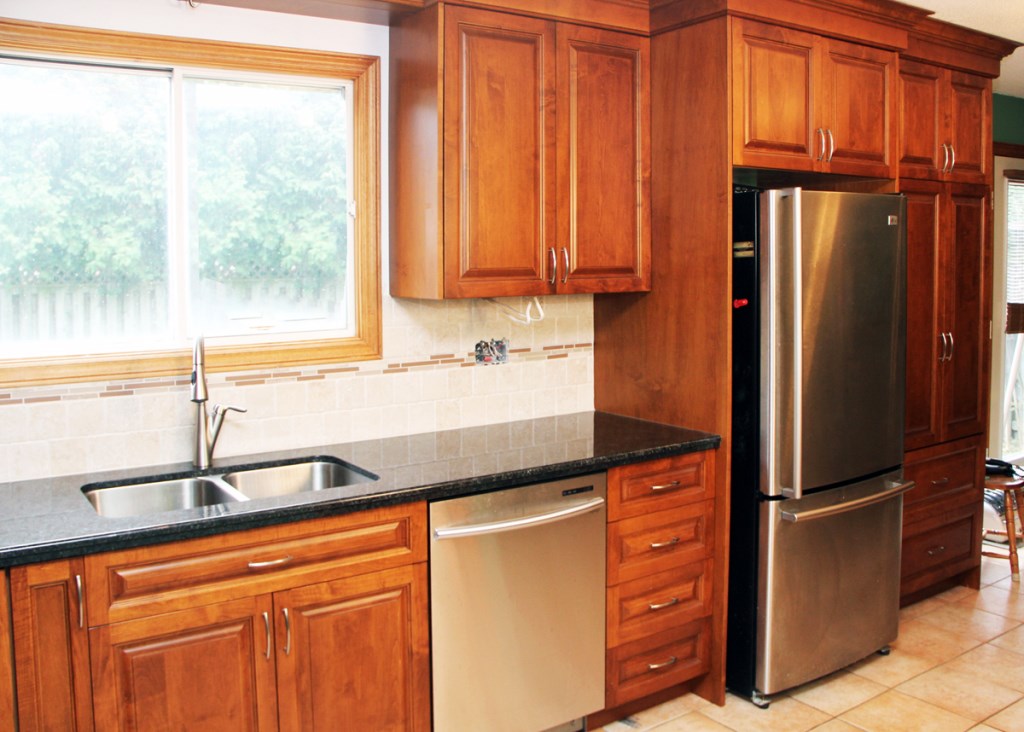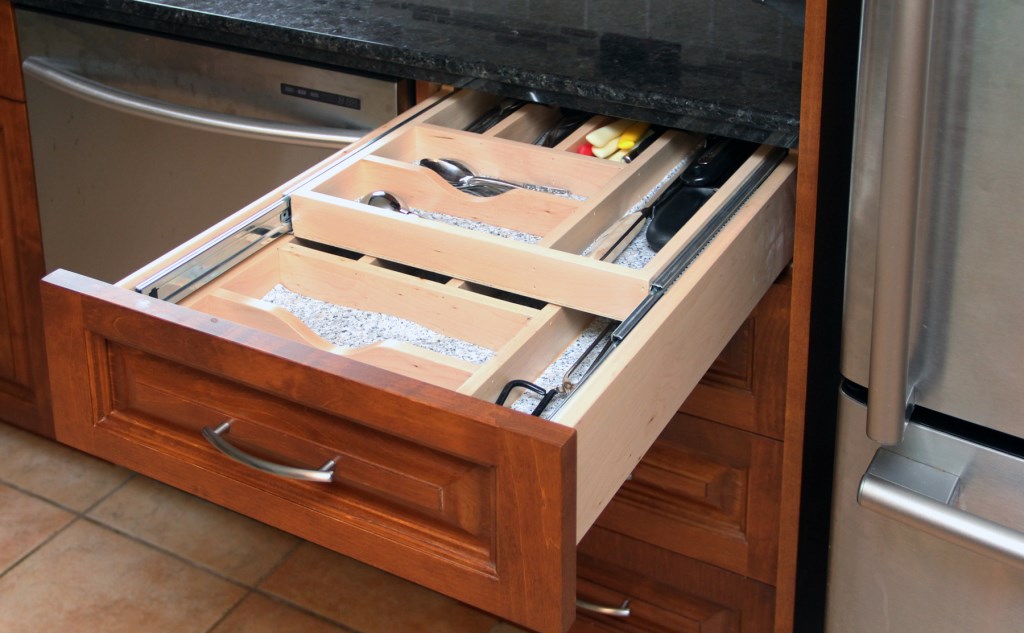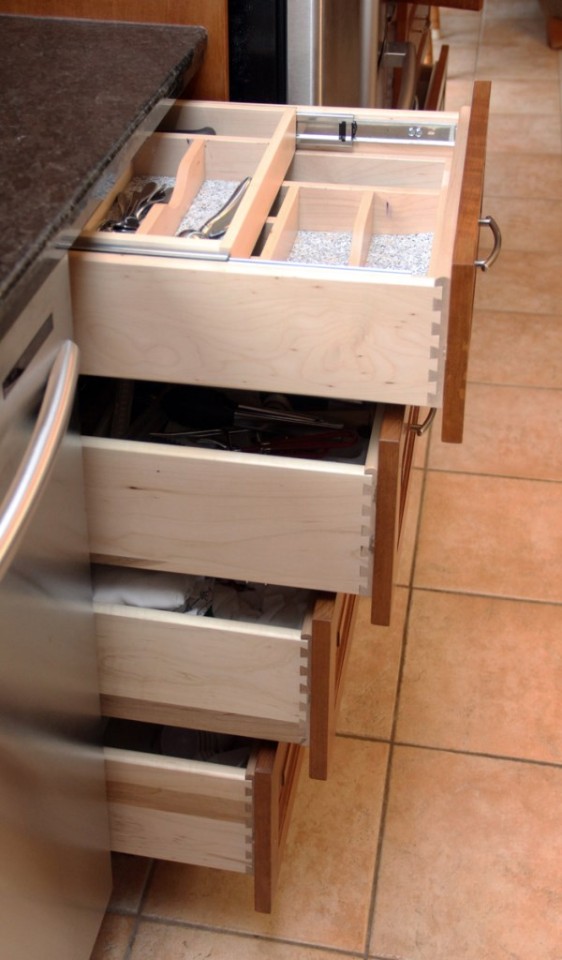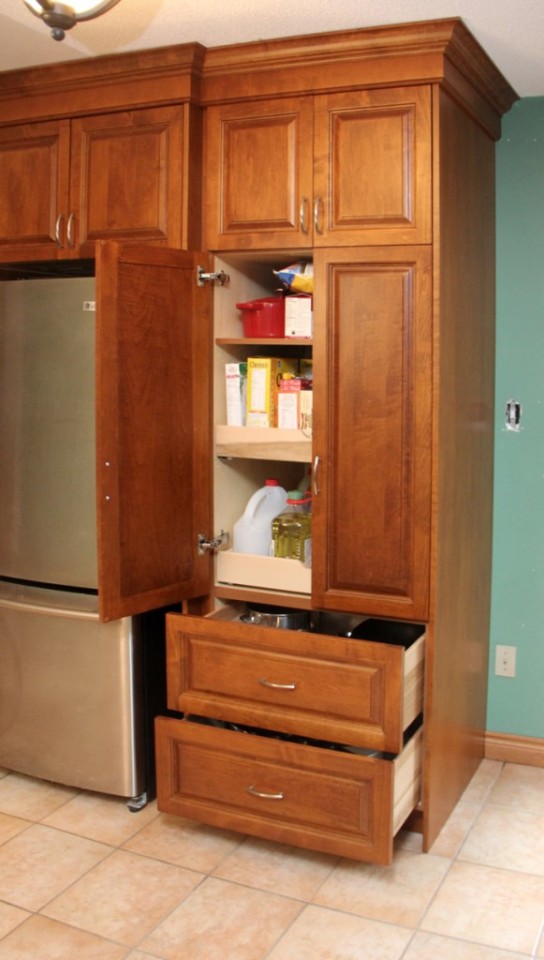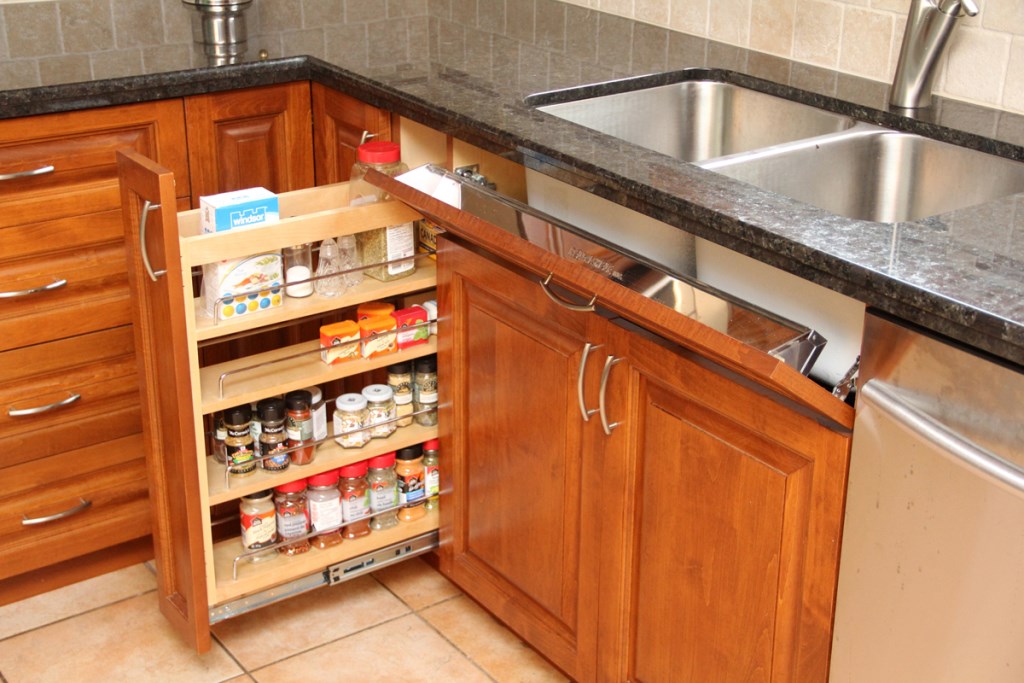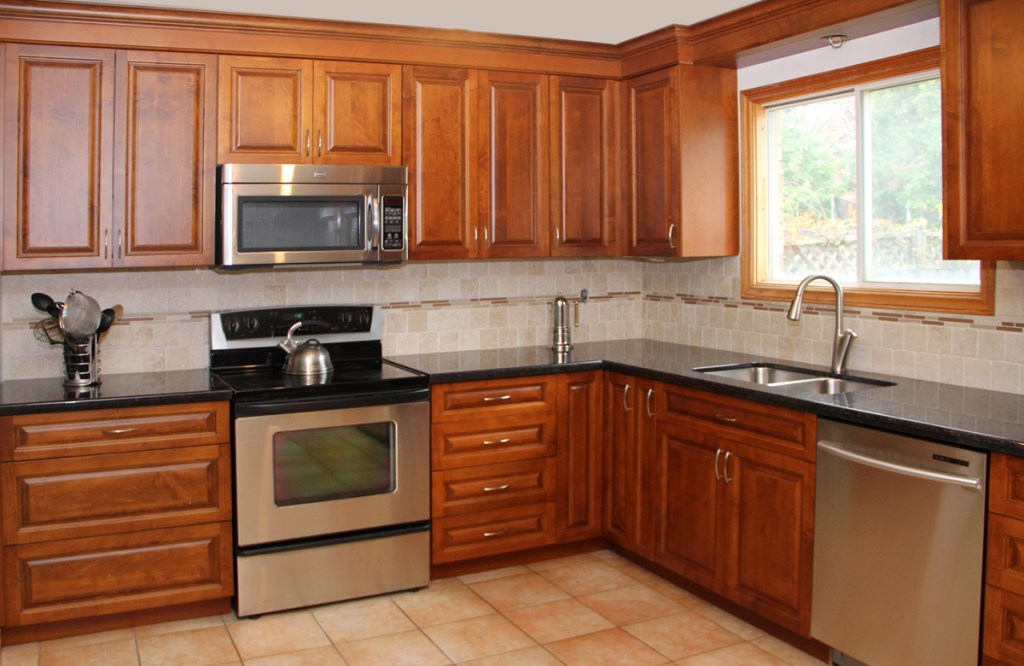 Brampton, Hamilton
Traditional Kitchen Cabinets
Our 'Traditional' styling is influenced mostly by Victorian styling from the late 19th century where heavier gothic forms with dark finish, elaborate carving, and ornamentation became more subdued by the influence of mass production standards which were introduced during this era. This result retains a look that is still more extravagant than most styles currently in use.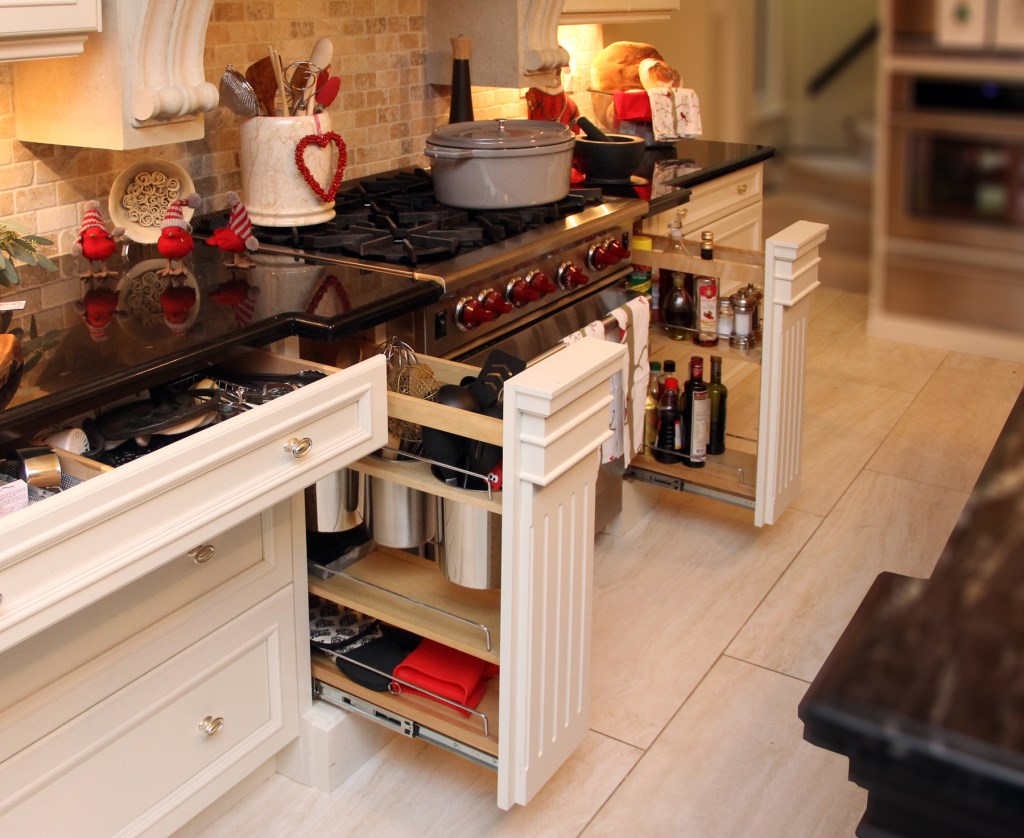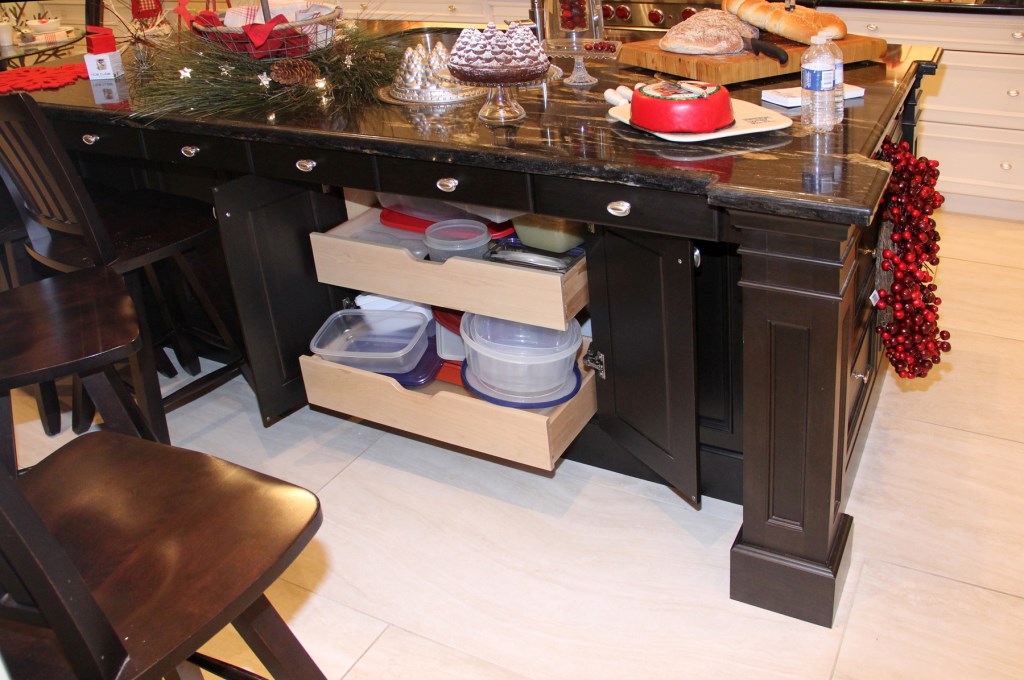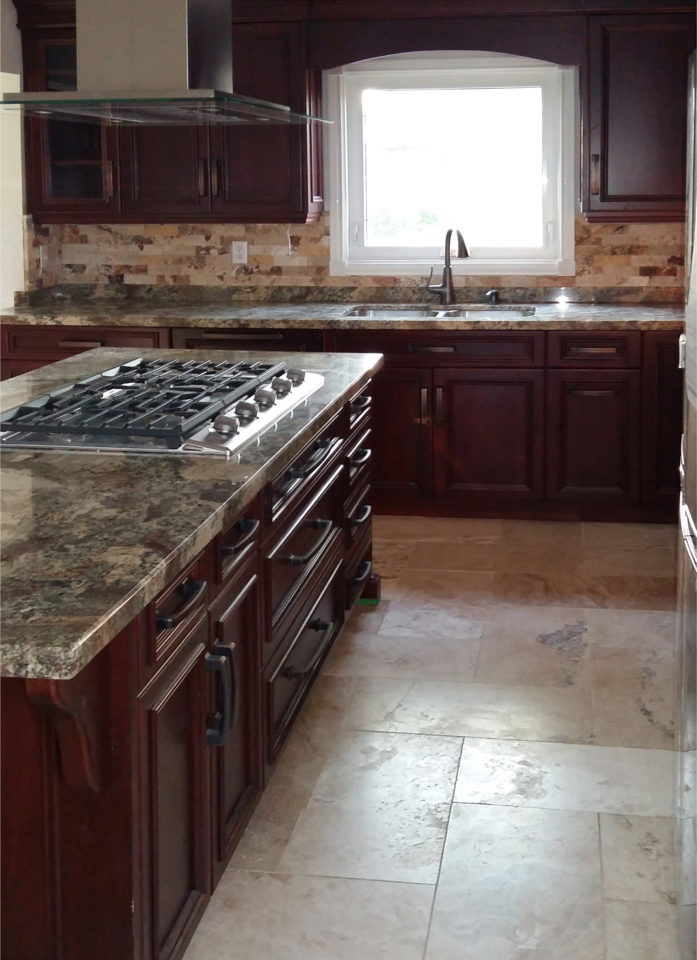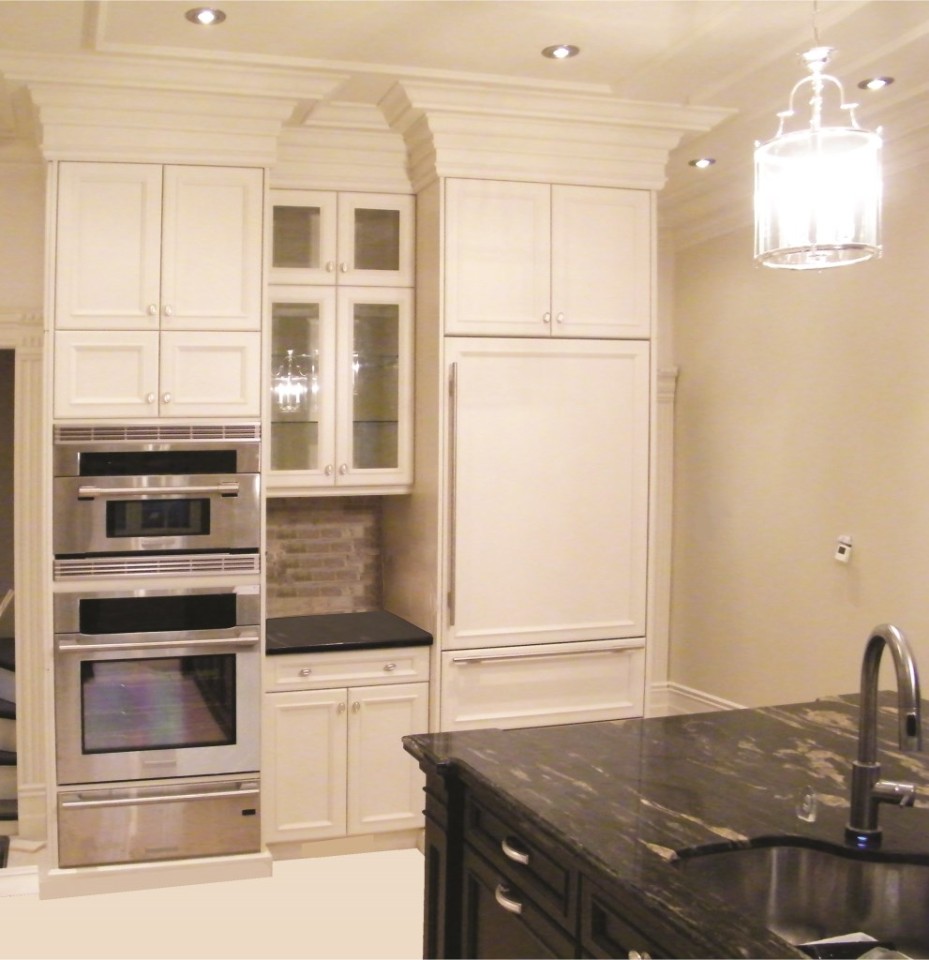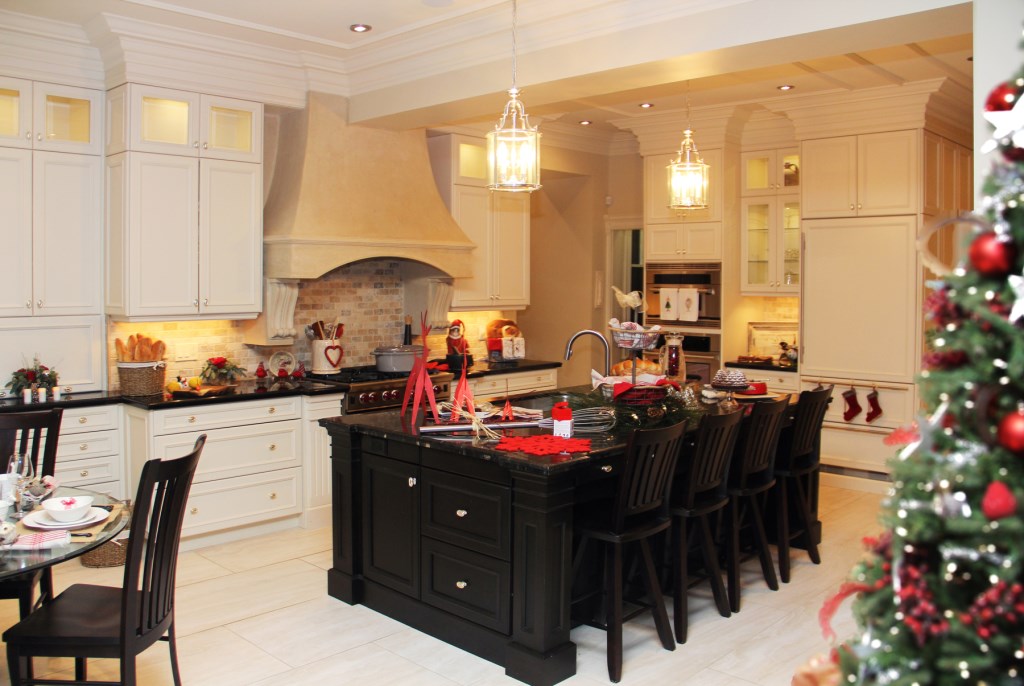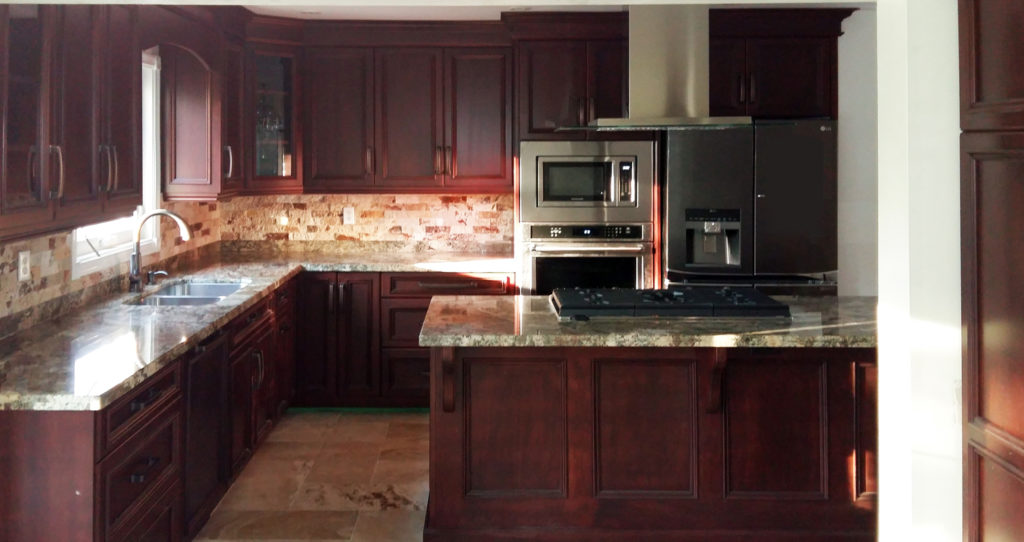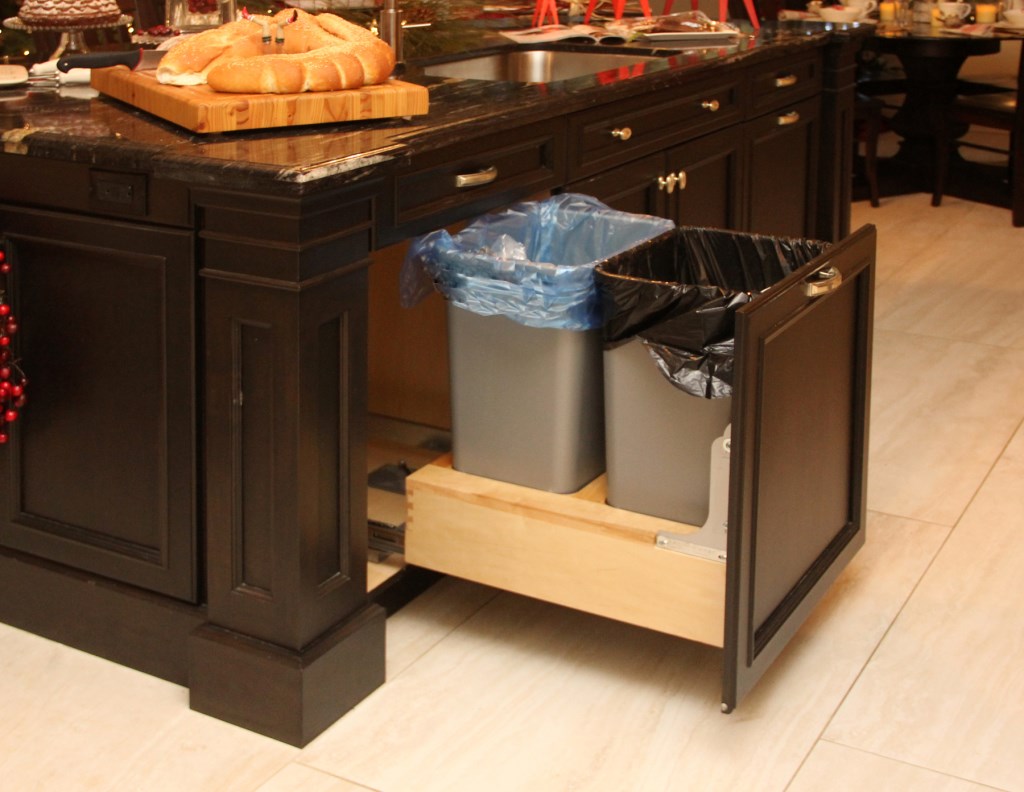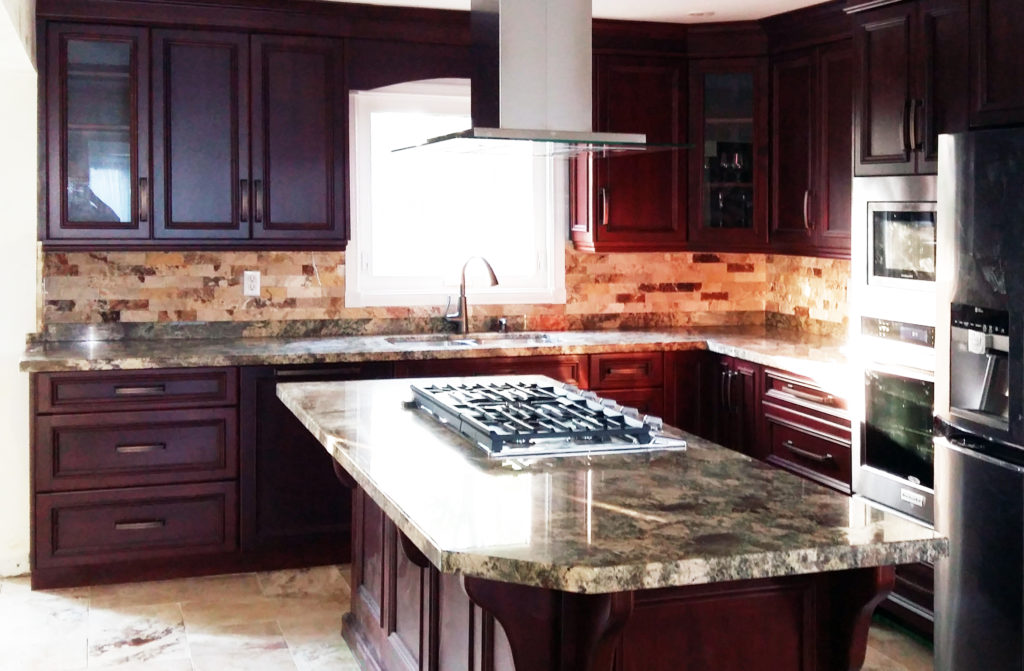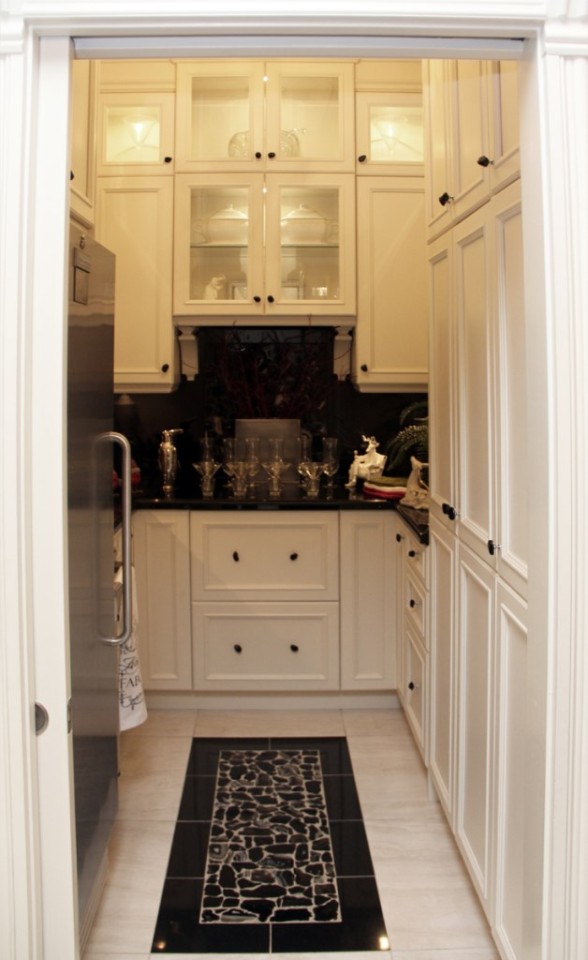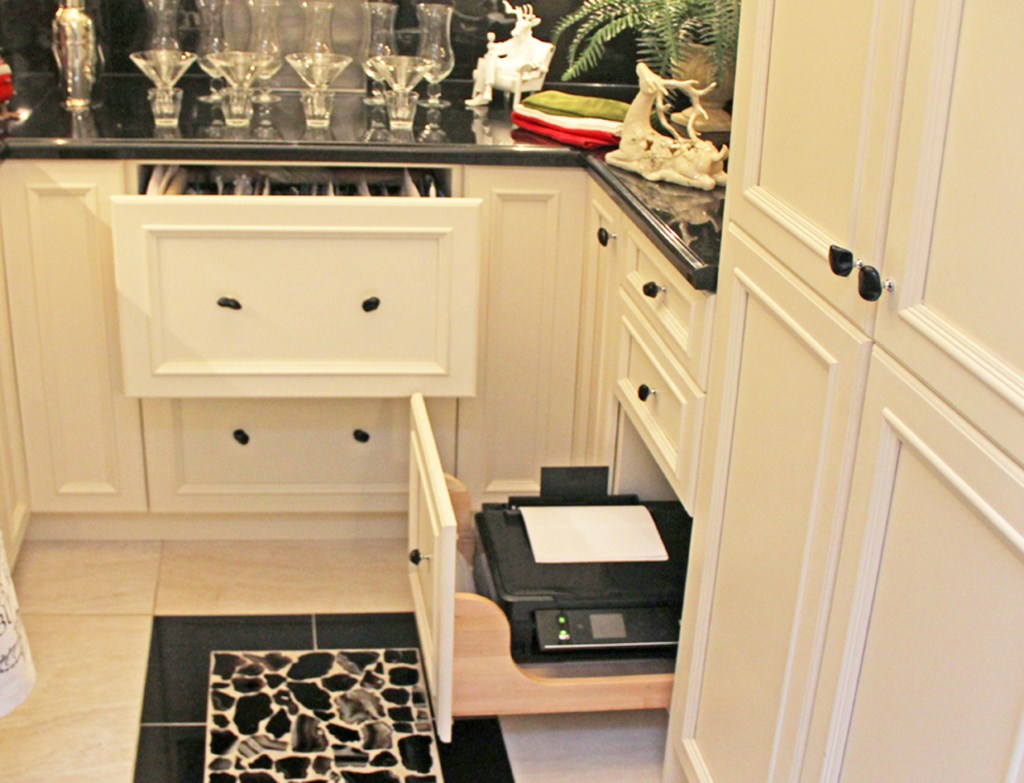 Ancaster, Hamilton, Waterloo,
New Dundee
Transitional Kitchen Cabinets
Our Transitional designs are an effective blend or 'fusion' of Colonial, Shaker or other Traditional forms and more contemporary design advantages. The result is a balance of traditional elegance and modern refinement.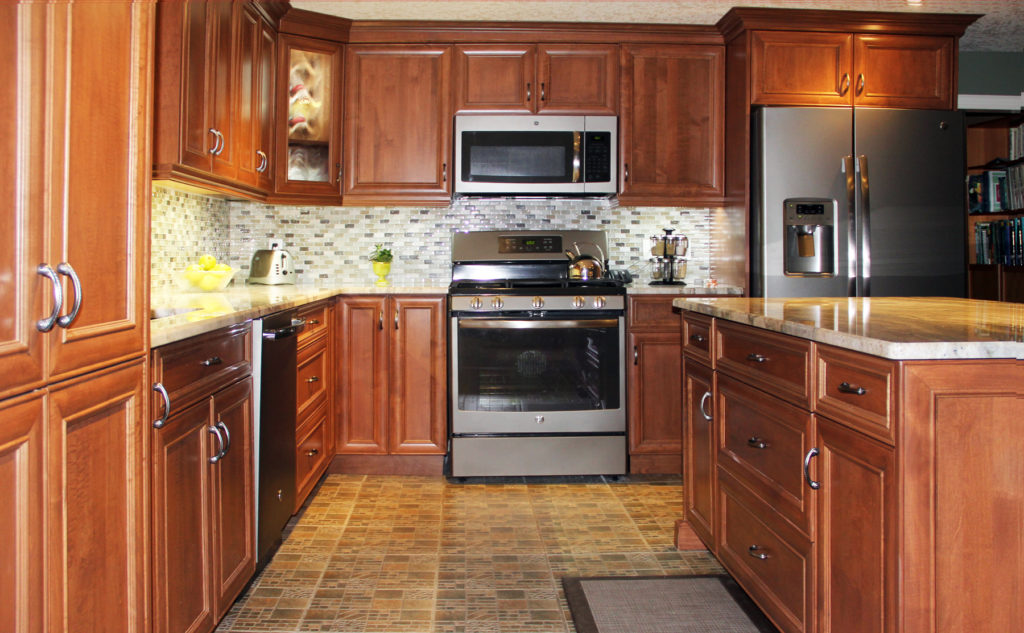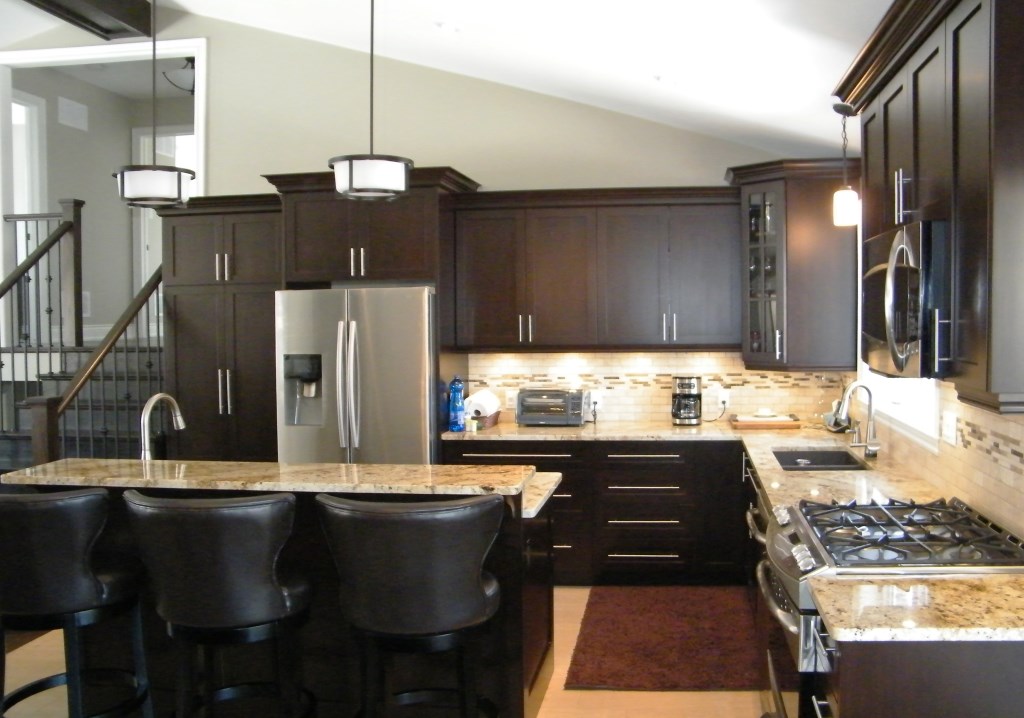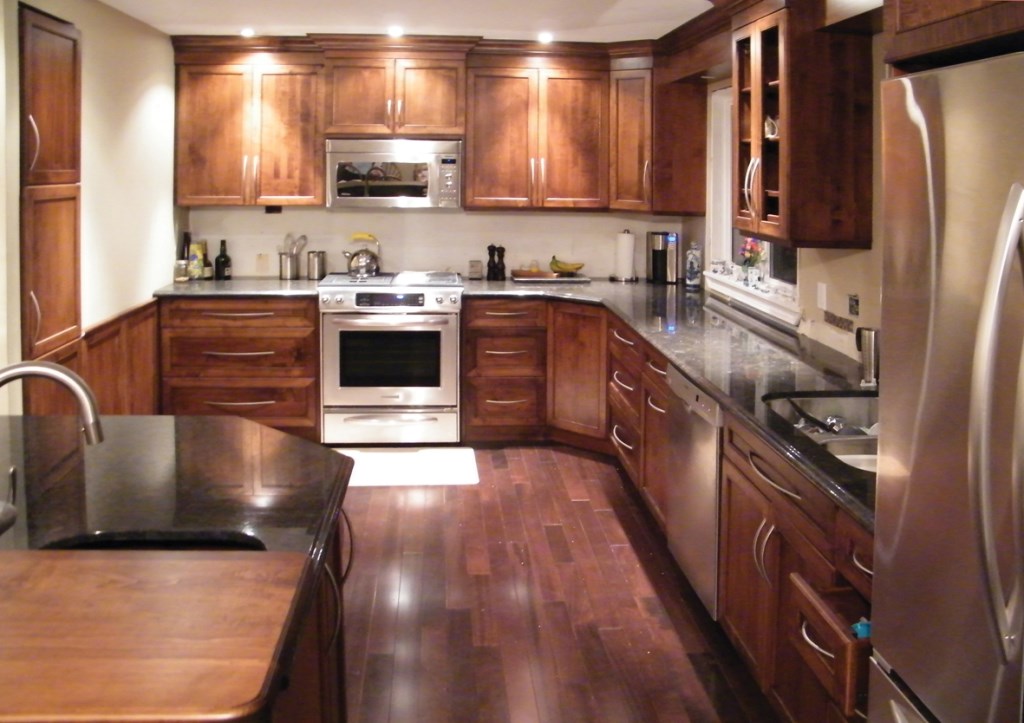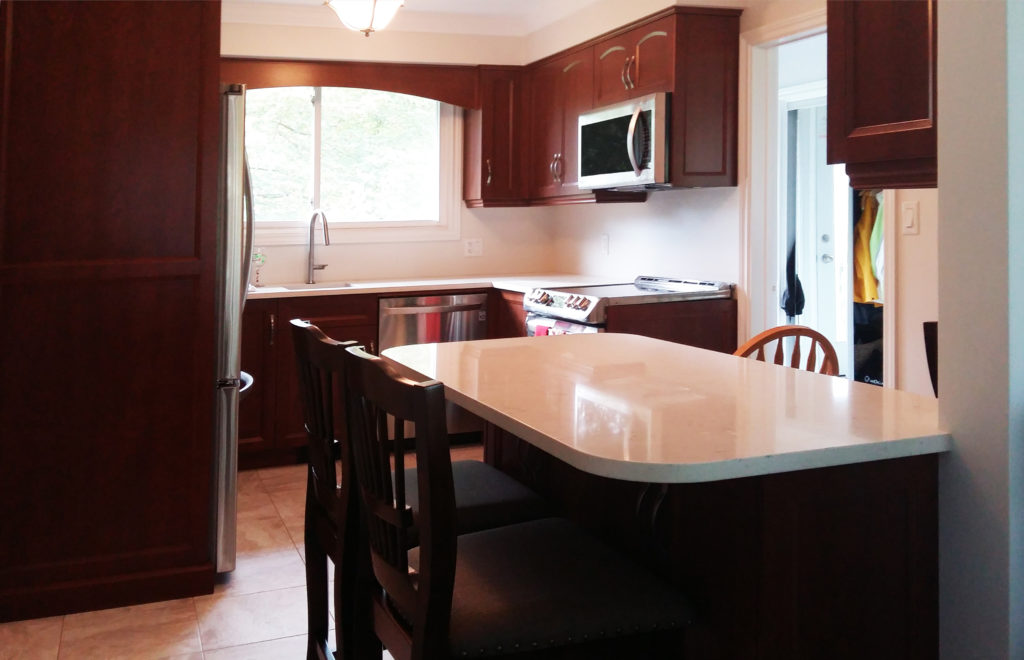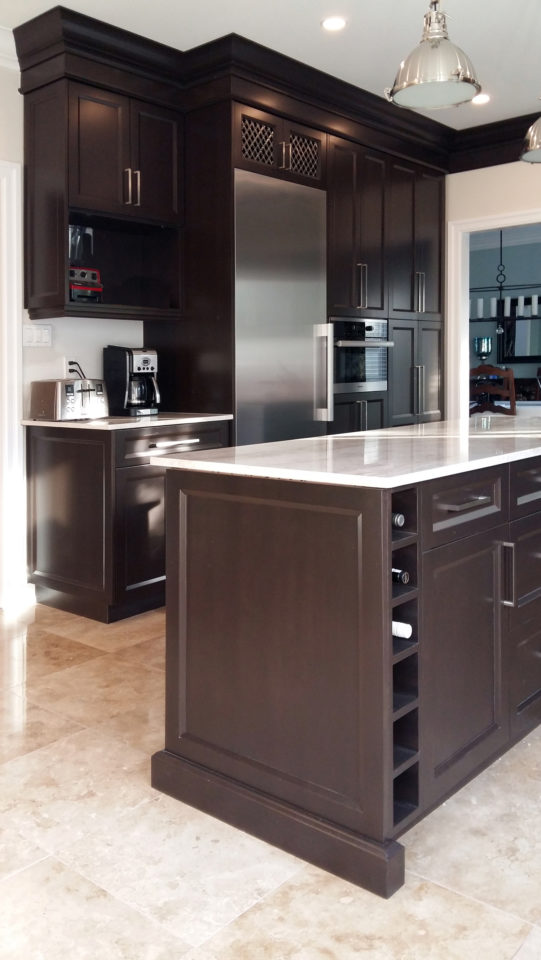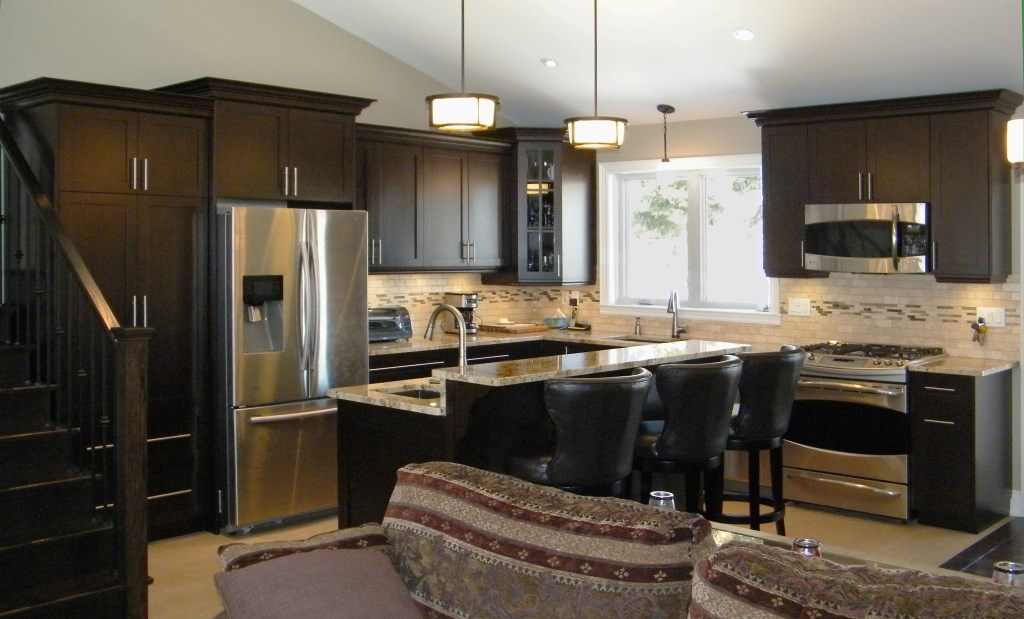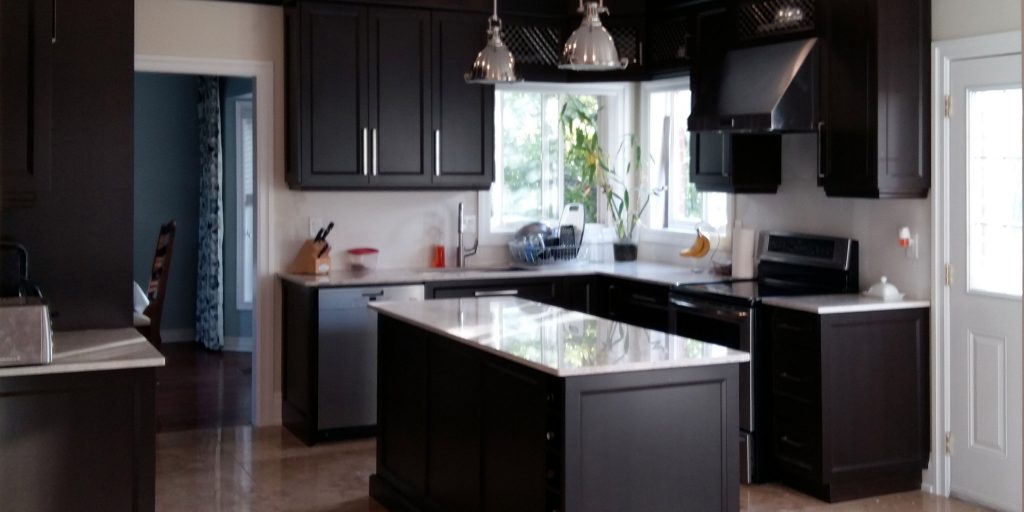 Kitchener
Traditional Walnut Kitchen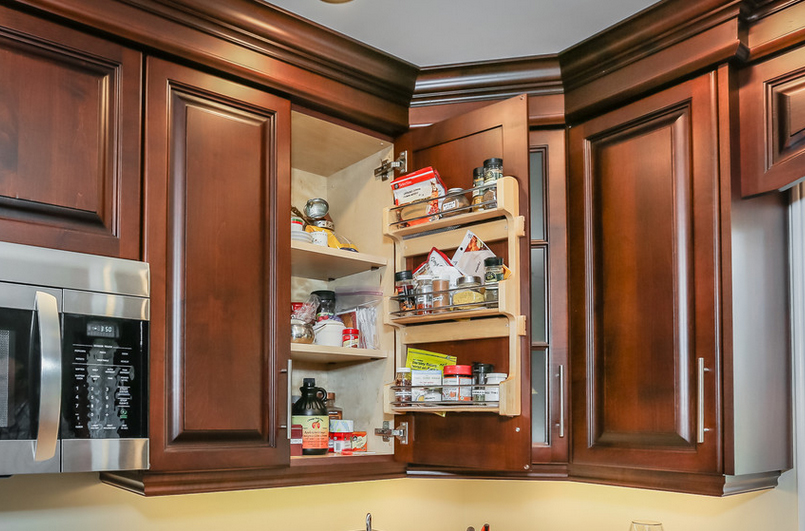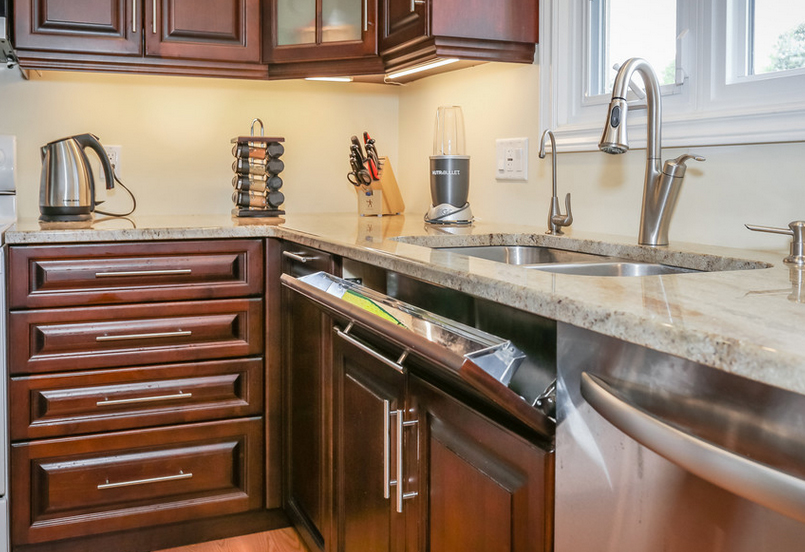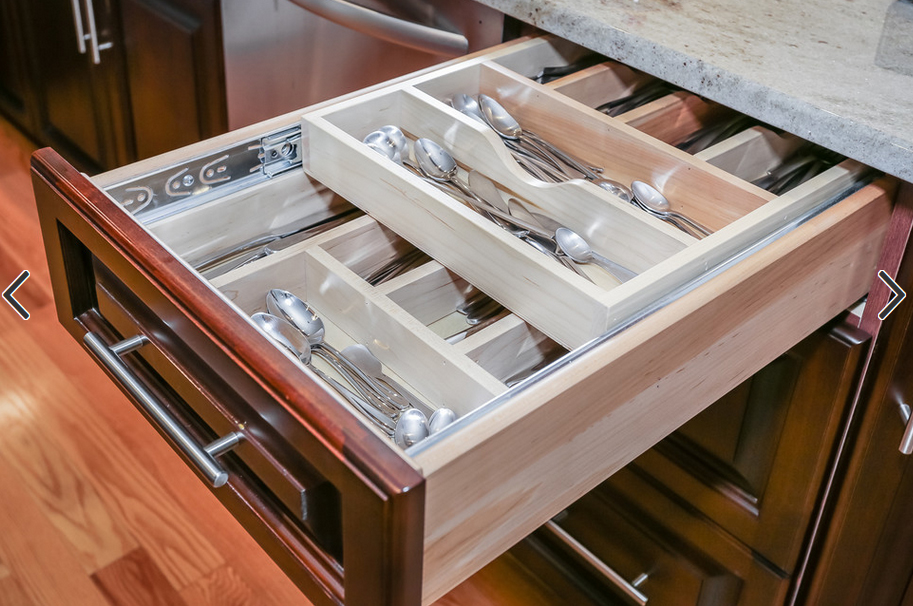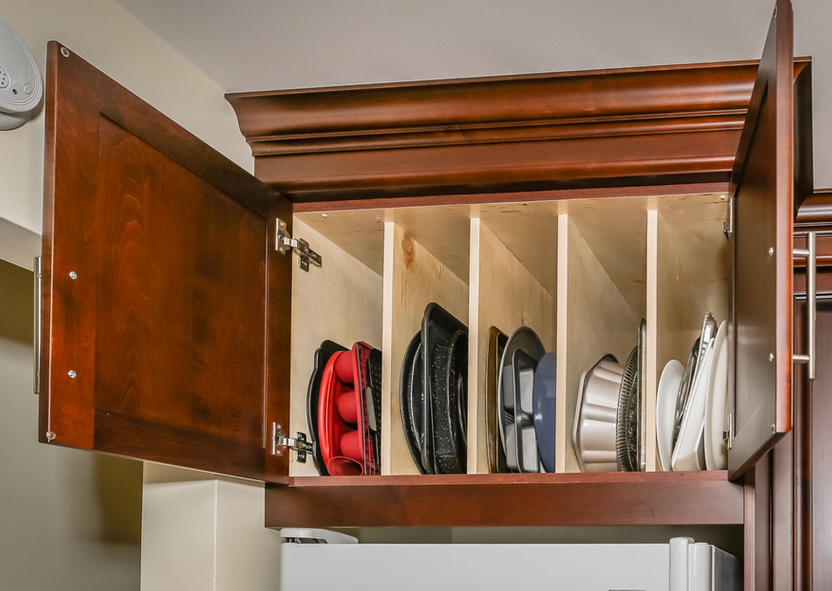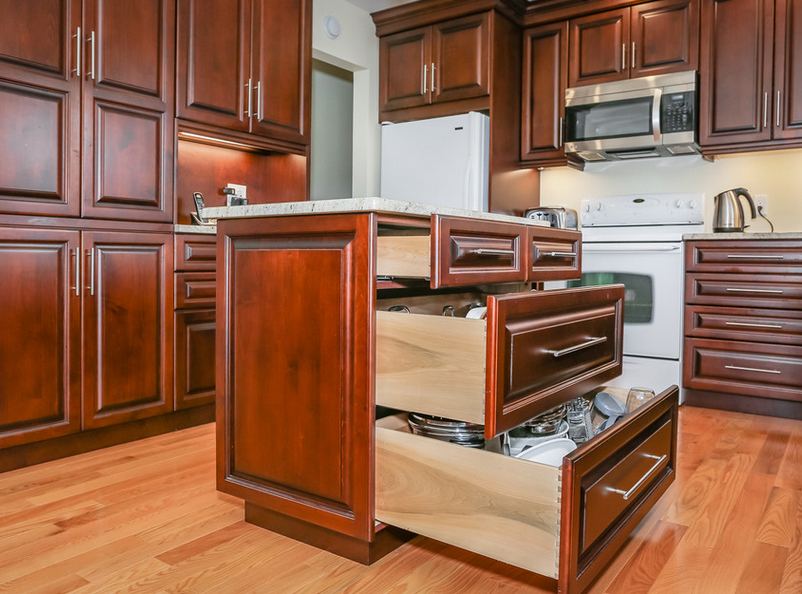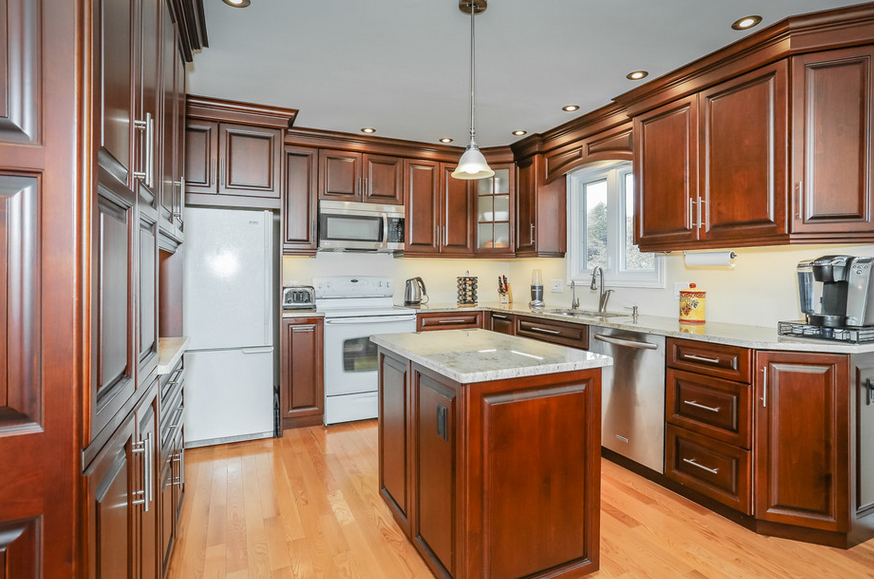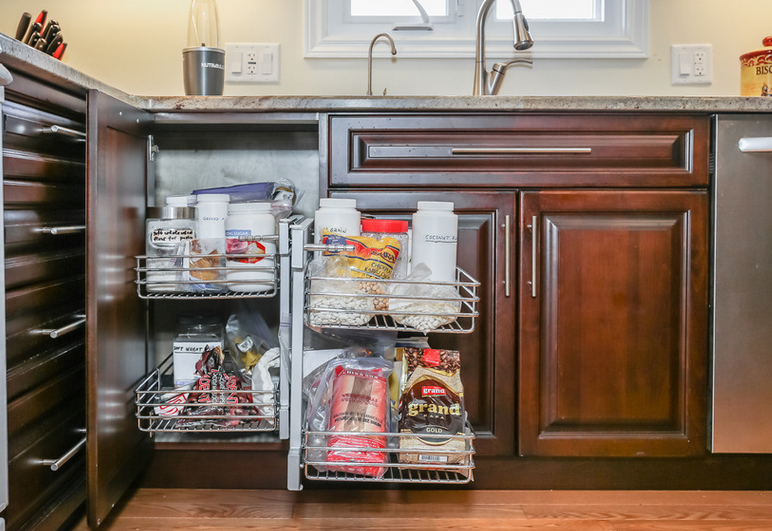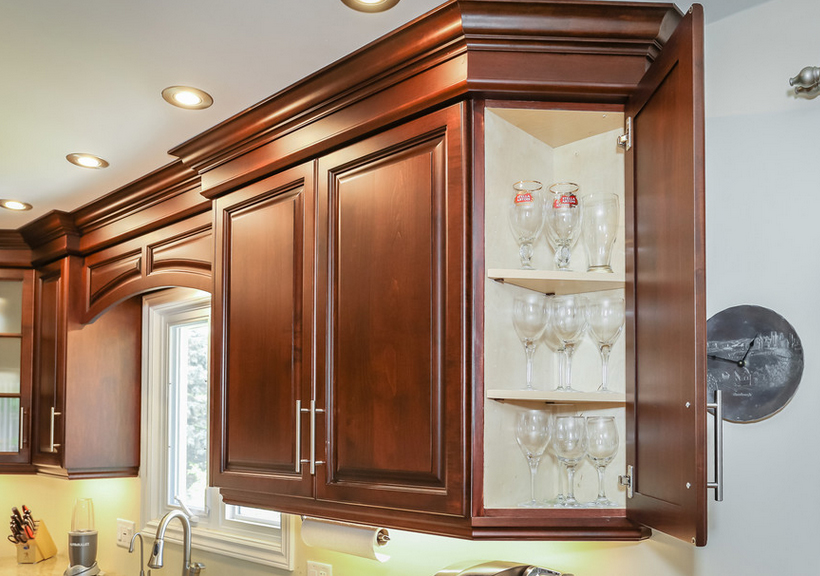 Kitchener
Traditional Maple Kitchen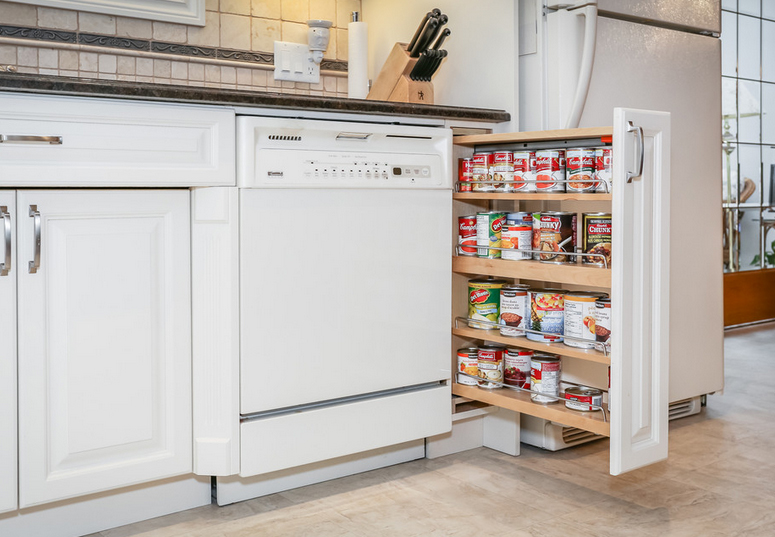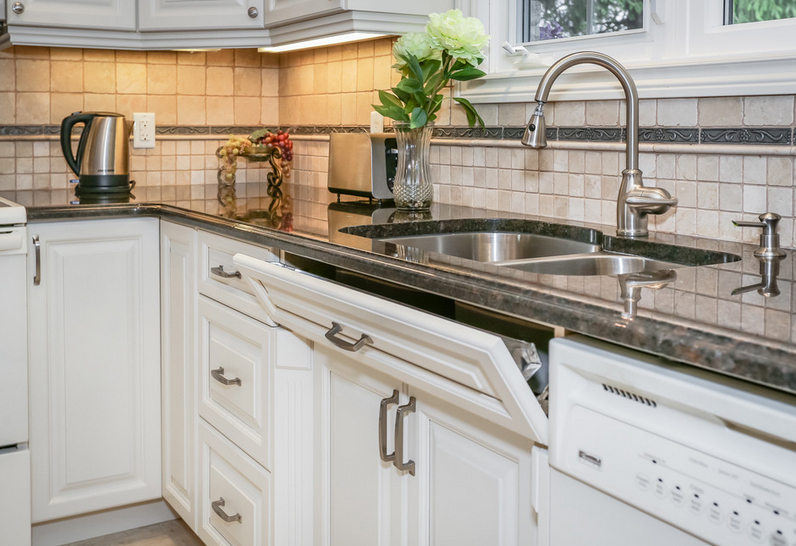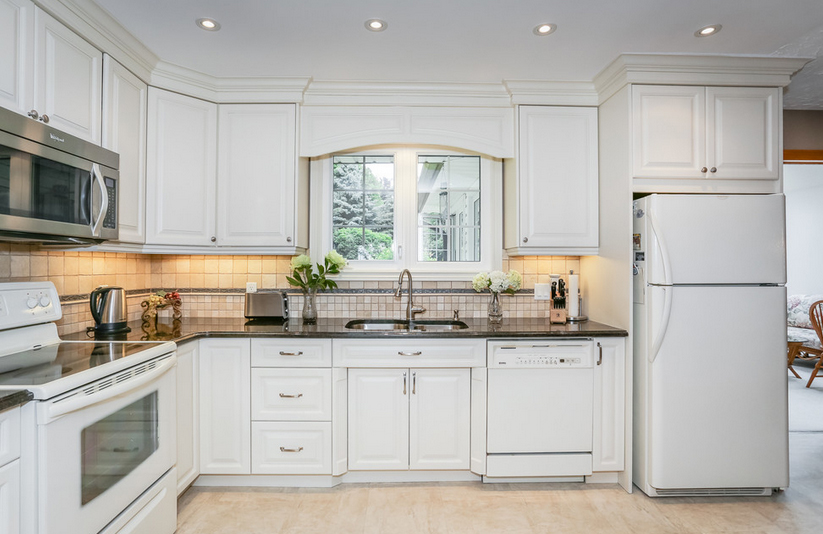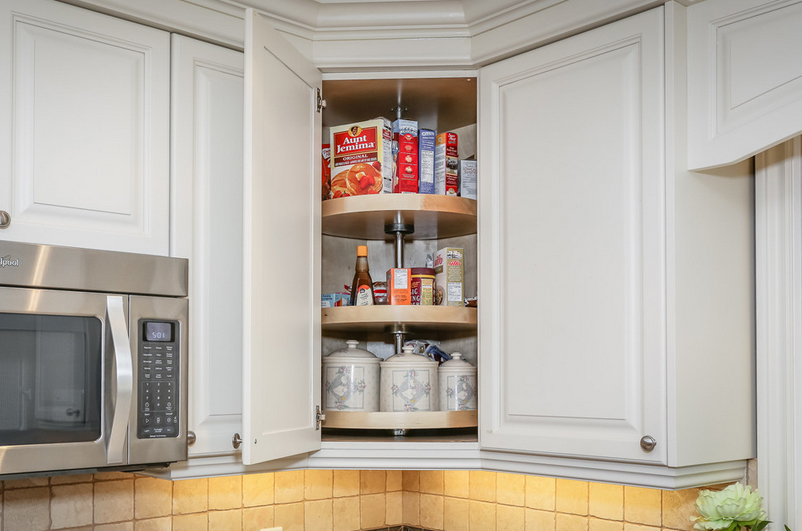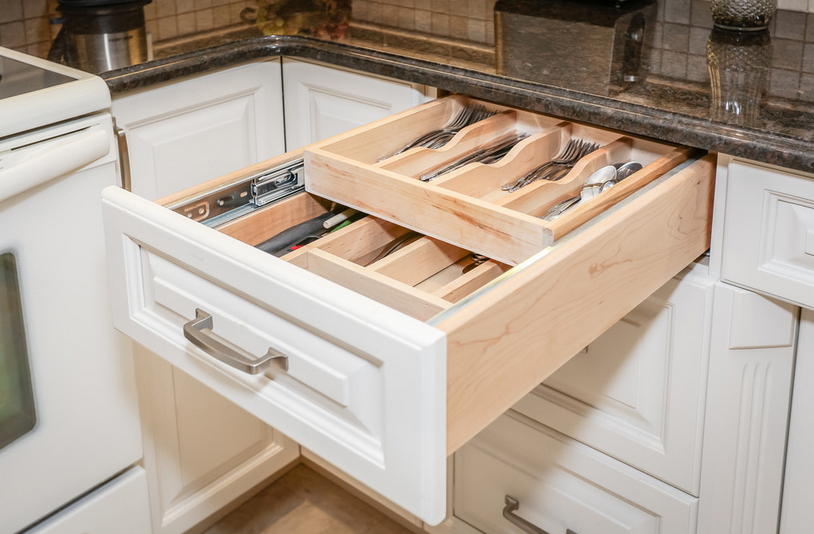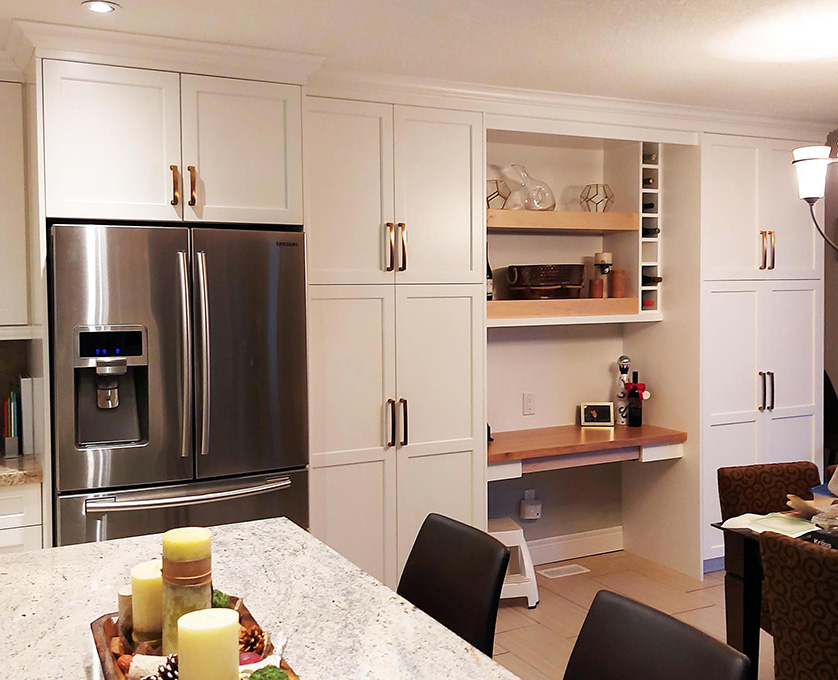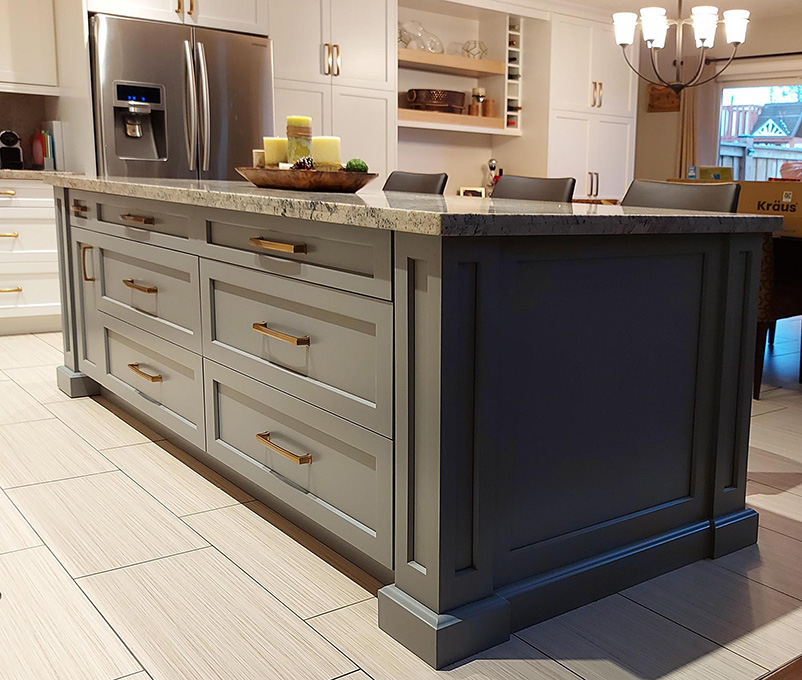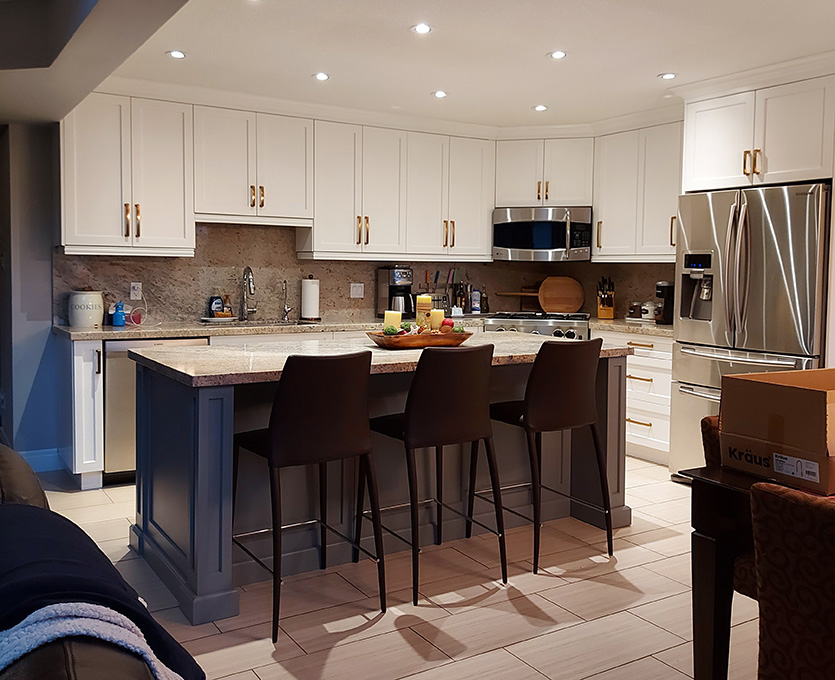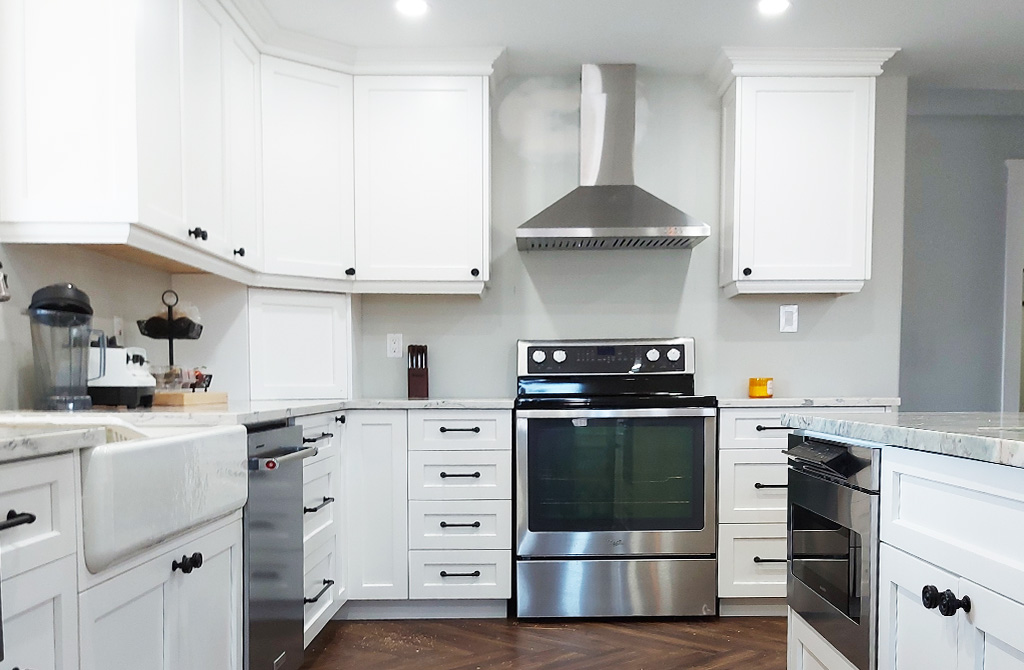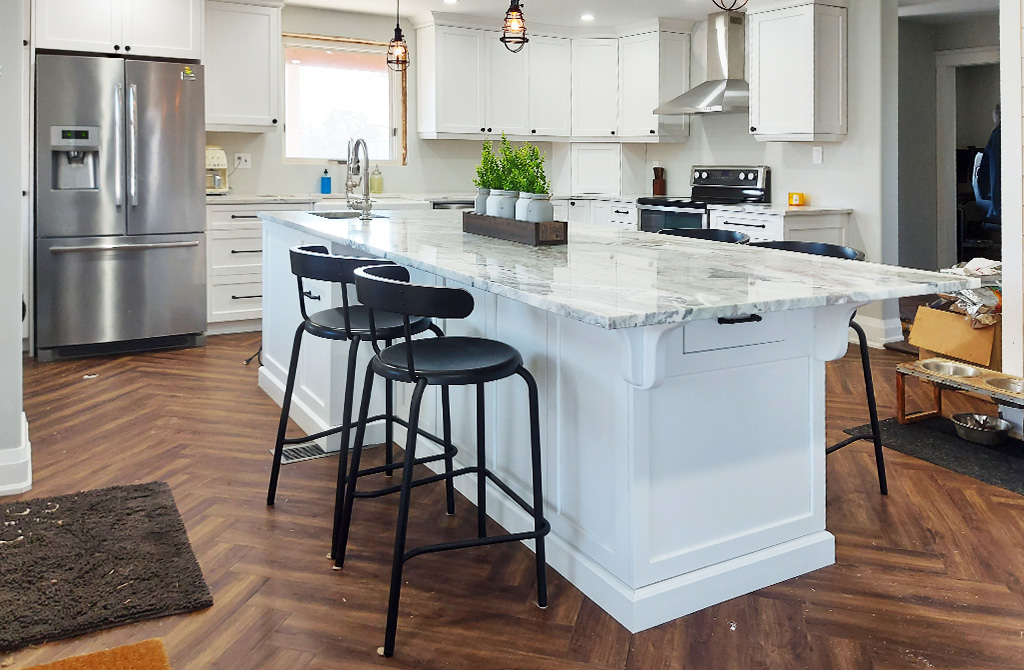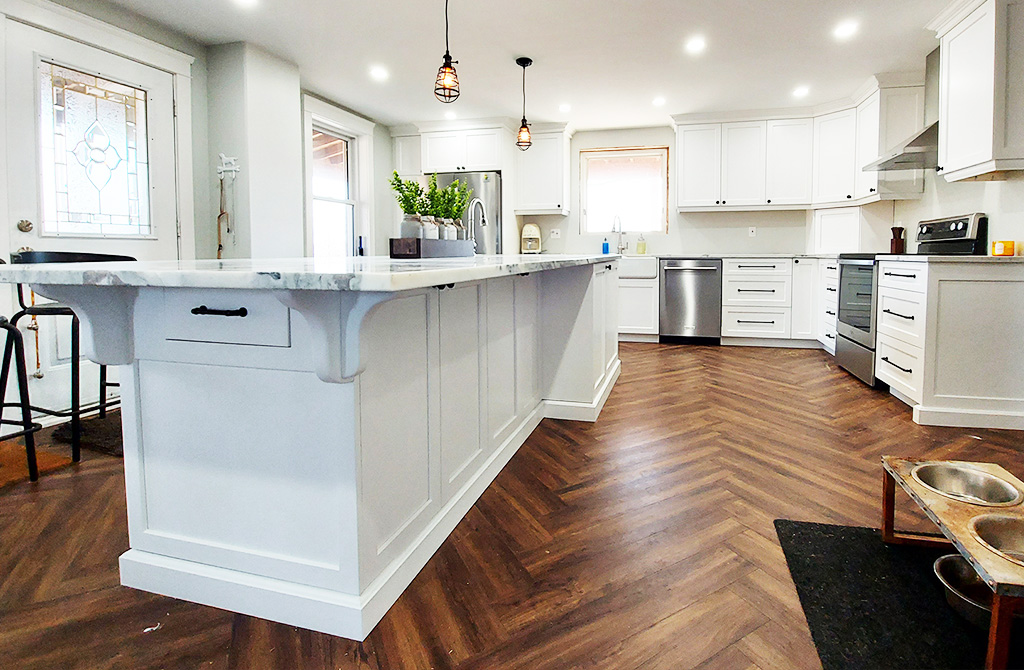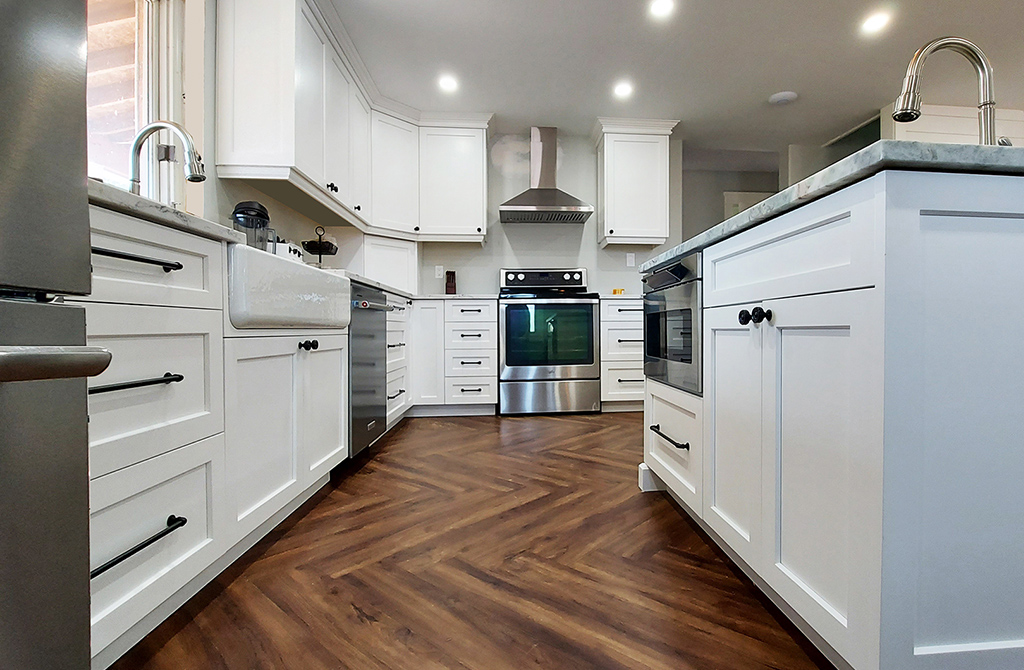 Caledon, Milton
Traditional Maple Kitchen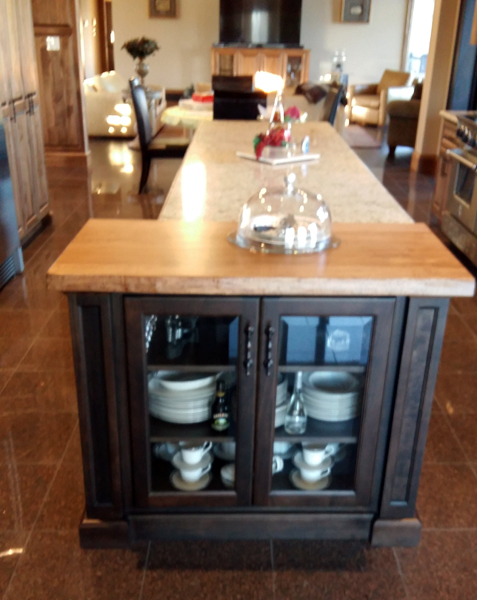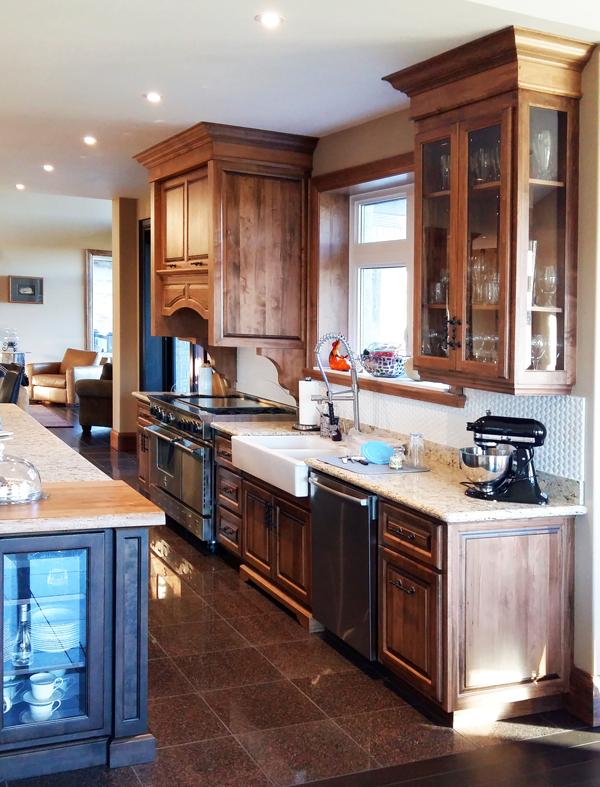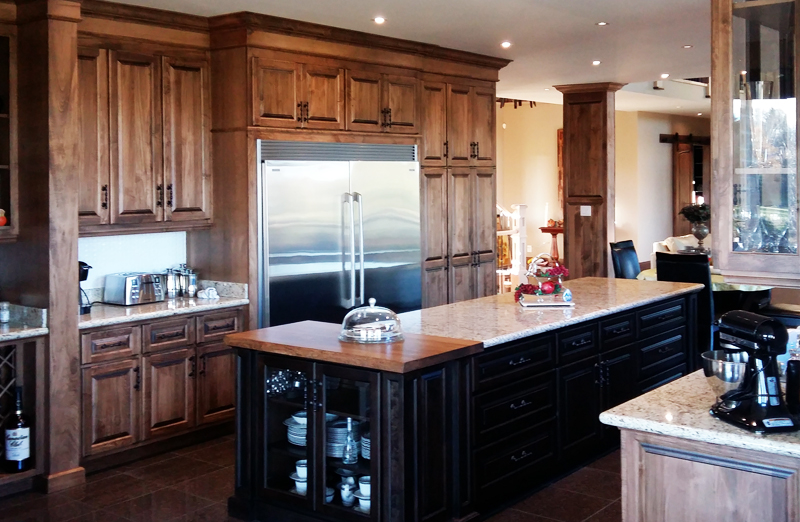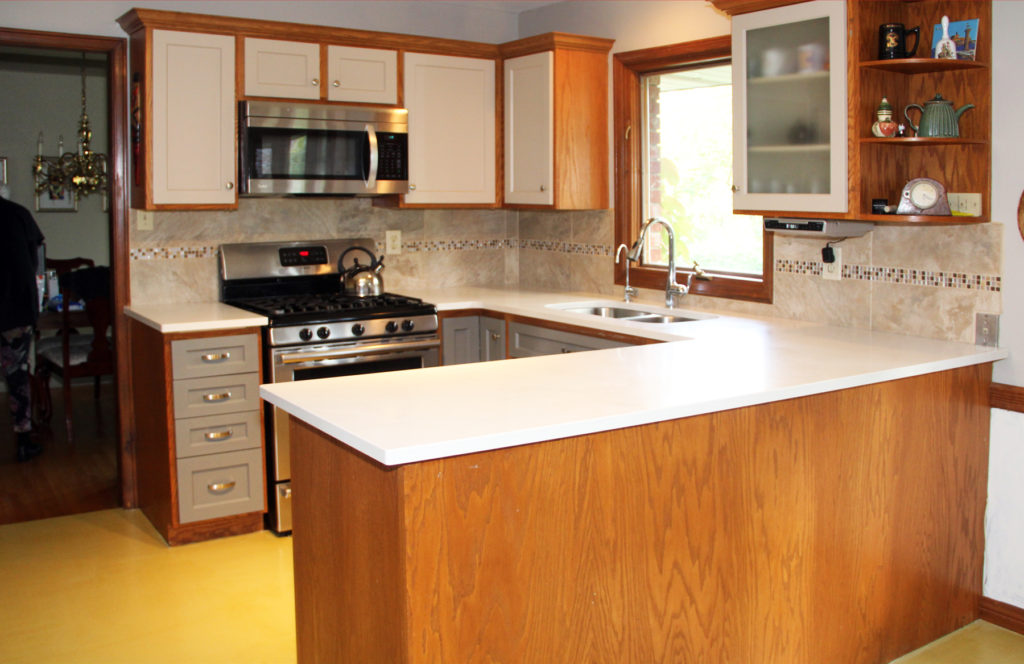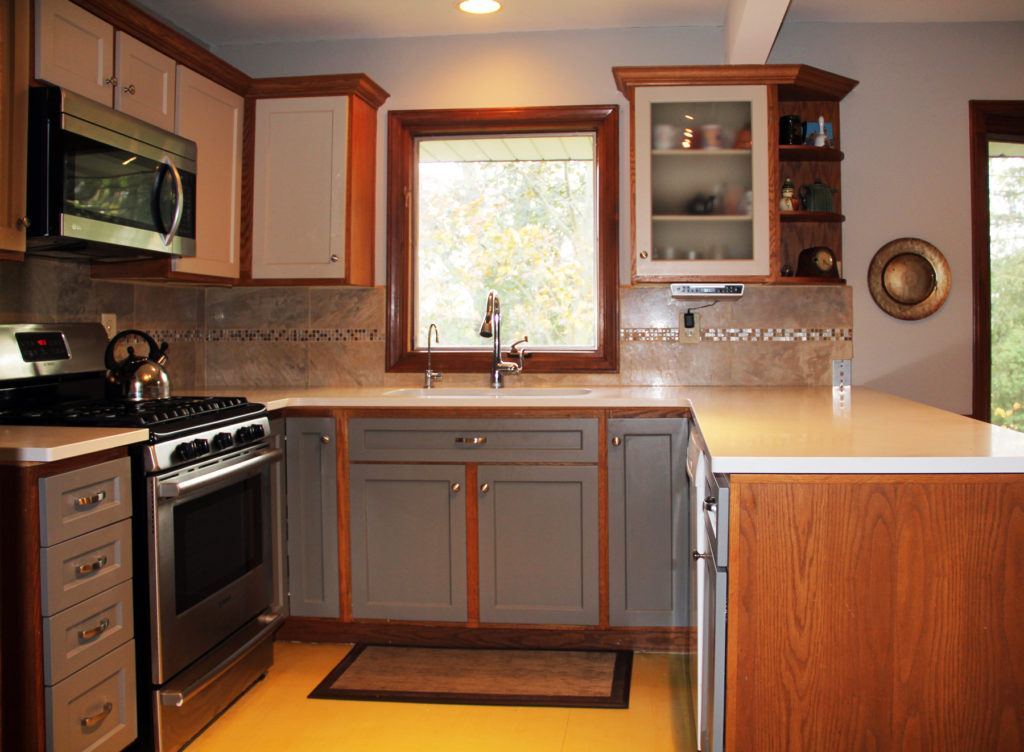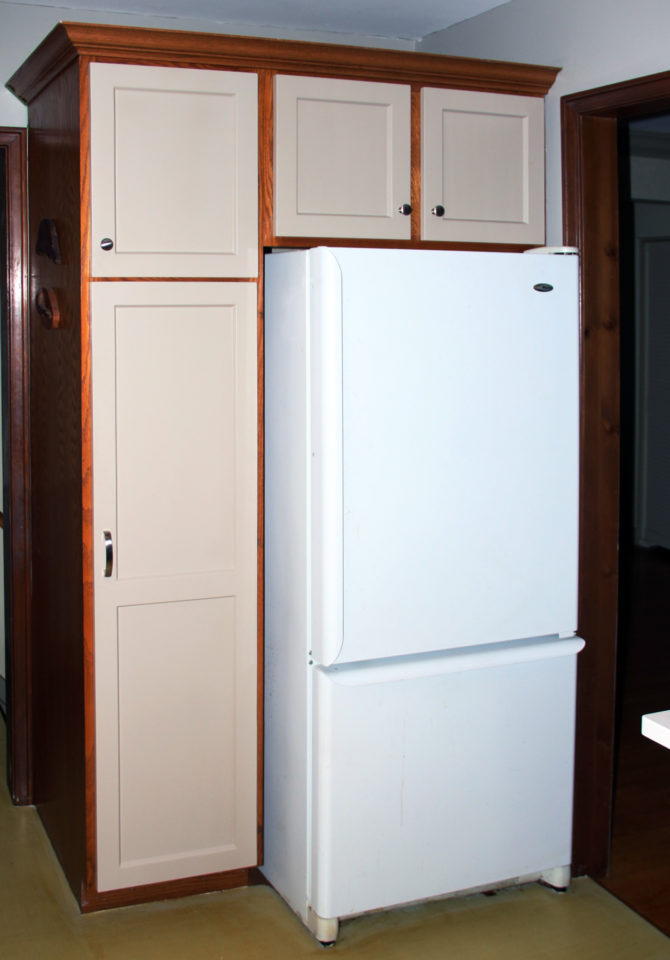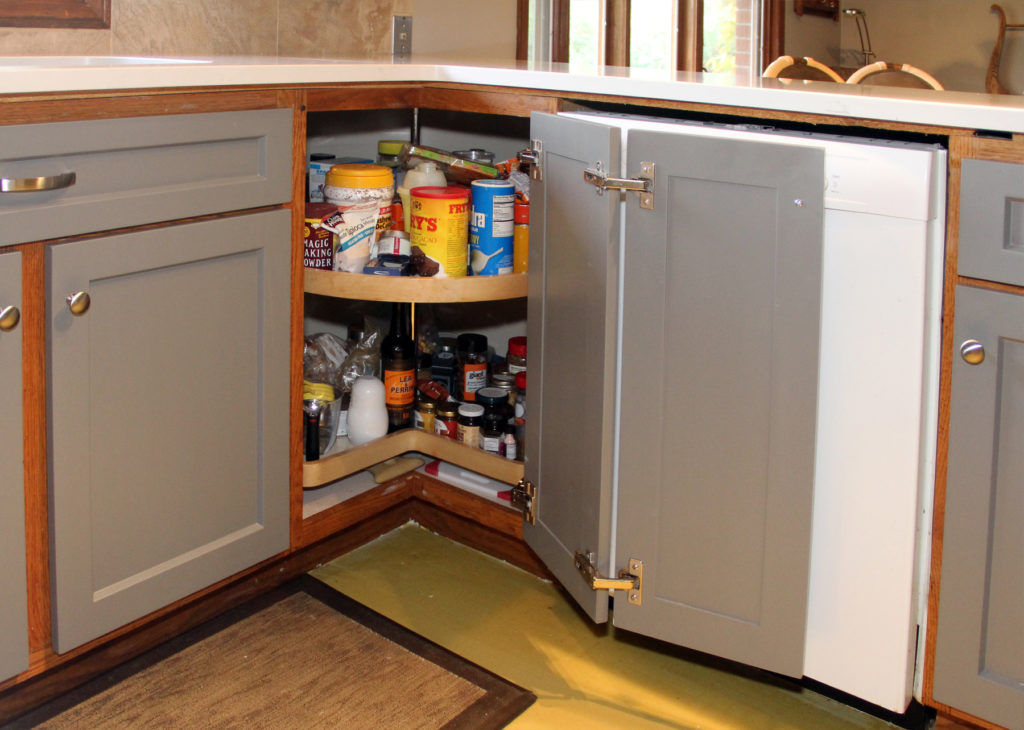 Kitchener – Waterloo
Small Apartment Kitchen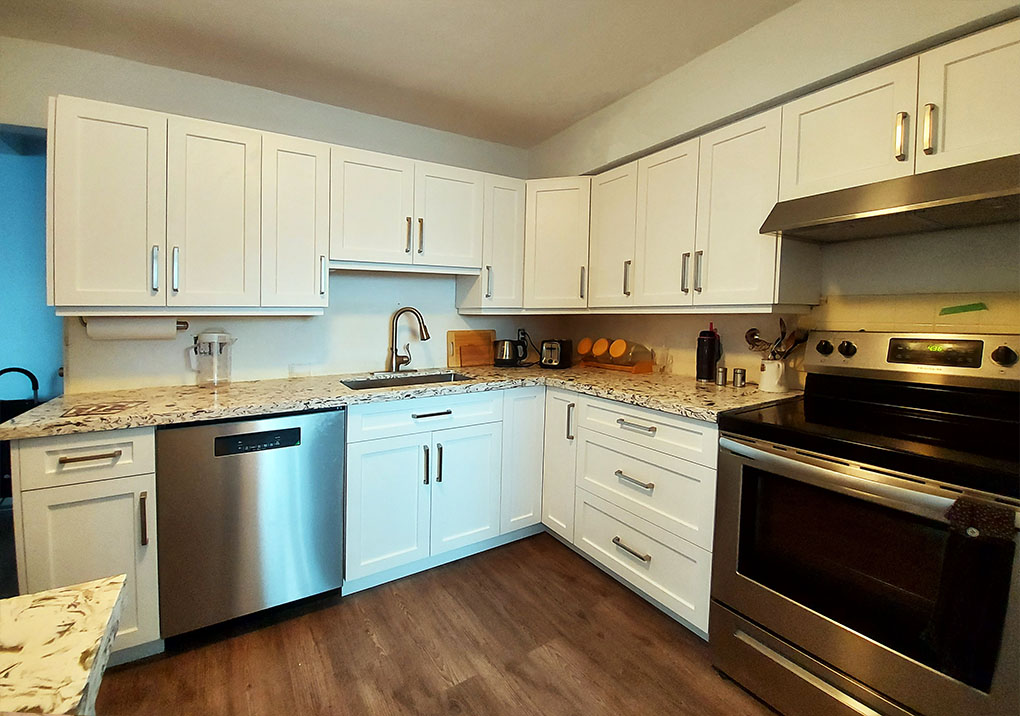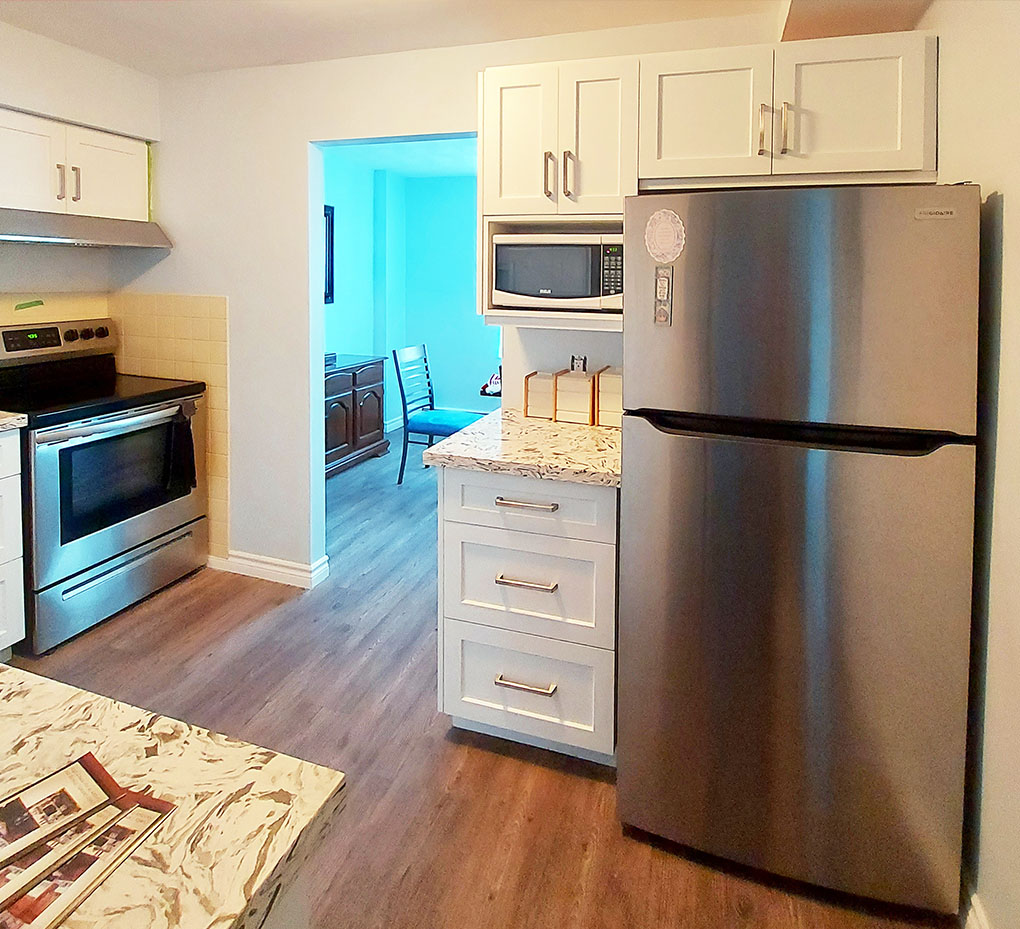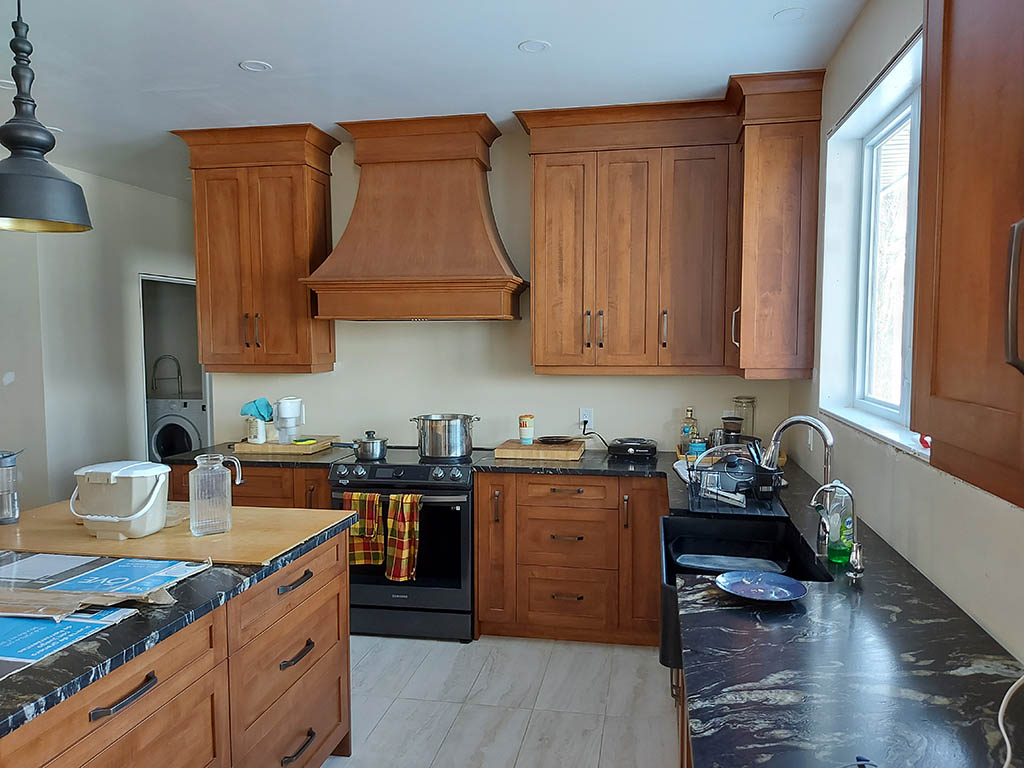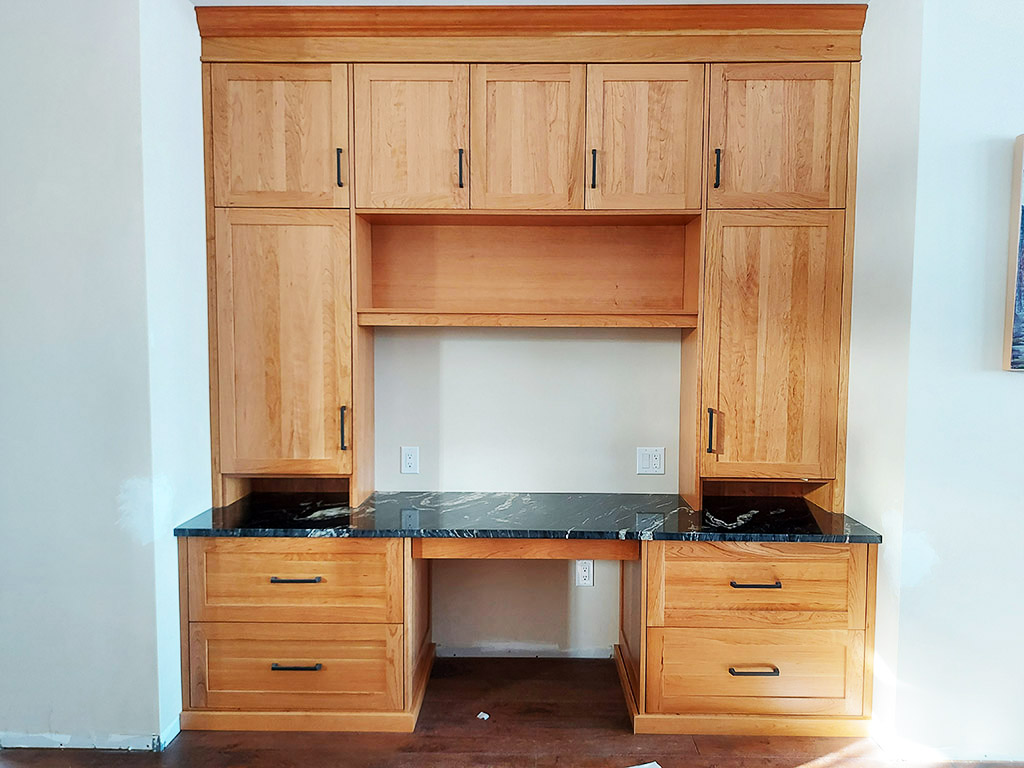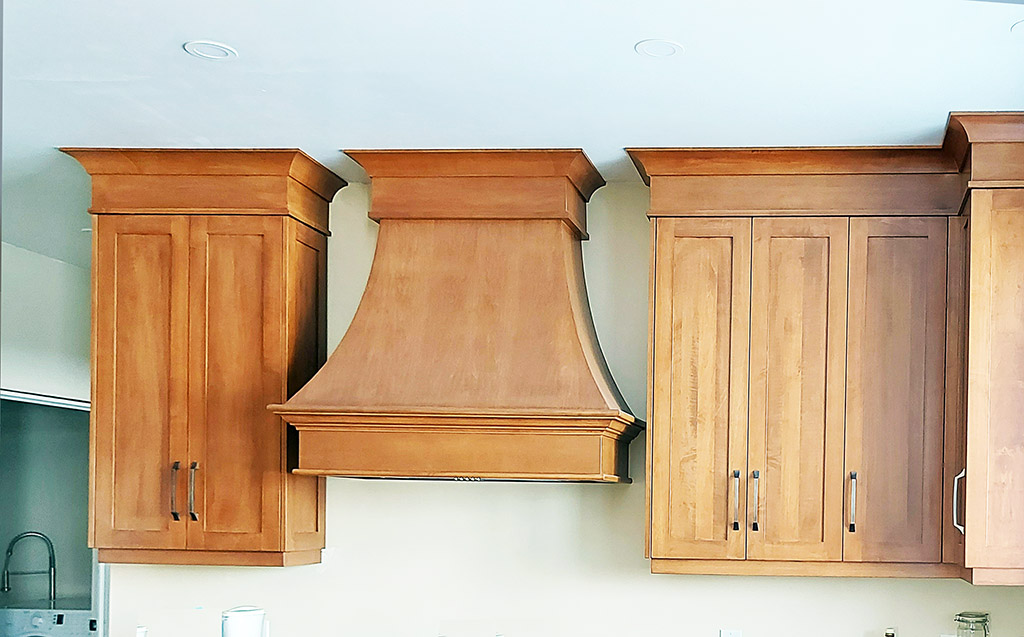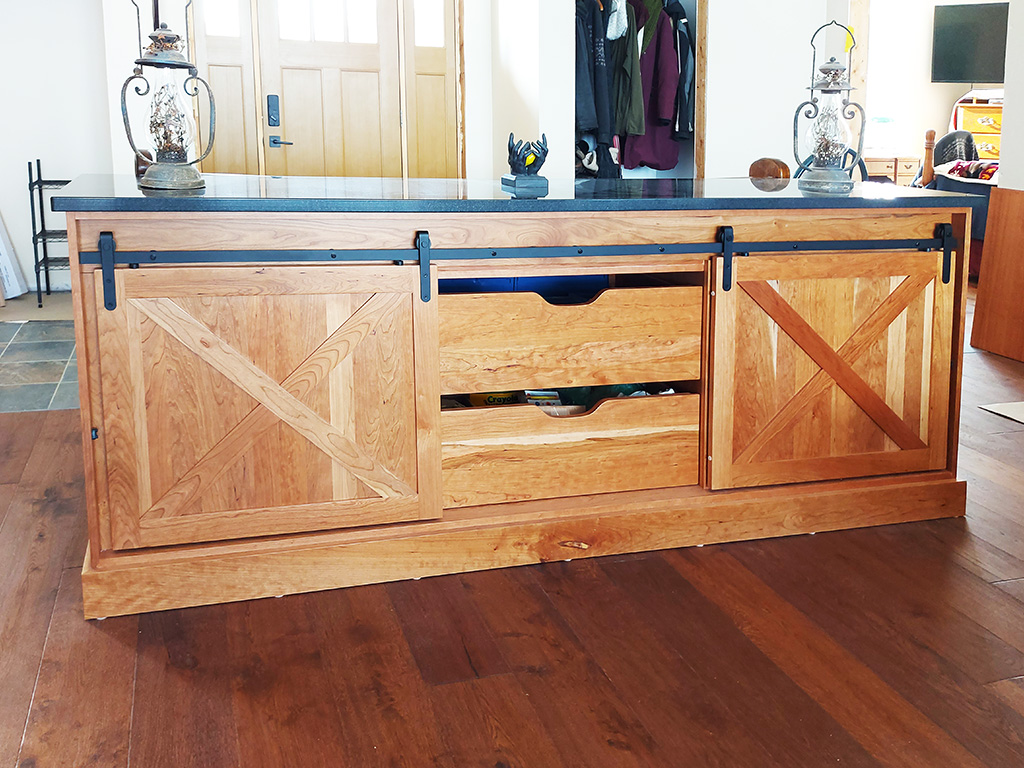 Glossy Plain-Slab Kitchen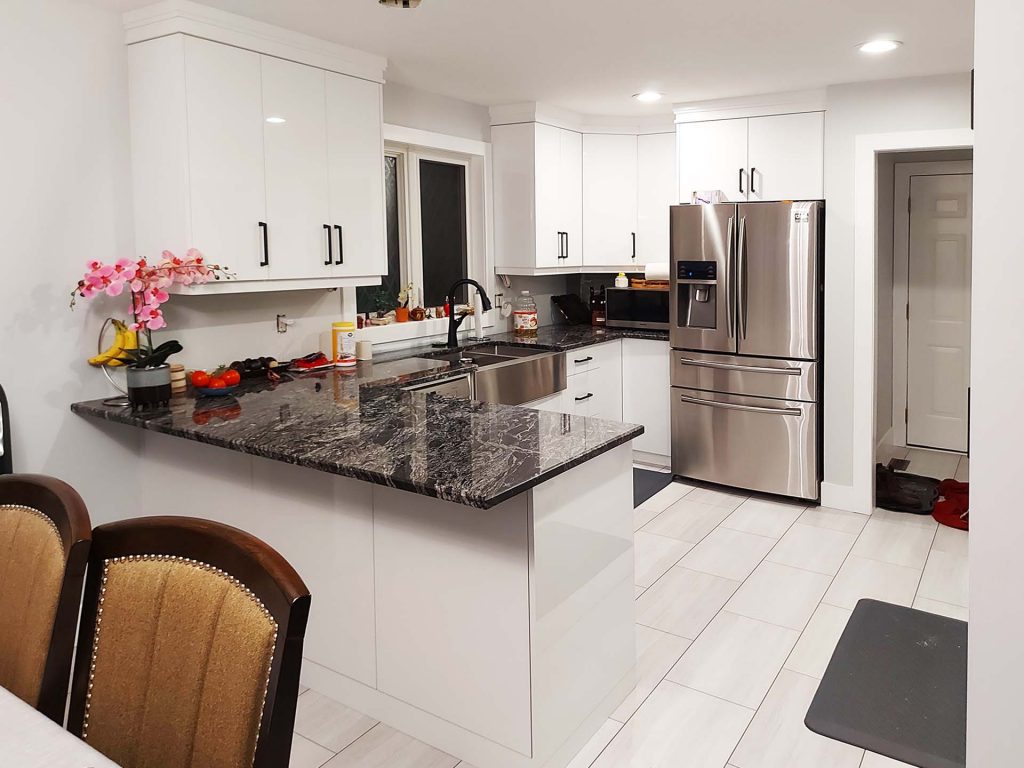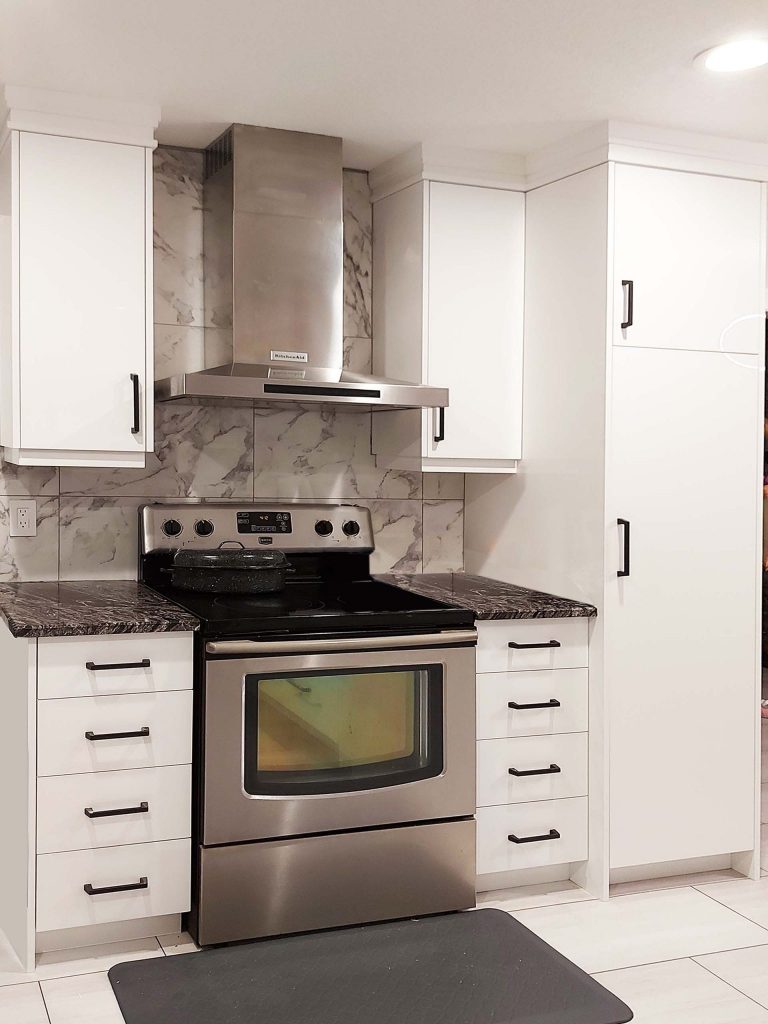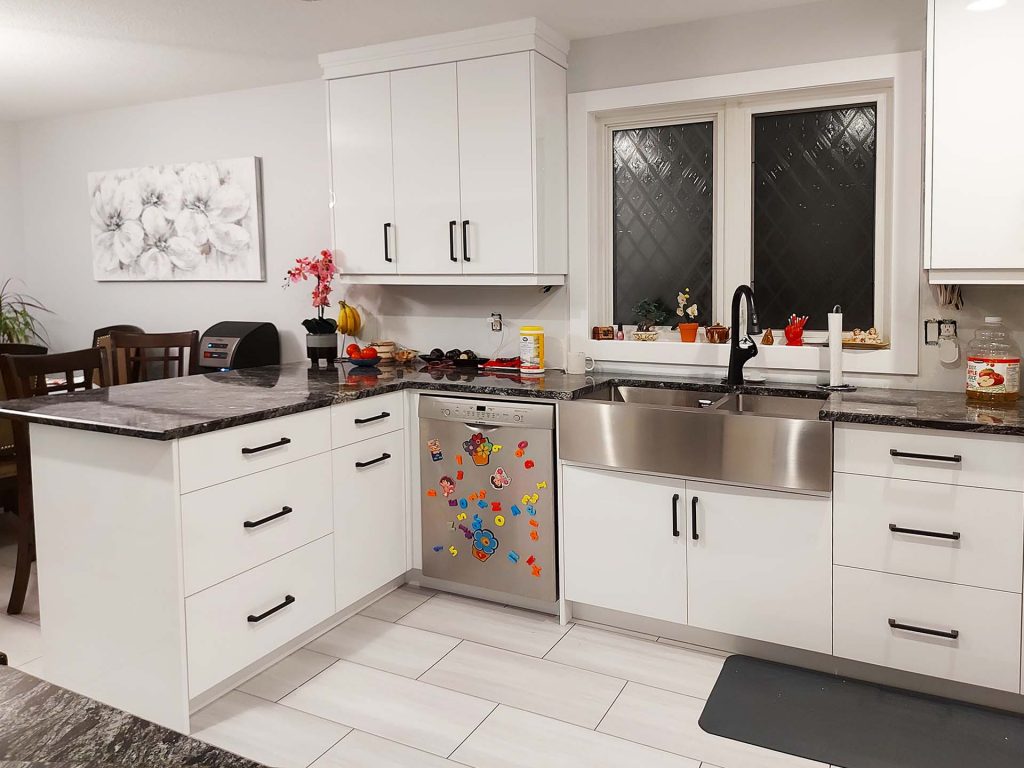 White and Dark Oak Kitchen in Elora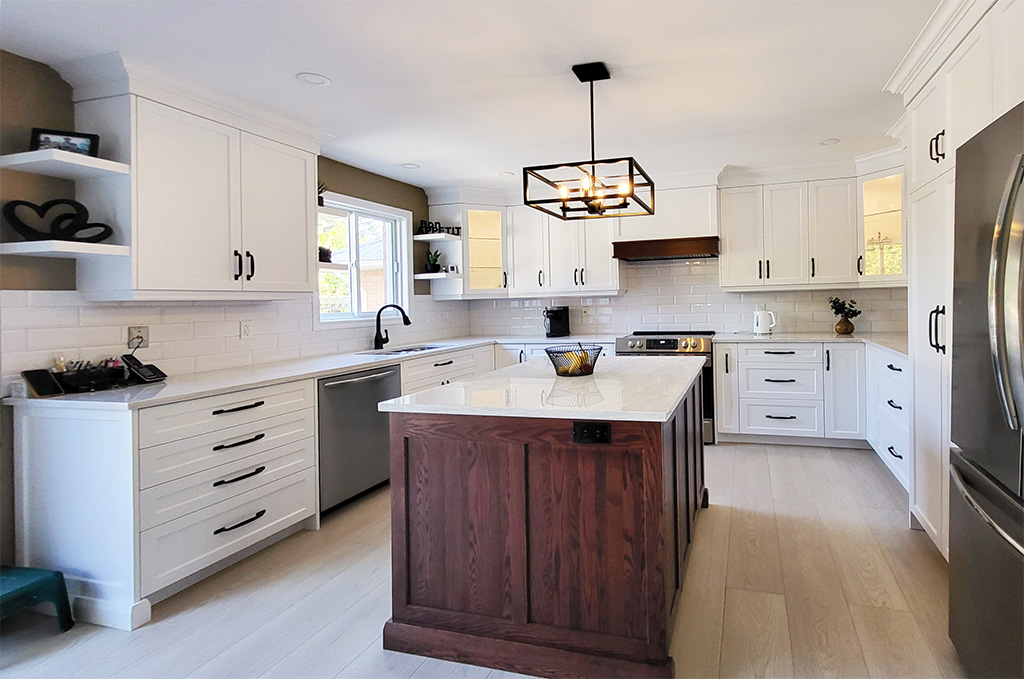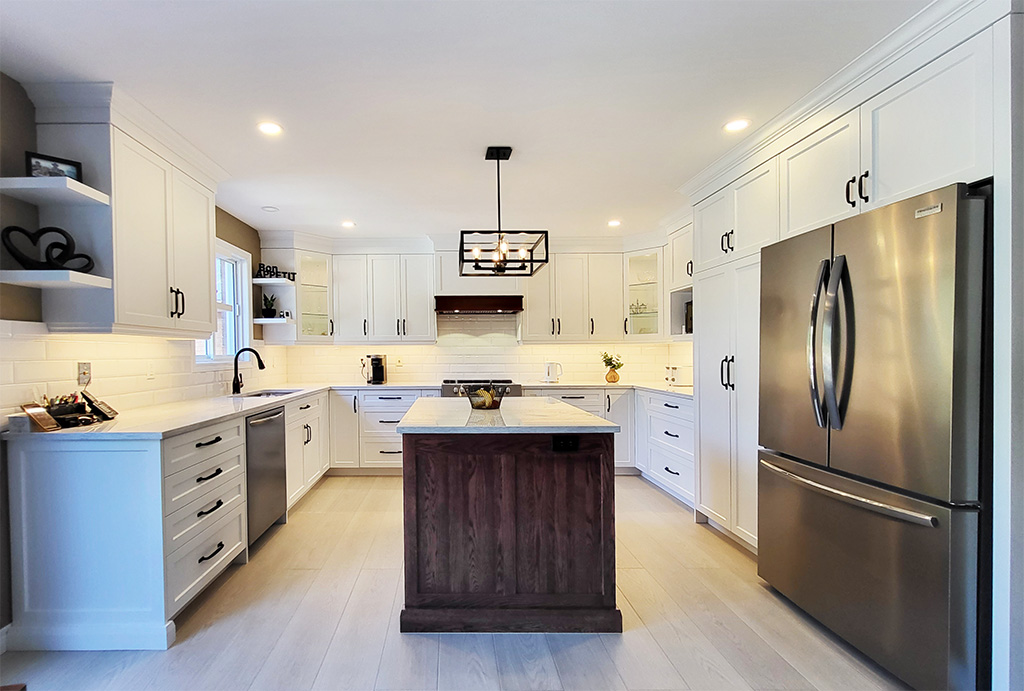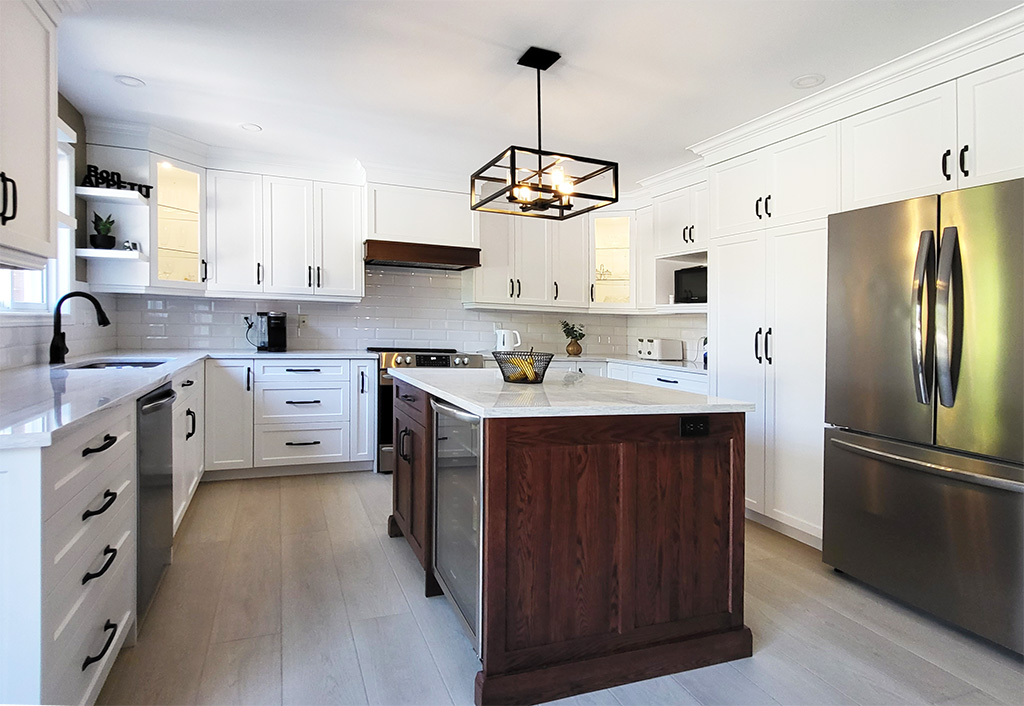 To schedule a service, or get a free estimate, get in touch today!